Liebe Kollegen, Familie und Freunde,
Nach den ersten Expeditionstagen hat nun der wissenschaftliche "Alltag" Einzug gehalten. In 8-Stunden Schichten werden hydroakustische Daten erhoben, ausgewertet und interpretiert sowie Proben mit der Dredge an Bord geholt, klassifiziert, bearbeitet und archiviert. Es herrscht eine entspannte aber beschäftigte Atmosphäre auf dem Schiff.
Ein außerdienstliches Highlight war der gestrige Silvesterabend auf hoher See. Während der Kartierung rund um den Carter- und den Lombardi-Seamount wurde der Hangar mit Fahnen aus aller Welt und selbstgebastelter Dekoration geschmückt, das Silvesterbuffet und der Grill vorbereitet. Gegen 18 Uhr wurde gemeinsam bei hochsommerlichen Temperaturen an Deck gegessen und der Abend eingeläutet. Bei Musik, kühlen Getränken und Gegrilltem verbrachten wir die Stunden damit, uns gegenseitig besser kennen zu lernen – sowohl unter den Wissenschaftlern, als auch mit der Crew. Der Silvesterklassiker "Dinner for One" durfte natürlich auch nicht fehlen, und so verging die Zeit bis zum Jahreswechsel wie im Flug.
Um 2 Uhr deutscher Zeit war es dann auch bei uns soweit, und wir konnten mit Sekt, Leuchtarmbändern und Berlinern fast wie zu Hause den Beginn des Jahres 2018 feiern.
Nichtsdestotrotz kartierten wir währenddessen schon den nächsten Seamount (Hirondelle) und auch die Frühschicht der Bathymetriker begann wie üblich um 4 Uhr morgens – die Petrologen hatten Glück, denn während der Kartierung wird nicht gedredged.
Die Fahrtteilnehmer wünschen Allen in der Heimat ein frohes und gesundes neues Jahr 2018!
Jörg Follmann & Louisa Krach,
CAU Kiel
[English]
Dear Colleagues, families and friends,
After the first days of the expedition the scientific daily routine started on board. Working in shifts of 8 hours hydroacoustic data are collected, processed and interpreted. The dredge teams collect samples from the sea floor and then classify, describe, saw and archive them. The athmosphere on the vessel is relaxed but busy.
A highlight besides the work was yesterdays New Years Eve. While mapping around the Carter and Lombardi Seamounts the ships hangar was decorated with flags from all over the world and self-made decorations and the kitchen prepared the buffet for the evening. Around 6 pm the barbeque started. At temperatures around 27°C, music and cold drinks we got to know each other better, scientists as well as crew. The classic German New Years Eve movie 'Dinner for one' was of course shown as well.
 At 2 am German time we celebrated the beginning of 2018 with "Berliner", glow sticks and sparkling wine.
However, the work always continues on a research vessel and we started mapping the next seamount (Hirondell) already, hence also the bathymetrist of the early shift had to start as usual at 4 am again. The petrologists were lucky as there is no dredging while mapping.
The scientists and the crew wish all the people at home a good and healthy new year 2018!
Jörg Follmann & Louisa Krach,
CAU Kiel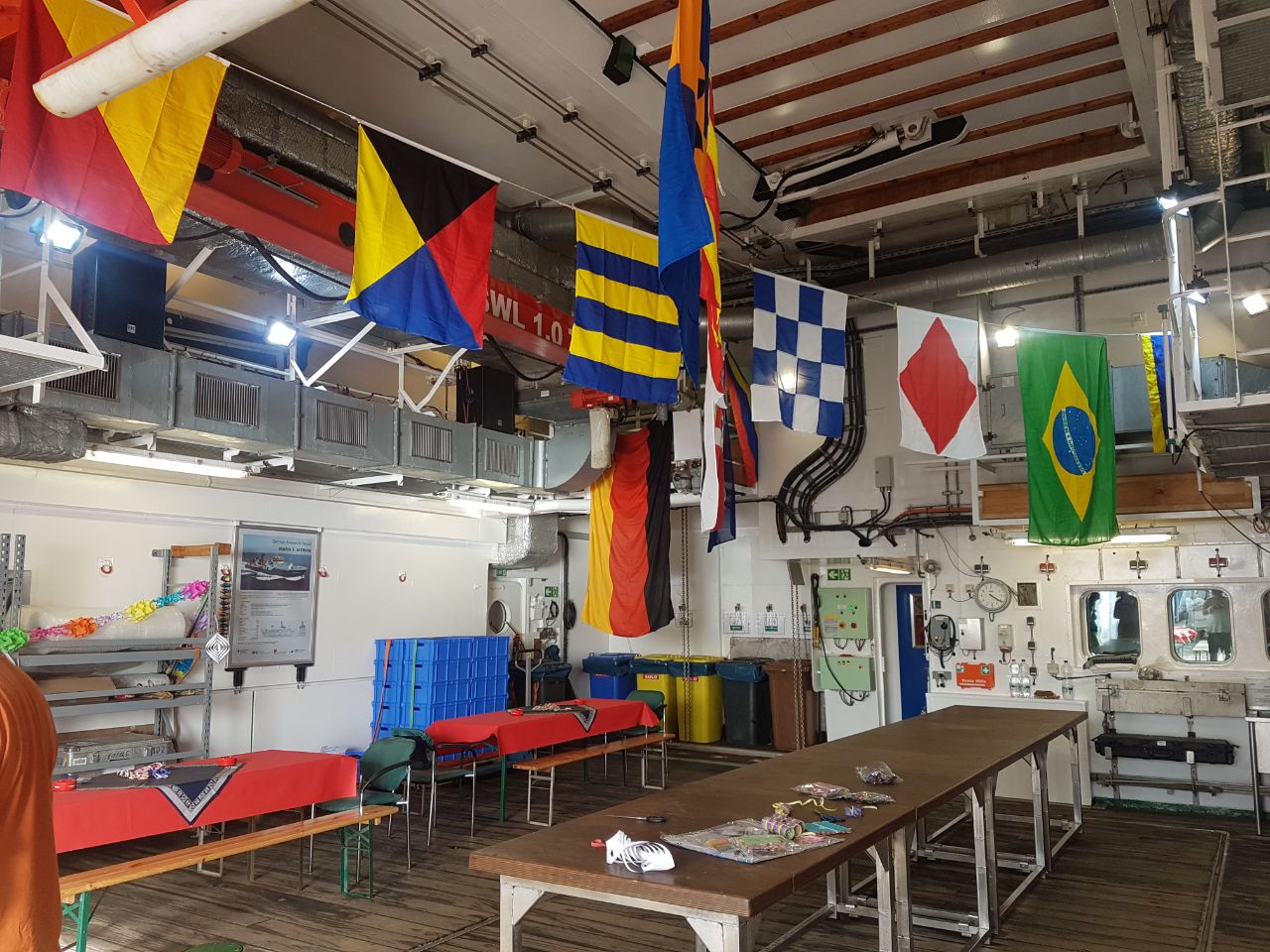 Der dekorierte Hanger. Normalerweise arbeiten unsere Petrologen hier an ihren Gesteinsproben.
Decorations in the hangar. Usually our petrologists work here on their samples.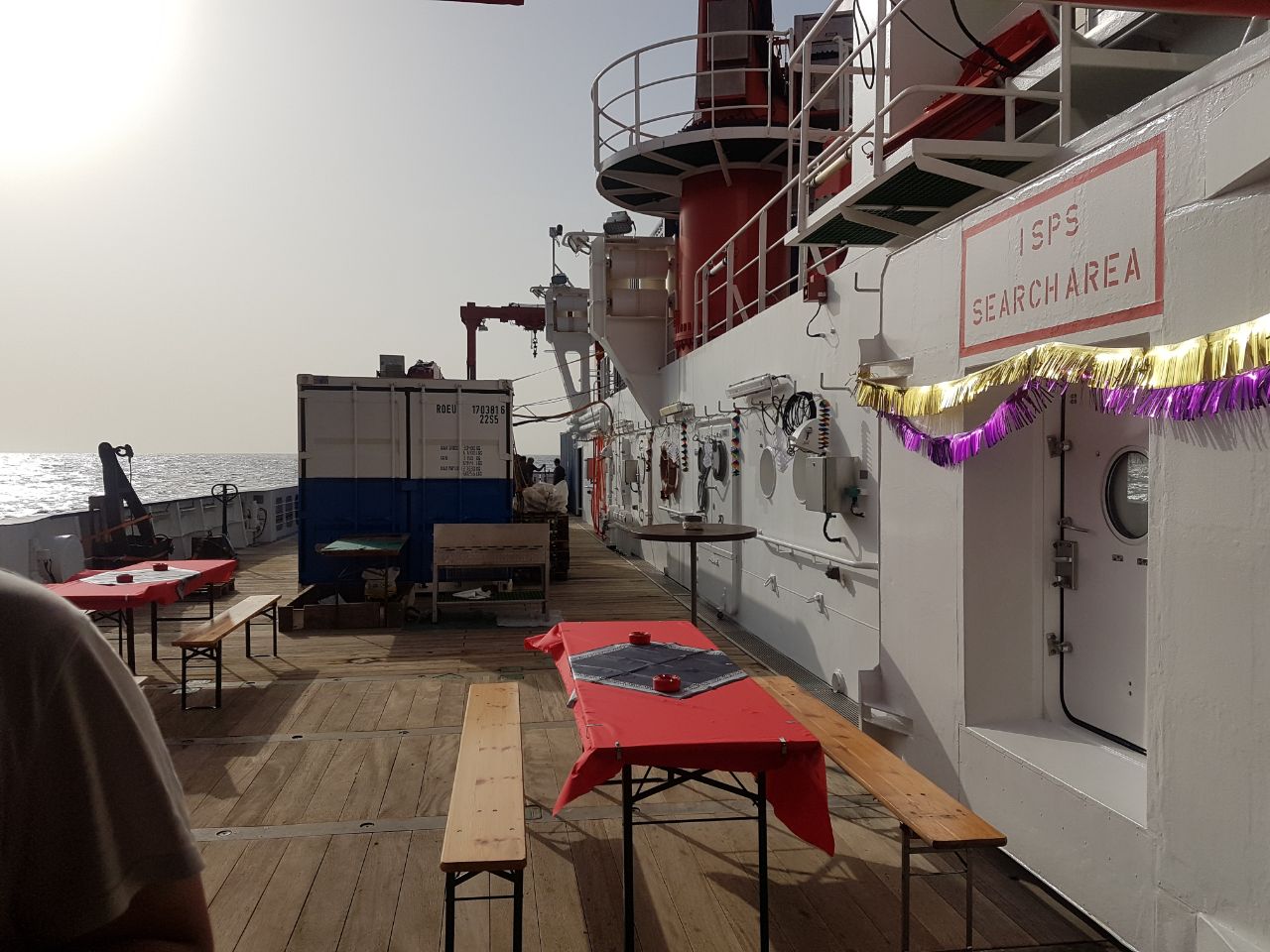 Auch der Grill steht bereit. Also the BBQ stands ready.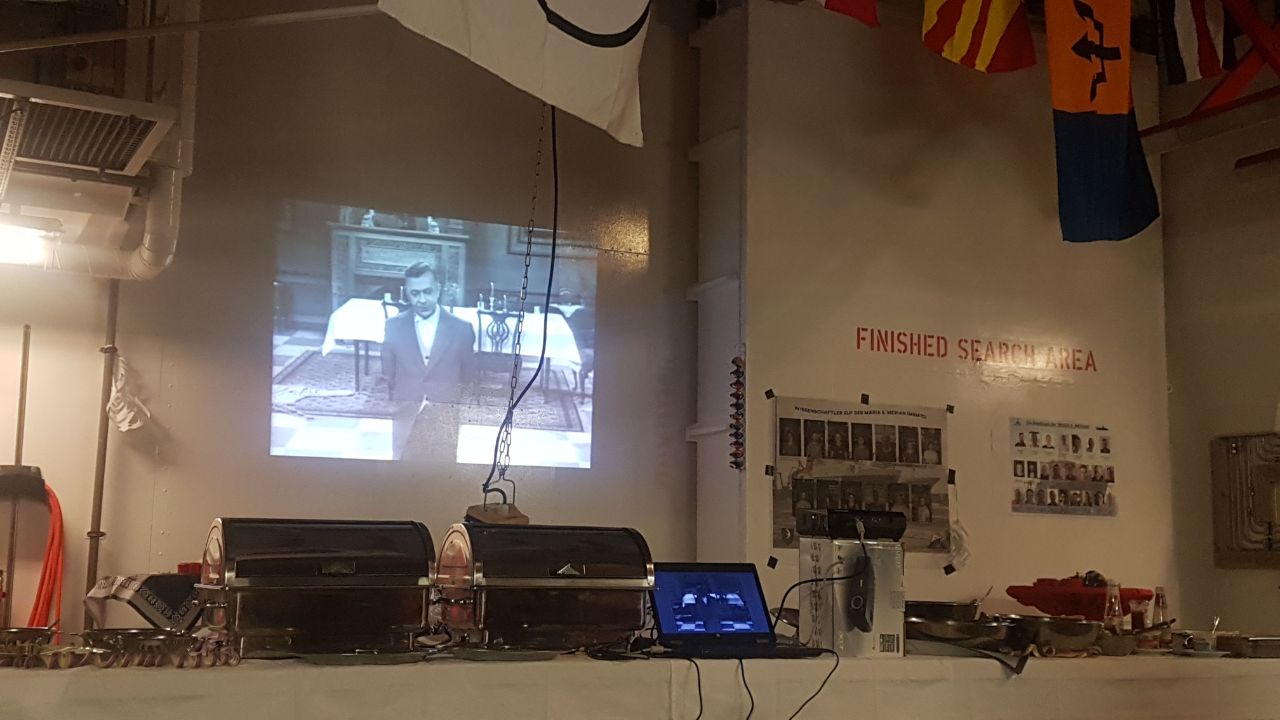 "Dinner for One" darf natürlich auch auf hoher See nicht fehlen.
The classic screen play "Dinner for One" is a must on German New Years Eve celebrations.