Neben dem Auspacken der Container und dem Einrichten der Labore stand am ersten Tag unserer Reise weiterhin auch die äußerst wichtige Sicherheitseinweisung auf der Agenda. Im Rahmen dieser sogenannten "Safety Familiarization", die für alle Fahrtteilnehmer verpflichtend ist, wurden wir über generelle Prozeduren und Verhaltensweisen im Notfall unterrichtet. Dazu gehört neben der Belehrung über die Alarmsignale, Lebensrettungsmittel und Fluchtwege auch ein abschließender Drill, um dieses Wissen in der Praxis anzuwenden.
Im Rahmen dieses Drills wurde ein Probealarm ausgelöst, der für alle Fahrtteilnehmer das Signal gibt, sich auf schnellstem Wege zur Sammelstation zu begeben und dort die Rettungswesten anzulegen. Weiterhin wurde während dieser Übung die korrekte Benutzung eines Überlebensanzuges vorgeführt, der gegen Unterkühlung in kalten Gewässern schützt. Dies ist vor allem relevant, wenn Rettungsboote oder -inseln nicht mehr rechtzeitig eingesetzt oder erreicht werden können. Den Abschluss der Sicherheitseinweisung bildete die fachgerechte Besetzung des Freifallrettungsbootes. Wissenschaftler betreten das Gefährt generell als erste und nehmen im vorderen Teil, der zuerst auf das Wasser trifft, Platz. Die Luft im Rettungsboot ist nicht die frischste, was in der feuchtwarmen Umgebung mit 26°C und rund 75% Luftfeuchte für eine etwas unangenehme Atmosphäre sorgt. Glücklicherweise mussten wir uns dort nur kurz aufhalten und waren nach ca. 5 Minuten wieder an der frischen und windigen Luft.
Mit den besten Grüßen von Bord in die Heimat
Janto Schönberg, CAU Kiel
[English]
Apart from unpacking the container and setting up the laboratories on the first day, all participants of cruise MSM70 also had to participate in the important security briefing. In this mandatory "Safety Familiarization" we were lectured on procedures and behaviour in case of an emergency on board. This included, but was not limited to alarm signals, life-saving equipment such as the Emergency Escape Breathing Device (EEBD) or escape routes on this vessel. To be optimally prepared for emergencies we practised some of the learned things in a safety drill.
For this drill, a test alarm signal was set off, prompting all crew and scientists to immediately report to the muster station and equip their life jackets. Additionally, the correct use of the survival suits was demonstrated. This suit is mainly used in cold waters and provides protection against life-threatening hypothermia which is especially relevant if proper and timely deployment of rescue boats or rafts cannot be guaranteed. The drill was concluded by manning the free-fall lifeboat with scientists boarding prior to the crew in the bow of the rescue vessel. Due to the hot and humid temperatures surrounding us, the air in the lifeboat was not exactly fresh but luckily all participants were allowed to disembark quickly after successfully carrying out this all too important drill.
Greetings from board,
Janto Schönberg, Kiel University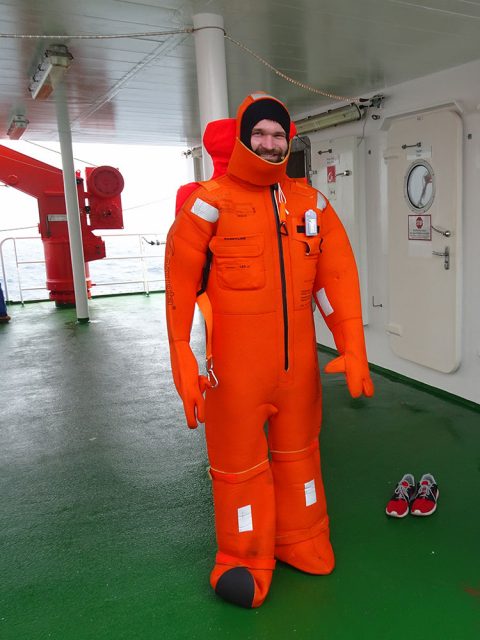 Ein modischer Überlebensanzug in Einheitsgröße hilft Leben retten.
This one-size-fits-all survival suit can save life at sea.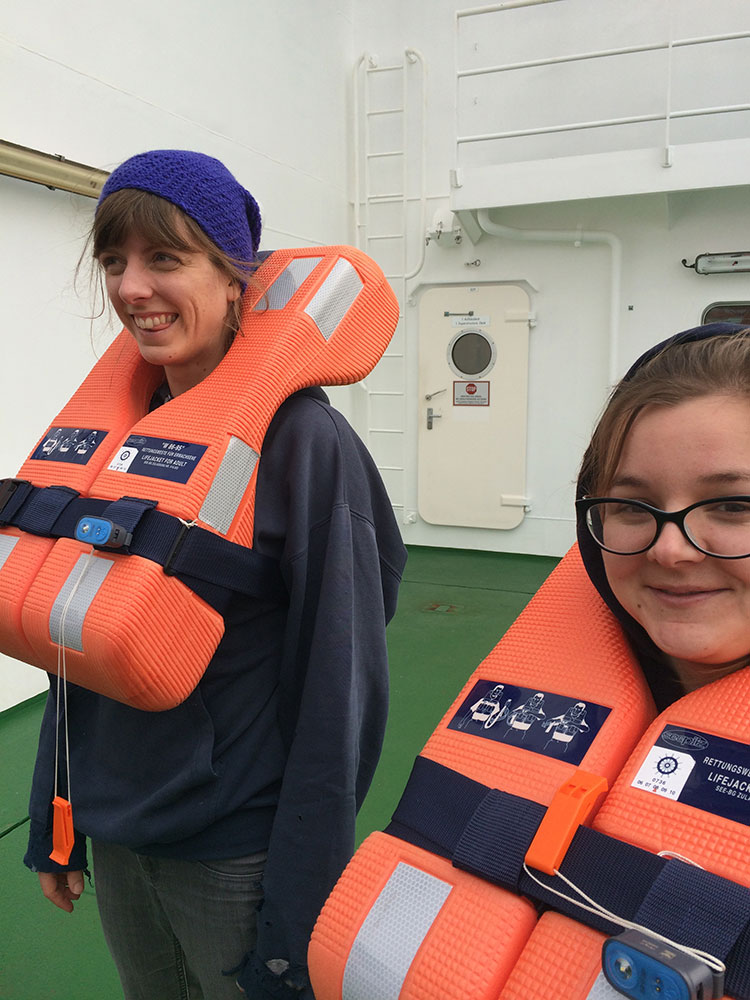 Angetreten zum Sicherheitstraining.
At the safety drill.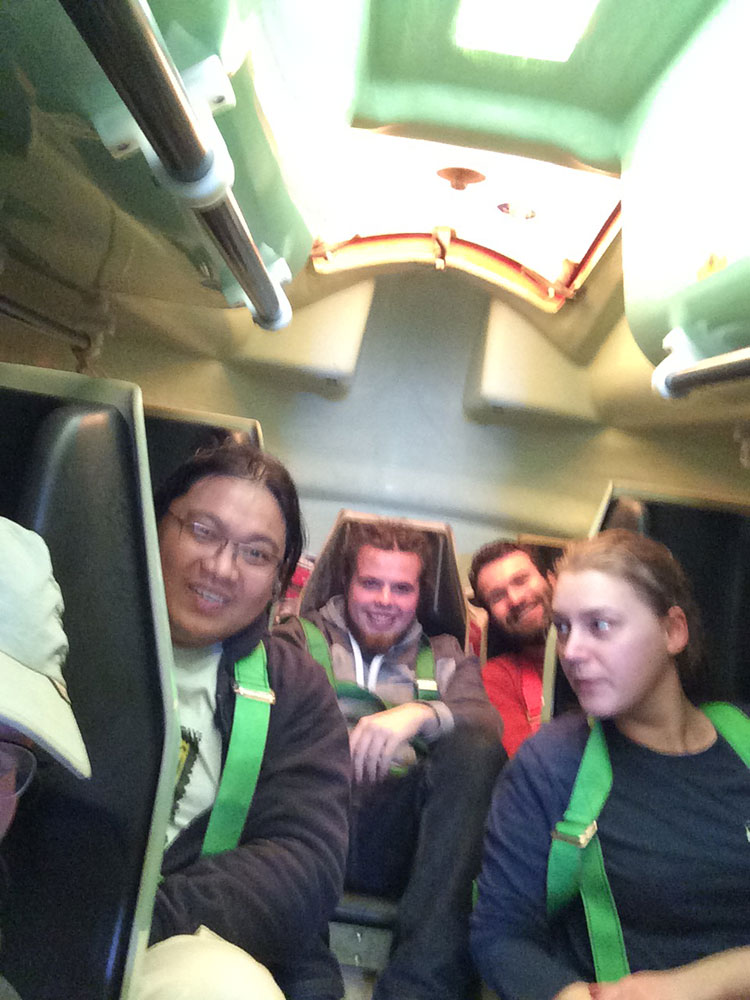 Die WissenschaftlerInnen im Rettungsboot – es sieht einfacher aus als es ist.
The scientists in the life boat – it looks easier than it actually is.