(english version below)
Eine Seereise bedeutet nicht nur, interessante Forschung zu betreiben und viele neue Leute kennen zu lernen. Da man bekanntlich etwas mürrisch werden kann, wenn man hungrig ist, kann eine gute und abwechslungsreiche Verpflegung an Bord helfen, um die Stimmung der 39 Wissenschaftler­Innen und 30 Crew-Mitglieder aufrecht zu halten. Hier auf der Sonne sind dafür der 1. Koch Thomas und der Kochsmaat Leif zuständig. Schon vor Beginn der Reise musste überschlagen werden, was und wie viel auf der viereinhalb Wochen langen Fahrt gekocht und zubereitet werden soll. Einige Lebensmittel wurden bereits in Emden deutlich vor unserer Abfahrt eingelagert. Frische Zutaten, wie Obst und Gemüse, sind gemeinsam mit uns im Hafen von Las Palmas an Bord gekommen. Bis zur Verwendung sind die Lebensmittel in zwei gekühlten Lagerräumen, so kalt wie ein Kühlschrank, einem Trockenlagerraum, der etwas wärmer ist, und einem Gefrierraum mit Minustemperaturen untergebracht.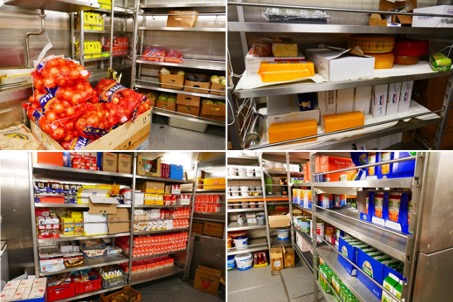 Die Arbeit der Köche beginnt bereits um 3 Uhr nachts. Die Zeit, bis Normalarbeitende aufstehen, wird genutzt, um alle Speisen für den kommenden Tag vorzubereiten. Die fertigen Gerichte werden dann in einem Lagerraum aufbewahrt, bis sie zu den jeweiligen Mahlzeiten aufgewärmt und in der Messe bereitgestellt werden. Für das Frühstück werden beispielsweise jeden Tag frische Brötchen mit Hilfe der Brotbackmaschine in der Küche gebacken und Aufschnitte und Obst vorbereitet. Beim Braten der Rühr- oder Spiegeleier muss dann schon mal aufgepasst werden, dass die Eier nicht von der Küchenplatte rollen. Und generell ist der größte Unterschied zwischen dem Kochen auf See oder an Land der Seegang, der einen zwingt, den Suppentopf nicht randvoll zu machen oder sich während des Wendens eines Schnitzels festzuhalten, falls das Schiff in eine größere Welle fährt.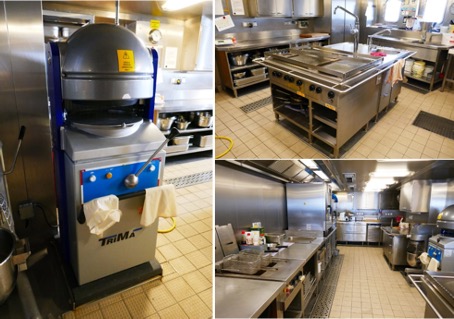 Die Essenszeiten auf dem Schiff sind streng getaktet, da größtenteils Schichtbetrieb besteht und die Mahlzeiten dem sich schnell eingespielten Alltag eine willkommene Struktur geben. So treffen sich zwischen 7:00 und 8:00 Uhr die Frühaufstehenden in der Messe zum Frühstücken. Um 10:00-10:20 Uhr findet die erste Kaffeepause statt, bei der Kaffee und Tee bereitsteht. Um 11:30-12:30 Uhr gibt es dann die erste warme Mahlzeit mit Nachtisch zum Mittag, für die sich der Chefkoch immer etwas anderes einfallen lässt. Da sowohl Fleischessende als auch VegetarierInnen mit auf See sind, bereiten die Köche zwei Gerichte zu, um die hungrigen Münder zu stopfen. Eine weitere Kaffeepause mit Kuchen gibt es um 15:00-15:20 Uhr. Zum Abendessen zwischen 17:30 und 18:30 Uhr werden dann neben warmen Speisen auch verschiedene kalte Platten und Salate angeboten, sodass man jeden Tag ausreichend viel und abwechslungsreich essen kann.
Da der Alltag auf dem Schiff durchaus verschwimmt und man schnell vergisst, welcher Wochentag ist, kann man sich teilweise an den Gerichten orientieren. So ist beispielsweise Samstag Eintopftag, Sonntag Alaska-Tag und Freitag Fischtag. Außerdem gibt es donnerstags und sonntags Eis zum Nachtisch. Nach einer gewissen Zeit auf See, neigen sich die frischen Zutaten, wie Salate, Obst, Gemüse, etc., dem Ende und die Köche müssen kreativ werden. Vermisst man zwischendurch dann doch schon etwas, gibt es die Möglichkeit, sich mit Snacks und Süßigkeiten aus dem schiffsinternen Shop auszustatten. Meist hat man jedoch eher das Gefühl mal wieder in den Sportraum gehen zu müssen, als dass man hungrig ins Bett geht.
Viele Grüße vom ganzen SO287-Team.
Good food puts us into a good mood on board
A cruise is not just about doing interesting research and meeting lots of new people. Since it is well known that you can get a bit grumpy when you are hungry, a good and varied catering on board can help to keep up the spirits of the 39 scientists and 30 crew members. Here on Sonne, 1st cook Thomas and 2nd cook Leif are responsible for this. Already before the beginning of the cruise, it had to be estimated what and how many supplies will be needed to be cooked and prepared on the 4½-week long journey. Some food was already stored in Emden well before our departure. Fresh ingredients, such as fruit and vegetables, came on board with us in the port of Las Palmas. Until they are used, the food is stored in two refrigerated storage rooms, as cold as a refrigerator, a dry storage room, which is slightly warmer, and a freezer room with sub-zero temperatures (see Fig. 1).
The work of the cooks begins as early as 2 3 o'clock in the night. The time until normal workers get up is used to prepare all the food for the coming day. The finished dishes are then stored in a storeroom until they are heated up for the respective meals and made available in the mess (see Fig. 2). For breakfast, for example, fresh rolls are baked each day in the kitchen with the help of the bread baking machine (see Fig. 3) and, for example, cold slices and fruits are prepared. When preparing scrambled or fried eggs, care must be taken to ensure that the eggs do not roll off the kitchen plate. And in general, the biggest difference between cooking at sea or on land is the swell, which forces you not to fill the soup pot to the brim or to hold on while turning a cutlet in case of the ship sails into a large wave.
Mealtimes on the ship are strictly timed, as there is mostly shift work and the meals provide a welcome structure to the fast-paced daily routine. Between 7:00 and 8:00, for example, the early risers meet in the mess for breakfast. At 10:00-10:20, the first coffee break takes place, with coffee and tea available. Then at 11:30-12:30, there is the first hot meal with dessert for lunch, for which the chief cook always comes up with something different. Since both meat-eaters and vegetarians are at sea with us, the cooks prepare two meals to satisfy hungry mouths. There is another coffee break with cake at 15:00-15:20. For dinner between 17:30 and 18:30, various cold plates and salads are offered in addition to hot dishes (see Fig. 4), so that you can eat enough and varied food every day.
Since the daily routine on the ship is quite blurred and you quickly forget which day of the week it is, you can partly orient yourself by the meals. For example, Saturday is one-pot day, Sunday is Alaska day, and Friday is fish day. There is also ice cream for dessert on Thursdays and Sundays. After a certain time at sea, the fresh ingredients, such as salads, fruit, vegetables, etc., are running out and the cooks must get creative. If you miss something in between, you can buy snacks and sweets from the ship's store. Most of the time, however, you rather have the feeling that you must go to the gym again than that you go to bed hungry.
Many greetings from the whole SO287 team.
Miriam Latsch (IUP Bremen) und Kastriot Qelaj (GEOMAR)