english version below
Der letzte Tag an Bord. Die ersten von uns haben heute am 11.12.2021 bereits das Schiff in Richtung Heimat verlassen. Der Rest tritt morgen die Rückreise oder den verdienten Urlaub in Quito, der Hauptstadt Ecuadors oder auf den nicht weit entfernten Galapagos Inseln an. Zum Abschied einer Expedition wird traditionell ein Expeditionssticker an der Sticker-Wand des Schiffes angeklebt. Dieser Tradition sind auch wir heute gefolgt. Bereits zwischen Heiligabend und Neujahr kam die Frage auf wer von uns sich dieser ehrenvollen Aufgabe stellen soll. Es passte sich gut, dass aktuell ein hoch spannender Wettkampf im Schiffshangar stattfand, ein Tischtennisturnier. Bereits zum Anfang der Reise begannen wir Wissenschaftler uns die Zeit an der schiffseigenen Tischtennisplatte zu vertreiben. Daraus entstand die Idee ein Doppelturnier zu spielen, an dem jeder, egal ob Wissenschaftler oder Crew-Mitglied, teilnehmen konnte. Nach Ablauf der Anmeldefrist loste unsere Glücksfee Gesa die einzelnen Teams aus und sogleich begannen die ersten Spiele. Auch abseits der Platte wurde eifrig mit gefiebert und angefeuert. Die Frage um welchen Preis gespielt werde, blieb lange unklar, bis die Idee mit besagtem Sticker kam. Im Pazifik kam es dann zum großen Showdown, welches Josi und Henning für sich entscheiden konnten. Beide konnten uns im Beisein der Fahrtleiterin Birgit auf der Sticker-Wand des Schiffes verewigen.
Julia Mickenbecker und Hendrik Feil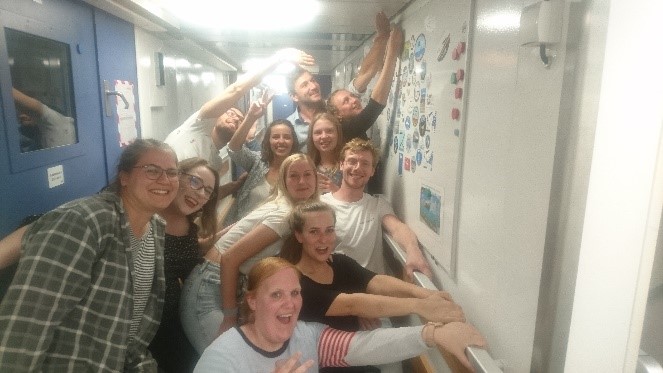 english version
Table tennis tounament on board
The last day on board. The first of us have already left the ship today on 11.12.2021 in the direction back home. The rest will start their return journey tomorrow or their well-deserved vacation in Quito, the capital of Ecuador or on the Galapagos Islands, which are not far away. To say goodbye to an expedition, traditionally an expedition sticker is placed on the sticker wall of the ship. We also followed this tradition today. Already between Christmas Eve and New Year's Day the question arose which of us should take on this honorable duty. It was fitting that a highly exciting competition was currently taking place in the ship's hangar, a table tennis tournament. Already at the beginning of the voyage, we scientists began to pass the time at the ship's own table tennis table. This gave rise to the idea of playing a doubles tournament in which everyone, whether scientist or crew member, could participate. After the registration period had ended, our lucky charm Gesa drew lots for the individual teams and the first matches began immediately. Even outside of the table, people were eagerly cheering and cheering. The question of which prize would be played for remained unclear for a long time, until the idea of the sticker came up. In the Pacific, it came to the big showdown, which Josi and Henning could decide for themselves. Both could immortalize us on the sticker wall of the ship in the presence of the cruise leader Birgit.
Julia Mickenbecker und Hendrik Feil