The METEOR research vessel sails several seas, from the Atlantic, the eastern Pacific, and the western Indian Oceans to the Mediterranean and the Baltic Seas. The METEOR provides an interdisciplinary research platform for scientists from numerous research fields, such as maritime meteorology and aerology, physical oceanography, applied physics, marine chemistry, marine botany, zoology, bacteriology and mycology, marine geology, sedimentology, and marine geophysics.
Specifications
| | |
| --- | --- |
| Length | 98 m |
| Cruising speed | 11.5 kn |
| Endurance (max.) | 50 days |
| Scientific staff (max.) | 28 persons |
| Operating areas | Atlantic, eastern Pacific, and western Indian Oceans, Mediterranean and Baltic Seas |
| Owner | Germany, represented by the Federal Ministry of Education and Research (BMBF) |
Ship tracker
The current position of the RV Meteor and weather details can be found here.
Reports
Expedition brochures, weekly reports and short cruise reports can be downloaded here.
The weekly reports are mainly composed in German. The short cruise reports are always composed in English and the expedition brochures in English and German.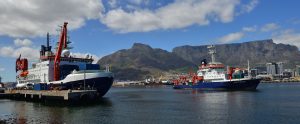 METEOR leaving Cape Town (Picture taken by Thomas Liebe from POLARSTERN)