Working areas and sampling sites during cruise SO268 of RV SONNE
by Timm Schoening (GEOMAR) and Peter Urban (GEOMAR)
RV SONNE cruise SO268-2 followed in the footsteps of the first leg of this expedition – SO268-1. We continue to sample the diverse seafloor in two main working areas within the Clarion-Clipperton-Zone (North-East Pacific). Our scope on this cruise has become twofold. One goal is to finish the "baseline" work that could not yet be completed on leg one due to technical and logistical issues. Second is the monitoring of a simulated mining plume and the effect of an Eddy on this anthropogenic disturbance.
Baseline work is necessary to understand the natural variability of processes on the seafloor without any anthropogenic disturbance. This mostly relates to the critters on and within the seafloor but also to geochemical aspects. Baseline work initially was the scope of the first leg SO268-1 but is now also continued during this leg to create a robust basis for a future mining component test. We aim to sample the natural state of the area where the component test will be conducted (aka the "Trial Area") as well as an area close by that will (hopefully) not be impacted by the mining which we refer to as the "Reference Area". Both areas shall be sampled extensively before and after the component test. The idea is that the natural variability in space and time can be seen in the Reference Area and the actual anthropogenic impact within the Trial Area. As the component test is anticipated to happen in the two contractor areas, we are conducting the complete baseline work two times.
The second goal is to investigate an incoming Eddy and its effect on the seafloor and surface sediment particles in the German license area. Therefore, we placed a large sensor array to test a monitoring setup for the mining component test and to assess the usefulness of the different sensors for future mining operations. In this test a dredge was used to suspend the surface sediments, creating a fluffy sediment cover of freshly formed sediment particle aggregates as will also happen during mining of the seafloor.
We are now back at the German license area to complete the missing baseline work there and to conduct further post-impact measurements in the dredge impact area.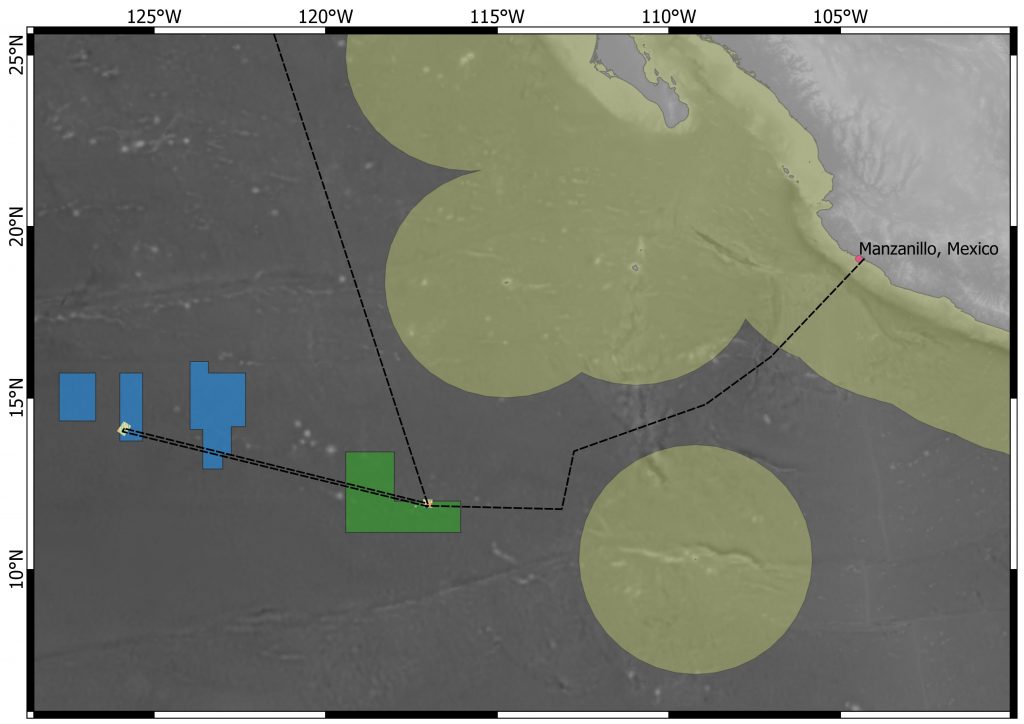 Arbeitsgebiete und Probennahmestellen der Expedition SO268 der FS SONNE
von Timm Schoning und Peter Urban
Auch während des zweiten Legs der SONNE Expedition SO268 befinden wir uns in der Clarion-Clipperton-Zone im nord-östlichen Pazifik zwischen Hawaii und Mexiko. Hier konzentrieren wir unsere Probennahme auf zwei unterschiedliche Arbeitsgebiete im deutschen und belgischen Lizenzgebiet. Zum einen schließen wir "Baseline"-Studien ab, die wir auf dem ersten Leg begonnen haben und werden zum anderen die Auswirkungen eines Eddies auf ein kleines Störungsexperiment untersuchen.
Baselinestudien werden durchgeführt, um den natürlichen Zustand eines Untersuchungsgebietes erfassen zu können. Dies umfasst die Untersuchung der natürlichen Variabilität der Prozesse, die Lebewesen und geochemischen Prozesse am und im Meeresboden. Auf diesem Fahrtabschnitt setzen wir die umfassenden Baselinestudien als Grundlage für einen zukünftigen Komponententest eines Knollenkollektors fort. Unsere Arbeitsgebiete sind dafür zum einen in das eigentliche Testgebiet (Trial Area) und ein Referenzgebiet eingeteilt, das nach unseren Berechnungen nicht von den Auswirkungen des Tests betroffen sein wird. Zur Durchführung eines umfassenden Monitoring-Programms dieses Tests werden im Referenzgebiet die natürlichen Bedingungen untersucht, während im Testgebiet dann die Auswirkungen des Eingriffs verglichen werden können. Da der Komponententest in zwei Lizenzgebieten durchgeführt wird, führen wir unsere Baselinearbeiten auch in beiden Gebieten durch.
Als zweites Ziel können wir die besondere Chance ergreifen, einen ins deutsche Lizenzgebiet ziehende Wasserstrudel (Eddy) und seine Auswirkungen auf die Oberflächensedimente am Meeresboden zu untersuchen. Dafür haben wir bereits in der ersten Woche mit dem ROV unsere zahlreichen Sensoren ausgebracht, die wir mit an Bord haben, um eine Sedimentwolke erfassen zu können. Somit bietet sich uns hier die Möglichkeit, den Einsatz dieser Sensoren für ein Monitoringprogramm von Miningaktivitäten zu testen. Zur Durchführung unseres Experiments haben wir ein Gebiet zwischen dem Trial- und dem Referenzgebiet gewählt und mit einer Dredge die obere Sedimentschicht aufgewirbelt. Die Auswirkungen sind natürlich wesentlich geringer als mit einem Abbaugerät, aber eventuell ausreichend, um unsere Sensoren zu testen. Im Moment fahren wir zurück vom belgischen in das deutsche Lizenzgebiet, um dort die fehlenden Baseline-Arbeiten abzuschließen und weitere Messungen nach dem Dredgeexperiment durchzuführen.