by Kevin Köser
Today is already Friday, the 21st of August and the cruise is about to reach its end. Although the last 4 weeks have been quite a while, when you are busy, time flies by quickly and on Sunday we already have to steam back to Guayaquil. The ship and the gear is runnig 24/7 and during these last days everybody wants to obtain the final (extra) bits of data with "her/his" instruments in the water.
The photo surveys of the AUV ("Tiffy") are finished and the camera system has been unmounted to give space to the subbottom profiler for the final dives. During the last weeks Tiffy has made 9 photo survey dives, among them Tiffy's 200th dive, which was celebrated appropriately.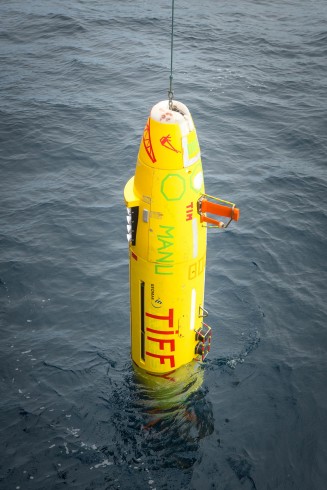 The AUV goes on its 200th dive. Photo by Bastian Barenbrock
During each 10h-12h dive (time at the bottom) we captured a 20 megapixel image each second, which makes up to 40000 pictures per mission. We record more photos on a single day than all previous DISCOL expeditions have captured in all years alltogether and if you would count all pixel in all images, during cruise SO-242/1 Tiffy has made the incredible number of 4 600 000 000 000 (4 trillion) optical measurements. So you might wonder who's the poor person to evaluate all this data? Fortunately, we have computers that stitch the photographs to big maps of the seafloor, so that we dont get lost in the tons of single photographs, get a better overview and measure distances and sizes of things. I am writing the software for doing this.
In the picture at the top, you can see the 1989 disturbance tracks (after 26 years!), and also the positions where our gear like multi-corer, gravity-corer and box-corer hit the ground. Onboard we compute a quick preview mosaic and take all the image data home, where photogrammetry, annotation, classification and interpretation will go on. So, the cruise is almost over, but the work is just starting …
See you soon,
Kevin