Hi, we are Quentin and Jon. We are from France and Spain and work at GEOMAR. Our job on board is to sample the CTD and, with that water, we are doing analysis of respiration rates and dissolved organic matter. Also, Jon is running an instrument attached to the CTD that is taking pictures of the different particles in the water column.
Life on board is pretty different of what it is on land. Specially during Christmas time. Although both of us have been already on expeditions, it's Quentin's first and Jon's second Christmas at sea. Like back home, every person gives a hand to help with the preparation of Christmas Eve but, this time, we had the cultural contributions of several people coming from different parts of the world. This was a very nice experience and helped us to get to know different ways of celebrating Christmas all around the globe.
Everyone on board is busy taking their samples, but we could manage and coordinate to help with the preparations. Whenever we had time, we were giving a hand to the crew or scientist that were, for example, decorating the Christmas tree or preparing the presents for everyone.
Tomorrow it will be New Year's Eve and we are part of the team in charge of organizing the event. We will try to include some Spanish or French contribution, like eating twelve grapes in Spain. Hopefully it will be as cozy as Christmas was, so everyone on board feels more like at home, although we are more than 7,000 km far away from there.
Soon we will be entering the Panama Canal and we are pretty excited about it. Doing research on the Atlantic and Pacific Oceans with a few hours of difference is a unique opportunity for both of us and we are looking forward to cross the canal and keep on doing our science there!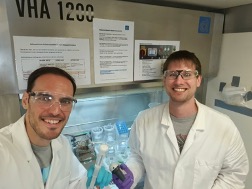 Jon & Quentin