Dr. Kirsten S. Jørgensen is a Leading Research Scientist at the Marine Research Center, Finnish Environment Institute SYKE, Finland. She has a 30-year long international career at SYKE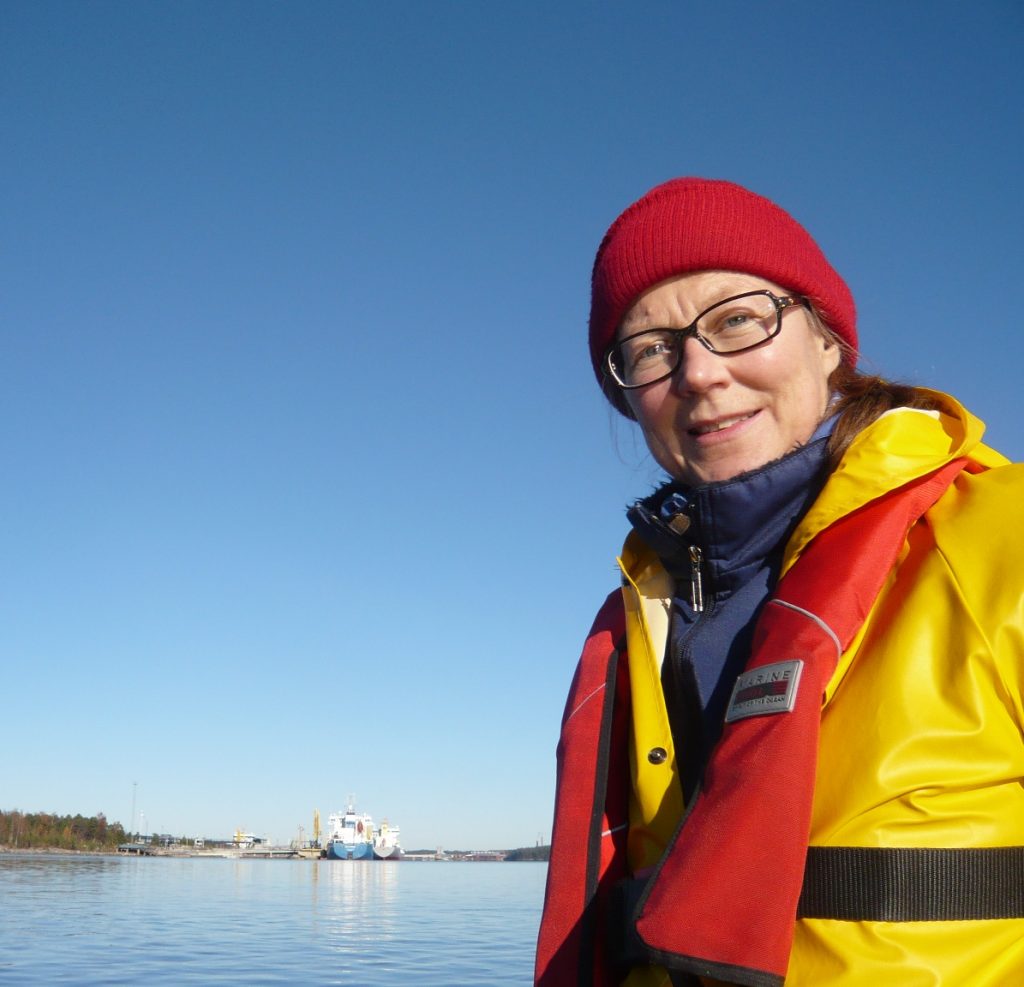 Inspired during my biology studies
My carrier started at the University of Århus in Denmark. As I was born in Denmark I went to study biology there. I was especially fascinated by field courses, among them a course in marine biology at the Rønbjerg station in Denmark. I was very inspired by my teachers. I did my masters at the Dept. of Ecology and Genetics at the "mud"-corridor in 1983. The research group was large and concentrated on microbial processes in marine sediments. The group was also very international with a lot of visiting scientists from around the world. I continued to do my Ph.D. at the same institute working on microbial nitrate reduction in coastal sediments. Already then I had a chance to participate in a cruise on the British Research Vessel RRV Discovery to the Madeira Abyssal plain where we did some deep-sea sediment studies. It was very exciting.
Going abroad
After my Ph.D. I was wondering what to do with my life. Stay in Denmark, change city or something else. I had split up with my former boyfriend and was in a free situation. My supervisor Jan Sørensen encouraged me to do a post doc abroad in USA. I sent a letter to Prof. Tiedje at Michigan State University, and talked to him on the phone (this was before the e-mail times), and then that was agreed. I sold my flat and had all my furniture stored, and left to the USA with two suitcases. I was very determined that I would come back to Denmark after the post doc.The research group of Prof. Tiedje was large and very international, and was at that time, in 1987, just starting to use molecular biology in microbial ecology work. Here I learned to work with many different nationalities. I shared the office with an Indian female researcher, from whom I learned about the Indian and American culture and of cause a lot of science, and especially molecular biology.
Settling in a new country and finding a job
During the post doc time in Michigan I also met a Finnish post doc who later became my husband. I decided to try to move to Finland and see if I could find a job in science in Finland. Having been in the USA where everybody in science is moving around, I started to think that it maybe is not so difficult. But how to find a job in a new country where you do not really know anybody and the language is completely different? After getting a few contacts, I called around to people with the help of the telephone book, which was bilingual (Finnish and Swedish), and I could understand the Swedish. There was no internet those times in 1989. I really wanted to get back to marine biology, and managed to get to an interview at the Finnish Marine Research Institute, but they did not have any position open. However, I managed to get a temporary job at the Finnish National Board of Waters and the Environment in a newly started research programme on the environmental problems of the pulp and paper industry. So I started to do research on microbial nitrogen and phosphorus turnover in biological wastewater treatment plants of the forest industry.
During this time I met and collaborated with Anneli Pauli, who became a kind of mentor for me in the Finnish science world. She had a background in limnology and the marine environment and had ambitions herself and left Finland to do a carrier in Brussels at the EU JRC a few years later. From her I learned that you can make your own plans and suggestions and when you argue well for them you have a very good chance to get forward with your ideas and plans. Also I learned to collaborate with the industry, and see problems in a larger perspective.
International projects and tasks
After this first project, I got the chance to be the Finnish PI in an EU project dealing with bioremediation of contaminated soil in 1995. After this I spent almost 15 years in this field with a number of Nordic or more international projects in the field of bioremediation of soils and groundwater. We used molecular biology methods to study the biodegradation on the community and gene level.  During this time I had much collaboration with the industry and was one of the founders of the Finnish Society for Soil investigation and Remediation (MUTKU), where I today am an honorary member.  In the meantime the institute changed name to the Finnish Environment Institute SYKE, and also part of the former Finnish Marine Research Institute was joined with SYKE.
During the Balkan crisis in 1999 SYKE was asked for experts to join two United Nations missions to the former Yugoslavia. The missions were led by the former Finnish Minister of the Environment Pekka Haavisto. In an international team we were investigating and assessing the environmental effects of Nato's bombings in the former Republic of Yugoslavia. This work made a great impact on me and helped me once more to see the things and environmental problems in a wider perspective.
Back to marine science and technology
Soil contamination and remediation had become more routine matters and legislation developed in Finland during the time I had worked with this, and I felt that it would be nice to do something new. Finally in 2010 there was an opening for me to change my research field back to marine science. A position was open at the new marine center of SYKE. I applied and got the position. Still interested in biodegradation of contaminants, I started to plan projects dealing with oil biodegradation in the marine environment. During this period I participated in a cruise on SYKE's research vessel Aranda, and got more acquainted with the nations around the Baltic Sea, e.g. with visits and collaboration with Russia and Estonia during the Gulf of Finland year in 2014. I was also appointed as Finland's representative in the Nordic Council of Ministers Marine working group. Currently I am the chairman of the working group.
Co-ordinator of an EU H2020 project
It was a hard time to get new project funding in a new field, and after several unsuccessful applications, a very relevant call was opened in the EU Horizon 2020 programme. Together with several partners from earlier unsuccessful applications we managed to get a consortium with 13 partners funded: "Integrated oil spill response actions and environmental effects – GRACE". I am the co-ordinator of the project, which includes several private companies in addition to universities and research institutes. This is still the first and only H2020 project coordinated by SYKE.
Advice to young female scientists
My advice to young female scientists in marine science and technology is to put your own doubts away, if you imagine that there is something that you cannot do because you are a woman or if you feel that you are not good enough. First, convince yourself what you would really like to do, and then just give the arguments for why you are interested in a certain job or subject. Always try to get the best out of the situation and learn from what you are doing. Do not be afraid of taking responsibilities. You are probably as good as or even better than other male or female scientists in your field and career stage in managing responsibilities.
Problems as a woman and foreigner
During my career I have probably had more problems in advancing because I was a foreigner and not a native Finnish speaker, than because I was a woman. Today I have learned the language and I have become a Finnish citizen. I have however, met questions from male colleagues and bosses several times, on if I really want to be a project leader. A story that I never forget, was once that I was invited to give a presentation on an EU Life project that I was leading at an EU Life event at the Finnish Ministry of the Environment. The person in charge did not pay attention to me when I asked to upload my presentation, and when I said that I am the project manager of this project he just said: "Oh, I thought that you are a man".
Balance to my personal life
When I am not working, I am spending time with my family, my husband and his now grown up children and first grandchild. I also keep close contact with my relatives in Denmark. A main hobby and lifestyle is to take care of our wooden sailboat and to spend the beautiful summer sailing in the Baltic Sea.