What is the nature of your work?
I am the head of the NanoSIMS lab at the Leibniz Institute for Baltic Sea Research. The NanoSIMS facility is open to all scientists and thus I am in contact with different working groups of the institute as well with national and international scientists. I supervise a technician doing the routine operation, run the instrument on the difficult tasks and maintenance issues, organise the measurements and provide advice for the scientist who want to employ the instrument.
Career as a researcher.
I finished my PhD in 2011 at the Institute for Chemistry and Biology of the Marine Environment (ICBM) of the Carl-von-Ossietzky University, Oldenburg, Germany. My thesis was about the analysis of alkanes as proxy for climatic changes in Africa. Luckily at the end of my PhD time an advertisement for the lab manager position occurred. I was always aiming for a job where instrumental analysis would be an essential part. Thus, the chance of being responsible for such a scarce high-end analysis instrument was a lucky incident.
When I started my job, the instrument was not yet there. Thus, I took care of the lab construction, instrument installation and the establishment of the procedures. In 2014 the instrument had to move and I was back to taking care of lab construction. In parallel a lot of projects were run at the instrument including not only marine science but e.g. also soil science and medicine.
My position was funded by project money on the first years. Then, I got a permanent contract for 50% of the position for taking care of the instrument. When the scientific output increased and I contributed to several publications I got a full permanent position at the beginning of 2017.
Please describe briefly your family commitments.
I live together with my husband and my son, who was born in April 2017. My husband has a non-scientific job and is working in shifts. We moved to Rostock because I got the job here. Our families are more than 300 km away.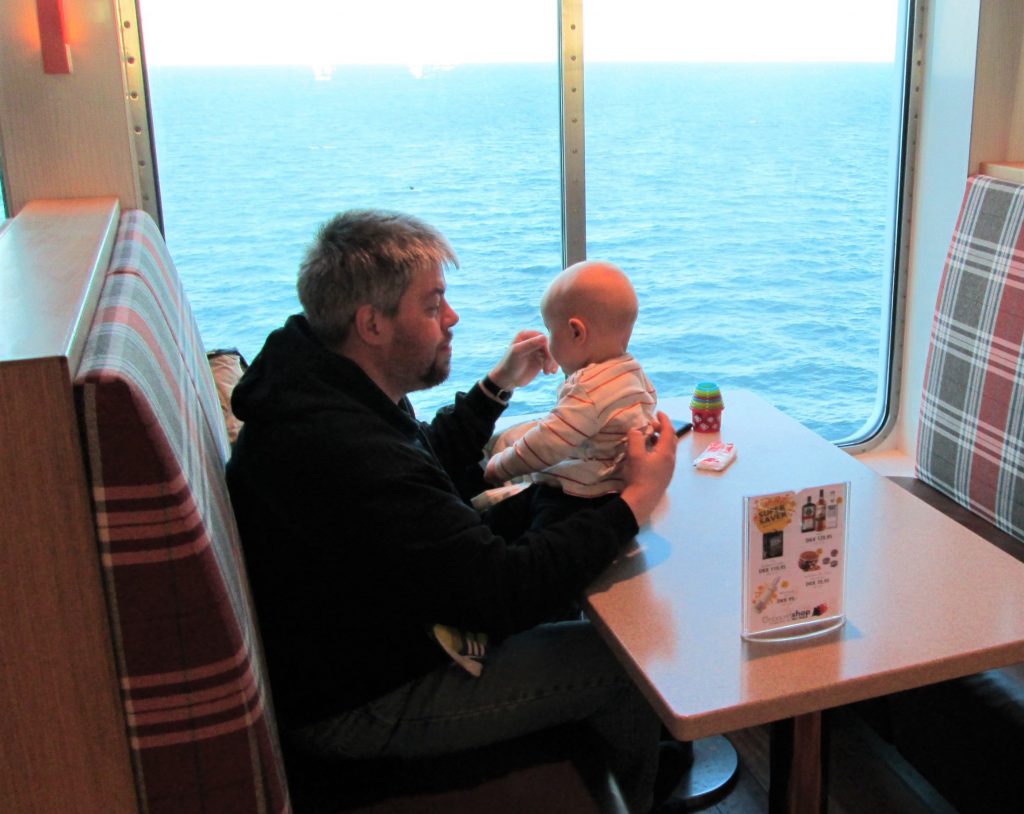 How do you balance your work and family commitments?
My husband is working full time (40h) and his free days differ from week to week. I am working 32.5 h/week. Our son is at childcare from 07:45 to 16:00. Depending of the shift plan of my husband we share bringing/getting the little one from childcare. If my husband gets him in the afternoon, I am able to work longer. We try to arrange our lives in a way that the toddler has a stable schedule. Household chores are shared between me and my husband.
If scientific things are not finished on a working day and/or need to be done urgently I use the evenings, when the little one is in bed. Weekends are dedicated to the family but in urgent cases working at the weekends can be arranged.
What has helped you?
The flexible working time as a scientist is a huge advantage. In addition, I am very thankful for the acceptance of childcare issues by all colleagues and I am still astonished how understanding all people are. In my special position the possibility for remote desktop operation from home is also useful to solve small issues. Furthermore, we have a flexible, reliable babysitter which is of immense importance as no family members are around.
In the first 1.5 years with the little one, the flexibility of the German system of parental leave and parental allowance was helpful. With this, I was able to establish a family routine slowly and stay in contact with science at the same time. After maternity leave (2 months after birth) I returned to work for 2 hours a day and my son accompanied me. I have my own office in a quiet area of the institute and this worked quite well until he started getting mobile.
Coming to the institute for 2 hours gave me the change to keep track the ongoing work and offer advice on measurement and maintenance issues. If there were meetings at the institute the little one accompanied me or the colleagues came to my office. The colleagues were very flexible if I had to schedule the meeting due to the timing of the little ones feeding/sleeping. This was of course possible because our son is what people call, a "beginners' child": friendly and mostly even-tempered and nicely falling asleep during skype calls.
When my son got more mobile my husband took 6 months of parental leave and I was working full time for 4 months when he was taking care of our son. In this time, we also did some travelling, partly according to my scientific interests. In this way, I was able to give a lecture in a seminar of a cooperation partner. In addition, I attended the Baltic Gender workshop in Lund.
When my husband returned to work, I reduced my work to 50% and got 50% of parental allowance for some more moths. In this time the toddler turned 1 and started day-care for some hours. Luckily, we got a place in the close by child care we wanted at the date we applied for. At the end of 2018 the parental allowance money was used up, my son was adapted to full time day-care and I returned to a close to fulltime job.
I would like to mention that there was no pressure on me to return to work quickly. I was always encouraged to organize the parental leave and the working time afterwards according to my and my family's needs.
What has hindered you?
My husband gets his shift plan only 1 week in advance. On the other hand, his vacations have to be scheduled 1 year in advance. This makes planning a bit tricky. During part time work attending presentations, meetings in the afternoon was hardly possible. Now attending presentation at the university in the late afternoon or having a dinner with visiting scientist is not possible in every case.
What have been the most difficult moments in your career considering family and work-life balance?
Every illness of the child or a parent puts your plans upside down and draws attention from work quickly. Things need to be postponed and schedules reworked. For me, juggling around with several projects in different states, it is essential, to put down notes on the state of projects and duties to be able to keep track of the proceeding. Otherwise, I would spend a lot of time at work reconstructing at what state projects are. Information gets lost astonishing quickly if you are off work for e.g. 2 days to take care of a child with fever.
For our families are from a rural area in Western Germany it was very unusual among our families to put the little one in day-care so early. While it is normal in Eastern Germany it is not so common in Western Germany and mostly mothers stay at home longer. Our close relatives accepted our plans but an uncle stated "if you are not able to stay at home, you should not get a child". We agreed that we have different opinions about this.
A difficult task is also to keep time to be together as couple or to have a personal time off. In the first months I missed having time to read a book. Having time for such things is essential to recharge your batteries.
What is your experience of sharing family-care: (a) in your everyday life and (b) during field works?
Due to the shifts of my husband we need to be flexible and arrange task new every week. It was great, that my husband took 6 months off for parental leave. This gave him an insight how demanding a small child and taking care of household issues can be.
I do not go out for field works. But I attended conferences and workshops. I arrange the travelling according to the needs of childcare and skipped some parts of the meetings.