Here we go, a full week of exciting science presentations lies ahead of us. The Ocean Sciences Meeting is a large scientific conference devoted entirely on new discoveries in ocean physics, biology, chemistry, … from hot topics in the tropics to cool stuff in the rapidly changing polar regions. About 5,000 scientists from around the world wander the halls of the huge conference center in San Diego, CA, chat, catch up with colleagues, give and listen to presentations, and discuss over science presented on large posters. First lesson to learn this later this afternoon: not only coffee but also beer is served in the late afternoon.
Back to Monday morning, despite the early hour we were off for a good start: The session "Imagining Ocean Science: Education and Outreach Using Visualization, Storytelling and the Arts" turned out a colorful, fun session. The ePoster session started with all authors giving a 3 minute intro to their topic. This is me (in minute 2:13):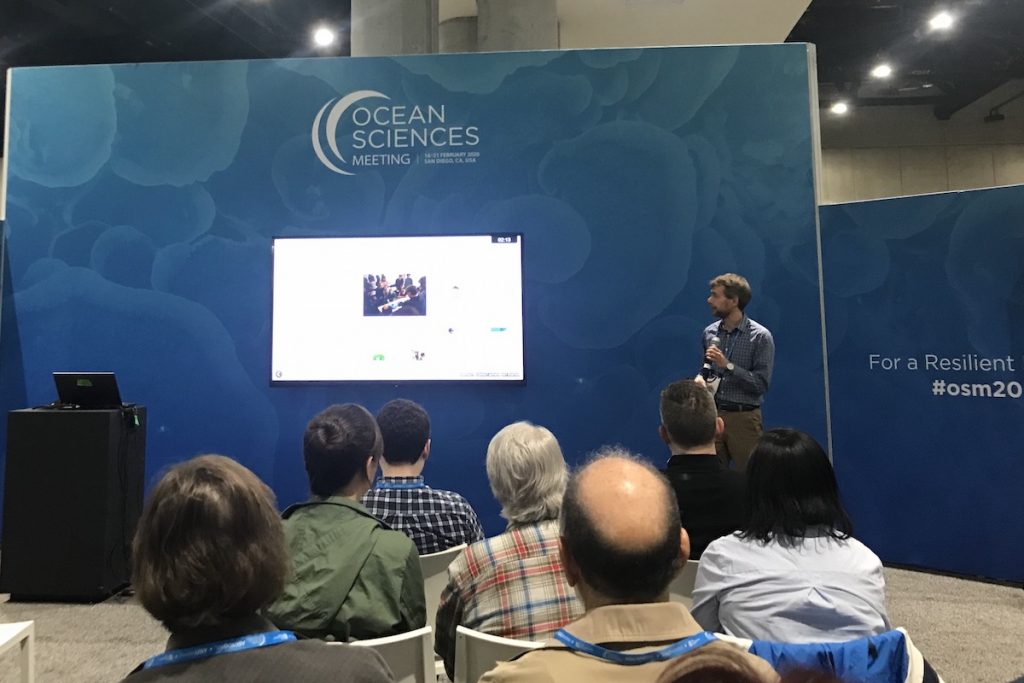 This first half hour was a positive surprise as presentations ranged from podcast interviews of retired scientists to a novel ocean eddy tracking data base, from online games explaining coastal habitats to kids to professional, life-size 3-D image projections of fish—extremely cool: envision a holodeck aquarium!
I represented our group of four scientists and science communicators from Kiel, Germany and Bergen, Norway and presented our way of and experience with sharing science stories on things like rotating tanks in the class room, sea-going students, our actual research and so on. Besides posting on this blog and their own blogs, my co-authors Mirjam Glessmer and Elin Darelius are very active in providing guest posts on other blogs, doing Instagram takeovers, and participating in Youtube videos on ocean topics. It was mostly this idea of using existing platforms and follower communities instead of building another platform, which caught the interest of fellow scientists and science communicators. Especially as communications channels and platforms change rapidly and becomes more difficult, mostly for senior colleagues, to actually know where and how to address the next generation of ocean enthusiasts. Networking and joining our forces across labs and nations was noted as an underused potential to reach more people.
And this is our ePoster (click the link for the original):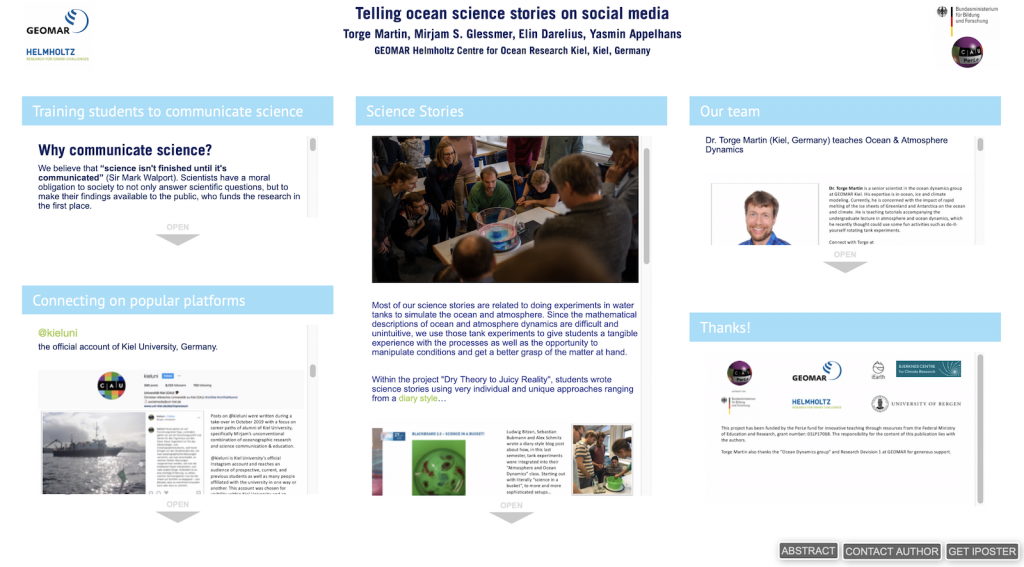 Finally, I'd like to use this opportunity to thank Mirjam for putting this poster together and for working her way through the jungle of AGU eLighting online poster software.