Für eine deutsche Übersetzung, wie immer; scrollen
Heading transaltes to "Thank you for the wonderful time"
Die Überschrift lässt sich als "Vielen Dank für die wundervolle Zeit" aus dem Maltesischen übersetzen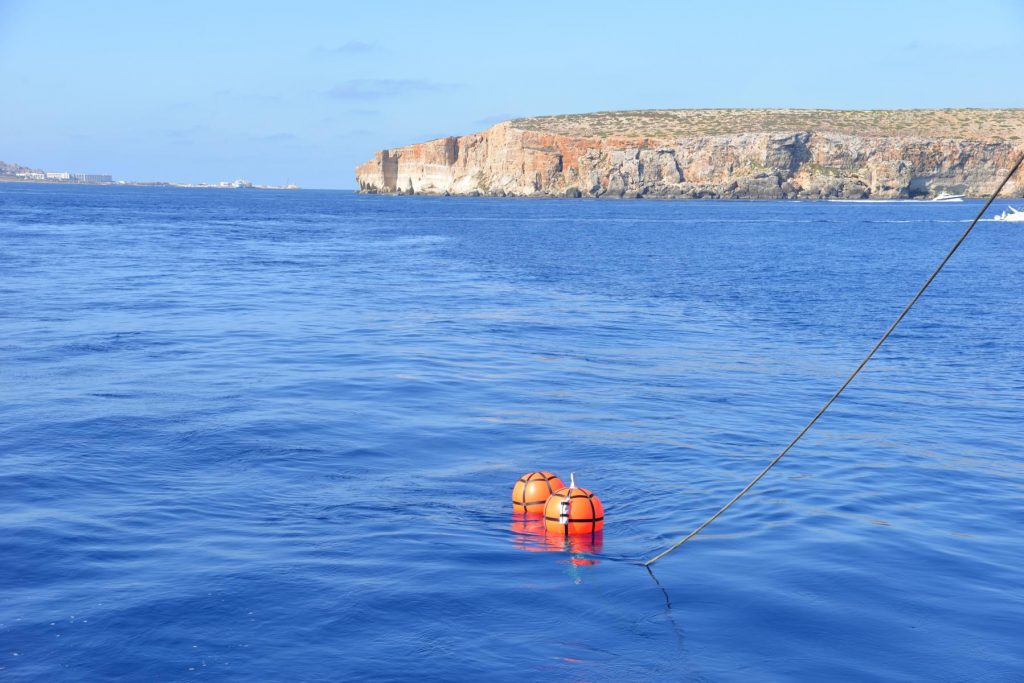 Well, seems like that was that, huh? 22 days off the coast of Malta. Sailing up and down the Maltese coast for more than three weeks. Almost every cliff, every headland, every town seems familiar. Greeting with a friendly nod towards Valletta when it passes by once again. Recognizing the caves and collapses along the coastline, this or that building. Surprisingly often small fireworks on land can be seen at night and even more pleasing are the thunderstorm lightning flashes in the distance, which we did not need to worry about.
These were very intense and research-rich days for everyone on board, during which we were allowed to get to know different methods and each other extensively. Our research methods ranged from hydroacoustics, to Video-CTD, to streamer seismics and OBS. We continued with CSEM using the earlier on deployed OBEM/OBMT stations and even conducted a rather spontaneous vertical dipole measurement. In order to take something home with us, naturally, we did not miss the opportunity to take some seafloor samples in form of gravity cores. (If some of these methods are still unknown to you, don't worry, an interview-introduction of them will be available here soon) To achieve all this we worked around the clock, supporting and motivating each other.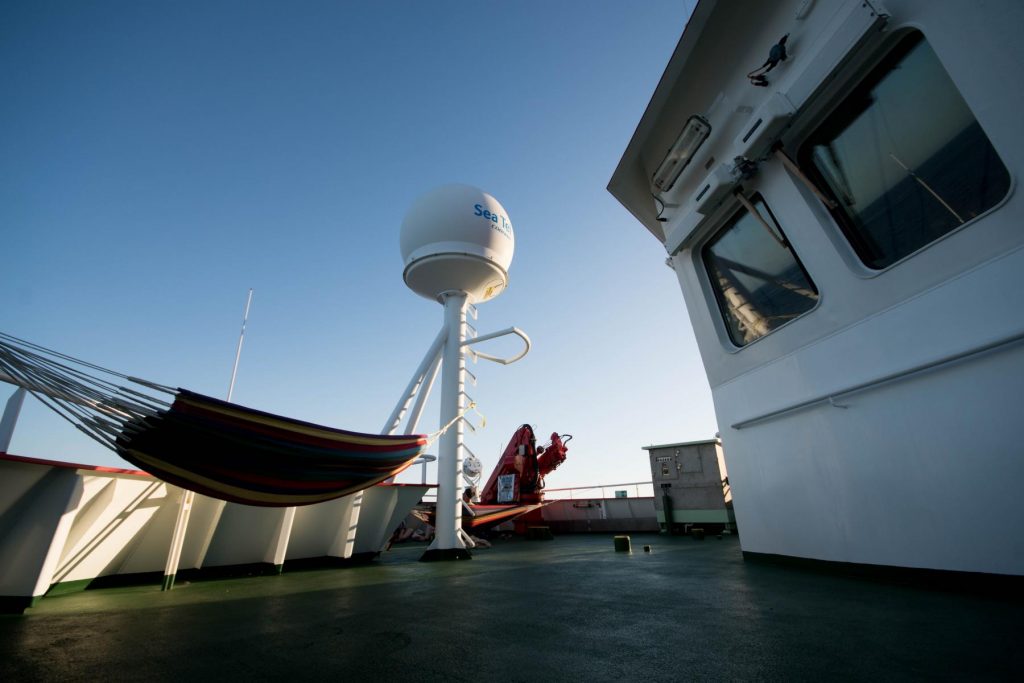 Luckily, there were more than enough ways to reward oneself for those long working days and nights in between; whether relaxing in a hammock with the Mediterranean sunshine on the belly, a literally breathtaking after-work sport program which made dinner even more enjoyable, a nice chilled beer around sunset on the top deck, an emotional round of table soccer or a quick dive in the improvised pools.
A social highlight was the visit paid to us by Dr. Owen Bonnici, the Maltese Minister of Education, who was accompanied by Prof. Aaron Micallef, one of the scientific leaders of the SMART project, and Dr. Axel Steuwer, Deputy Director of the University of Malta. Obviously, they were not allowed to come on board due to the Corona-related hygiene regulations. Nevertheless, we were able to exchange gifts and some friendly chit chat. Afterwards their pilot boat stayed nearby to observe the deployment of the video CTD.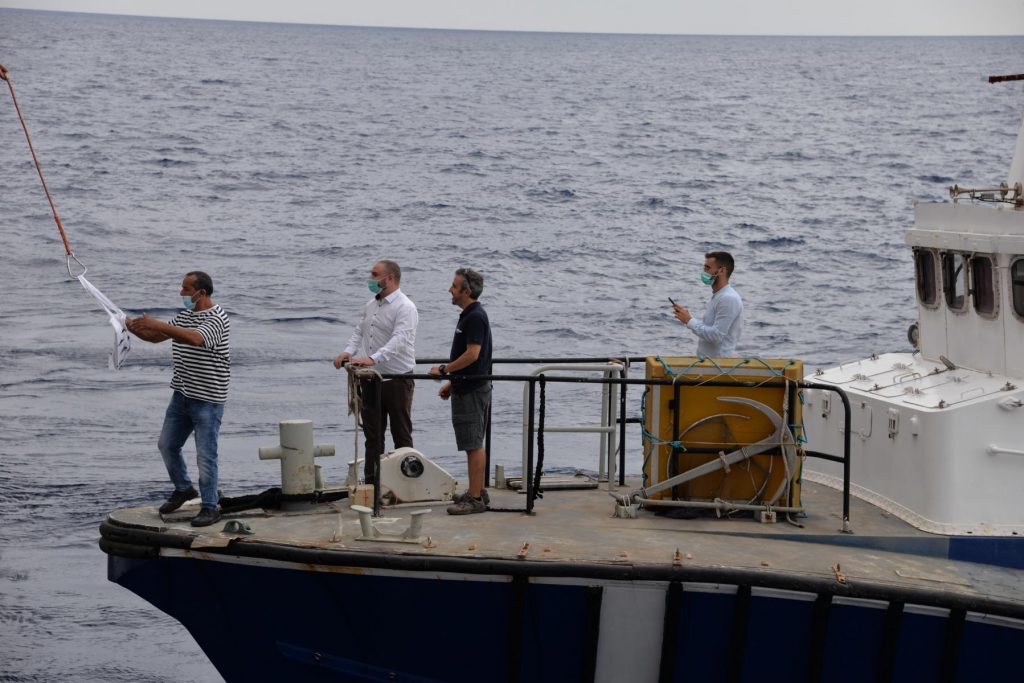 And finally, the generally popular topic of conversation: weather!
Luckily, for most of the time, we had the best weather imaginable. This made the recovery of the equipment pretty easy going and without any major incidents. Admittedly, apart from two rainy days and a slight increase of wind and waves towards the end, we had one extraordinary weather event; a waterspout! Clearly visible, but at a safe distance, the whole spectacle could be admired from RV Sonne; dark clouds that seem to tower ever higher with a slight turbulence forming in the cloud cover. In an almost surreal way, it turned into a finger-shaped funnel, slowly stretching towards the water surface, until the actual waterspout was dancing ahead of us.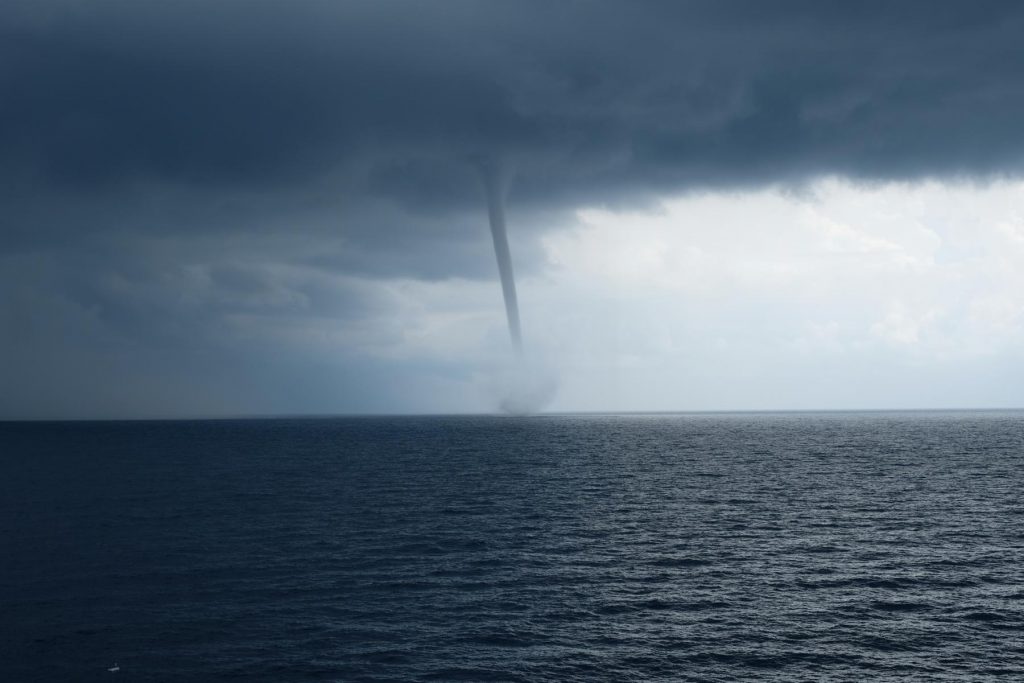 Eventually, with the setting sun we waved goodbye to Malta and slowly started our way back. However, we treat ourselves to some scientific and scenic highlights with some research stations off shore Etna and Stromboli.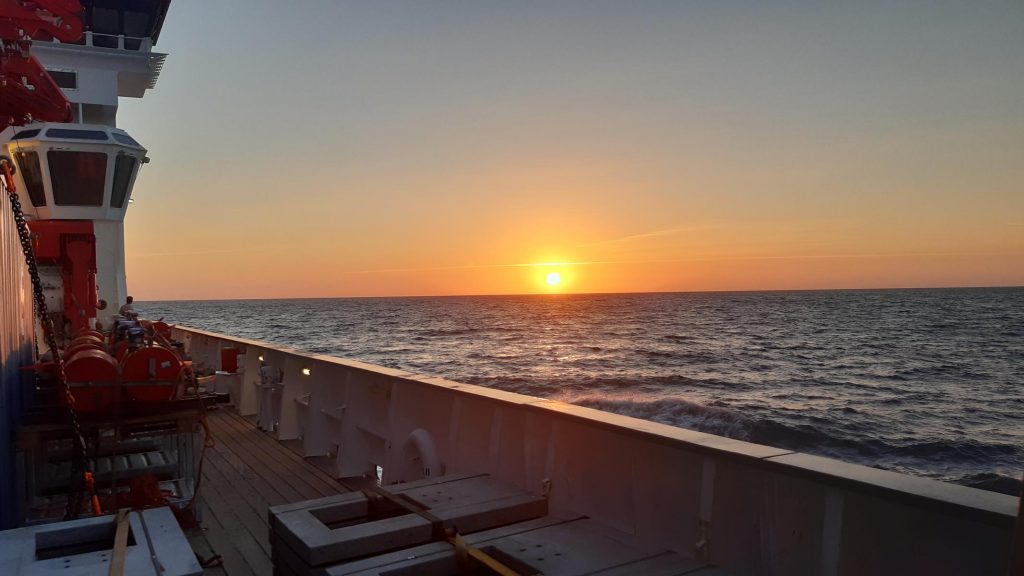 Current Position: 38° 41,905′ N 010° 31,107'E
Authors and photography: Johanna Klein, Thore Sager, Helene Hilbert and Anina-Kaja Hinz
---
Tja, das war es wohl. 22 Tage vor Malta. Über drei Wochen die maltesische Küste auf und ab schippernd; fast scheint jedes Kliff, jede Landzunge, jedes Städtchen bekannt zu sein. Man nickt Valletta schon freundlich grüßend zu, wenn es mal wieder vorbeizieht. Man kennt die Höhlen und Einstürze entlang der Küste, erkennt dieses oder jenes Gebäude. Überraschend häufig erfreut man sich an kleinen Feuerwerken an Land und noch häufiger, dass in der Ferne Gewitterblitzen vorbeizieht, um das man sich nicht zu scheren braucht.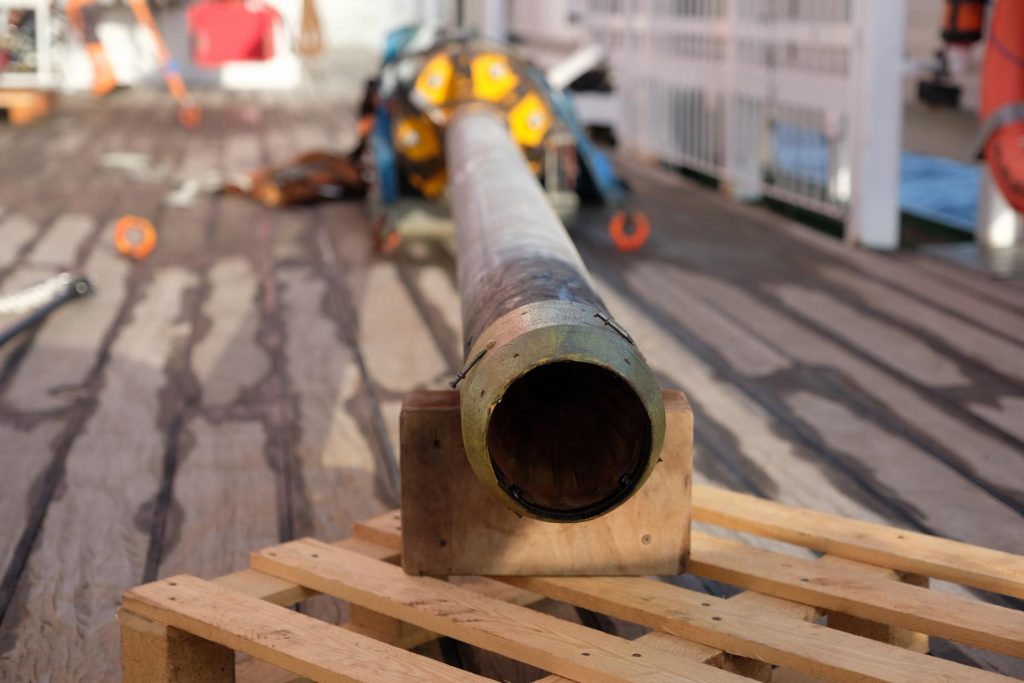 Es waren sehr intensive und forschungsreiche Tage für alle an Bord, an denen man intensiv Methoden und Menschen kennenlernen durfte, da sowohl vom einen als auch vom anderen reichlich vertreten war. Unsere Forschungsmethoden reichten von Hydroakustik über Ausmessungen der Wassersäule zu Streamer-Seismik und OBS. Weiter ging es mit CSEM mit Hilfe der frühzeitig ausgesetzten OBEM/OBMT-Stationen und sogar einer eher spontanen vertikalen Dipolmessung. Und um auch was mit nach Hause nehmen zu können, haben wir es uns natürlich nicht nehmen lassen, auch ein paar Bodenproben in Form von Kernen zu ziehen. (Sollten euch einige dieser Methoden noch unbekannt sein, keine Sorge, eine Vorstellung dieser wird hier in Kürze zu lesen sein ) Um all das zu schaffen wurde rund um die Uhr gearbeitet, sich gegenseitig unterstützt und motiviert. Seien wir ehrlich; die Küche trug einen maßgeblichen Teil zur Motivation bei.
Natürlich blieb es nicht aus, sich zwischenzeitig für die langen Arbeitstage und -nächte zu belohnen; ob Auspannen in der Hängematte mit der mediterranen Sonne auf dem Bauch, einem intensiven Sportprogramm zwischen Feierabend und Abendessen, einem Bierchen zum Sonnenuntergang, einer intensiven Runde Tischkicker oder einen fixen Abkühlung in den improvisierten Pools.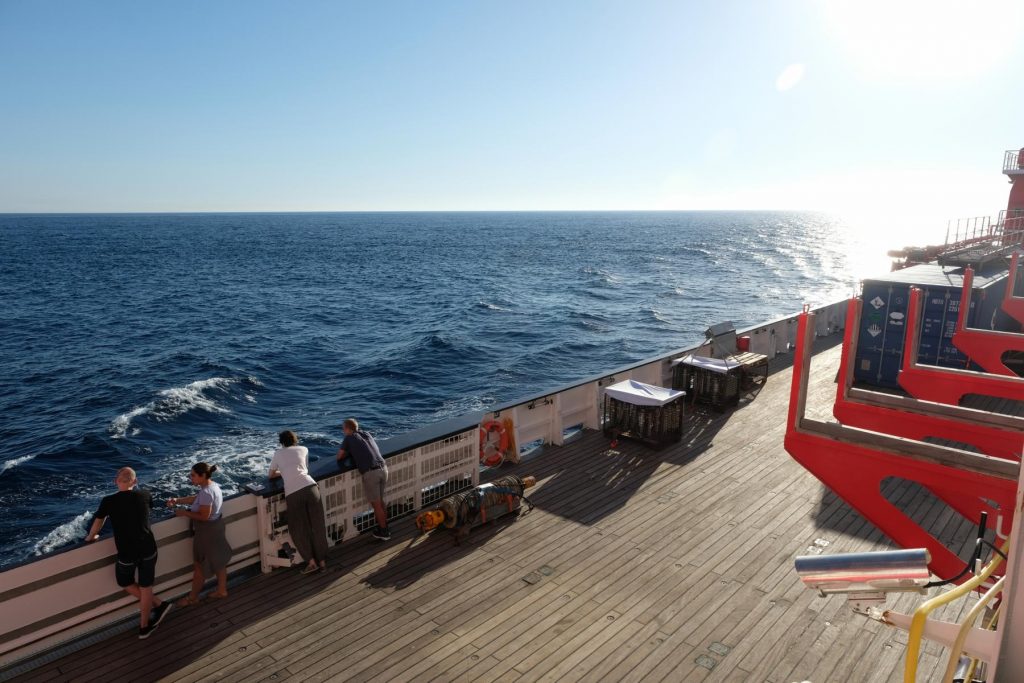 Ein soziales Highlight, bildete der Besuch, der uns abgestattet wurde; Dr. Owen Bonnici, der maltesischen Bildungsminister, in Begleitung von Prof. Aaron Micallef, einem der wissenschaftlichen Leiter des SMART Projekts, und Dr. Axel Steuwer, dem Vizedirektor der Universität Malta. Natürlich war es ihnen auf Grund der Corona-bedingten Hygieneregelungen nicht gestattet an Bord zu kommen, aber dennoch konnten Gastgeschenke und freundliche Worte gewechselt werden. Im Anschluss blieb das Lotsenboot in der Nähe und wohnte dem Einsatz der Video-CTD bei.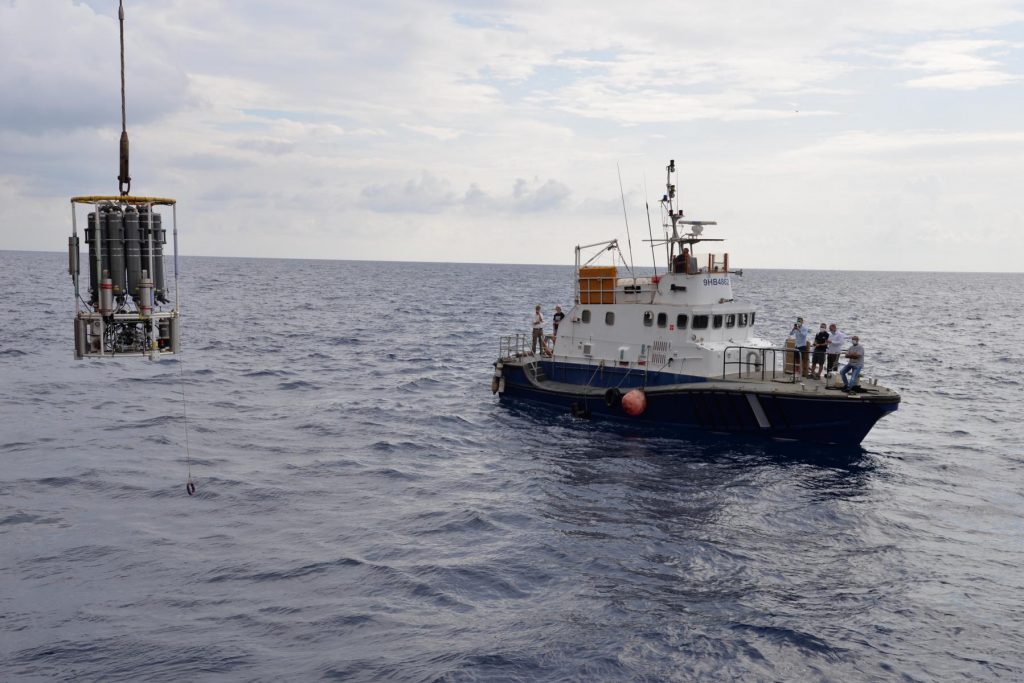 So banal es klingen mag, aber es gehört ja nun doch zum guten Ton; das allseits beliebte Gesprächsthema Wetter!
Glücklicherweise war uns eben dieses die meiste Zeit wohl gesonnen, sodass Aussetzen und Einholen von Geräten ohne große Zwischenfälle von der Hand gingen. Zugegebenermaßen hatten wir außer zwei verregneten Tagen und einer leichten Zunahme von Wind und Welle gegen Ende, vor allem ein außerordentliches Wetterereignis: eine Windhose! Gut sichtbar, aber in sicherer Entfernung konnte man von Bord der Sonne das gesamte Spektakel bestaunen; Graue, sich verdichtende und verdunkelnde Wolken, zuerst eine leichte Verwirbelung in der Wolkendecke die sich fast surreal, wie ein Finger langsam Richtung Wasseroberfläche streckt bis da doch tatsächlich eine stattliche Windhose auf dem Meer tanzt.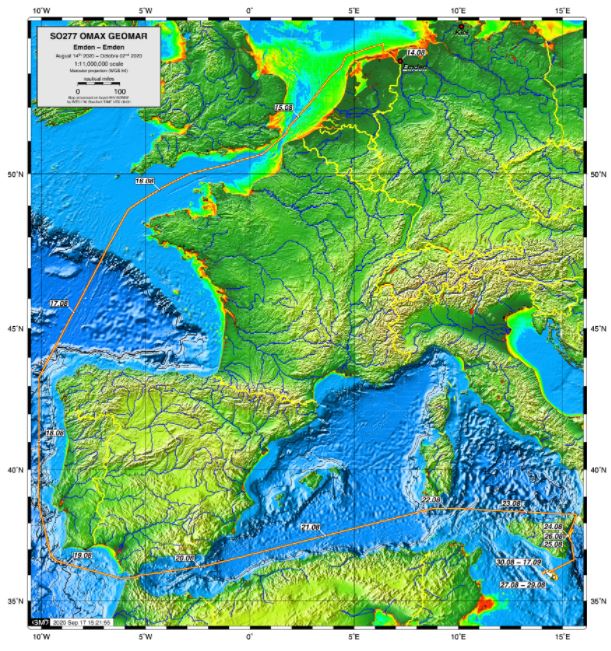 Mit der untergehenden Sonne winkten wir also Malta auf Wiedersehen und treten so langsam unseren Heimweg an. Allerdings gönnen wir uns noch ein paar wissenschaftliche und szenische Highlights mit einigen Forschungsstationen vor dem Ätna und dem Stromboli.
Gegenwärtige Position: 38° 41,905′ N 010° 31,107'E
Text und Fotografie: Johanna Klein, Thore Sager, Helene Hilbert and Anina-Kaja Hinz