War es das schon? Nach den Lockerungen der Schutzmaßnahmen gegen COVID-19 scheint das Leben sich langsam wieder zu normalisieren. Man sieht Kolleginnen und Kollegen im Büro, die man seit Wochen nicht mehr gesprochen, geschweige denn gesehen hat. Gleichzeitig melden die Medien erfreulich wenig neue Krankheitsfälle – zumindest in Kiel und Schleswig-Holstein. Also: War es das schon? Natürlich nicht. Das Virus ist noch da, es bleibt ansteckend und es gibt nach wie vor keine Impfung oder direkt wirkende Medikamente. Global gesehen ist die Pandemie noch lange nicht durchgestanden. Also ist weiterhin Vorsicht geboten!
Trotzdem ist es erfreulich, dass die positive Entwicklung in Norddeutschland auch wieder Aktivitäten in der Meeresforschung zulässt, die zwischendurch ausgebremst waren. Dazu gehört auch das Projekt UFO. Nein, das hat nichts mit Raumfahrt und extraterrestrischem Leben zu tun. Es handelt sich um ein neuartiges "Unterwasser-Fisch-Observatorium".
Hinter dem Projekt steckt die Frage: Wie kann man Fische unter Wasser zählen und gleichzeitig ihre Umwelt miterfassen? Wie viele Dorsche oder Heringe gibt es gerade in der Ostsee? Und was haben Wassertemperaturen oder Sauerstoffgehalt damit zu tun?
Bislang untersucht man Bestandsgrößen von Fischen mit regelmäßigen Testfängen, die dann nach statistisch-mathematischen Verfahren ausgewertet werden. Um Verbindungen mit Umweltparametern herstellen zu können, muss man während der Schiffausfahrten nicht nur Netzfänge durchführen, sondern auch noch entsprechende Messungen.
UFOs sollen das in Zukunft automatisch und kontinuierlich machen. Im Rahmen eines interdisziplinären Projektes finanziert vom Innovationsprogramm des Bundesministeriums für Ernährung und Landwirtschaft (BMEL) unter Leitung des Thünen-Institut für Seefischerei/GEOMAR zusammen mit weiteren Ingenieuren und Wissenschaftlern des GEOMAR, der Fachhochschule Kiel, des Fraunhofer-Instituts Ilmenau und der MacArtney Germany GmbH Kiel wird daran arbeitet, mithilfe von UFOs das Monitoring von Fischen und anderen Meeresorganismen zu digitalisieren – und zwar von der Erfassung und Identifikation bis hin zur Vermessung.
Nach Jahren der Entwicklungsarbeit stand ein fertiger Prototyp eines UFOs seit März einsatzbereit in den Hallen der MacArtney Germany GmbH Kiel und wartete darauf, mit Hilfe des Forschungskutters LITTORINA zu Wasser gelassen zu werden. Geplant war die Fahrt für den 6. April. "Alles wird vorbereitet, die Vorfreude ist groß, schließlich wollten wir das Reinziehen der Heringsschwärme in die Kieler Förde im Frühjahr erfassen", berichtet der Biologe Prof. Dr. Joachim Gröger vom Thünen-Institut für Seefischerei, der das Projekt leitet.
Dann kamen die Corona-Einschränkungen, der Einsatz musste vertagt werden. "Es ist nicht zu ändern, anderes ist wichtiger!", sagte sich Dr. Catriona Clemmesen vom GEOMAR, Co-Koordinatorin der UFO-Entwicklung. Doch vorausschauend buchte das Team den nächstmöglichen freien Termin der LITTORINA, den 18.Mai. "Keiner wusste, ob das realistisch ist, wir haben von einem Tag zum anderen geplant", erinnert sich Joachim Gröger.
Am 6. Mai dann die Zusage. Ja, unter Einhaltung von Abstands- und Hygieneregeln sowie mit Mund-Nasen-Schutz kann der Einsatz am 18. Mai erfolgen. "Das war für uns natürlich eine großer Erleichterung", sagt der Projektleiter.
Und so nahm die LITTORINA den UFO-Prototypen am Montagmorgen an der Pier am Seefischmarkt in Kiel auf und brachte ihn in das vom GEOMAR betriebene Sperrgebiet vor dem Kieler Stadtteil Neumühlen-Dietrichsdorf. Dort wurde das UFO installiert. Gleichzeitig war die Forschungsbarkasse POLARFUCHS vor Ort um erste Messungen vorzunehmen. Die dienen der Kalibrierung des UFOs und sollen langfristige dessen Messgenauigkeiten testen.
Auch ein Team des NDR war vom Ufer aus dabei und hat über das Projekt berichtet. Der Beitrag ist in der Mediathek noch zu sehen.
Wir drücken die Daumen, dass das UFO jetzt so arbeitet wie die Entwicklerinnen und Entwickler es geplant haben.
Bleibt gesund, bis zum nächsten Update,
Jan Steffen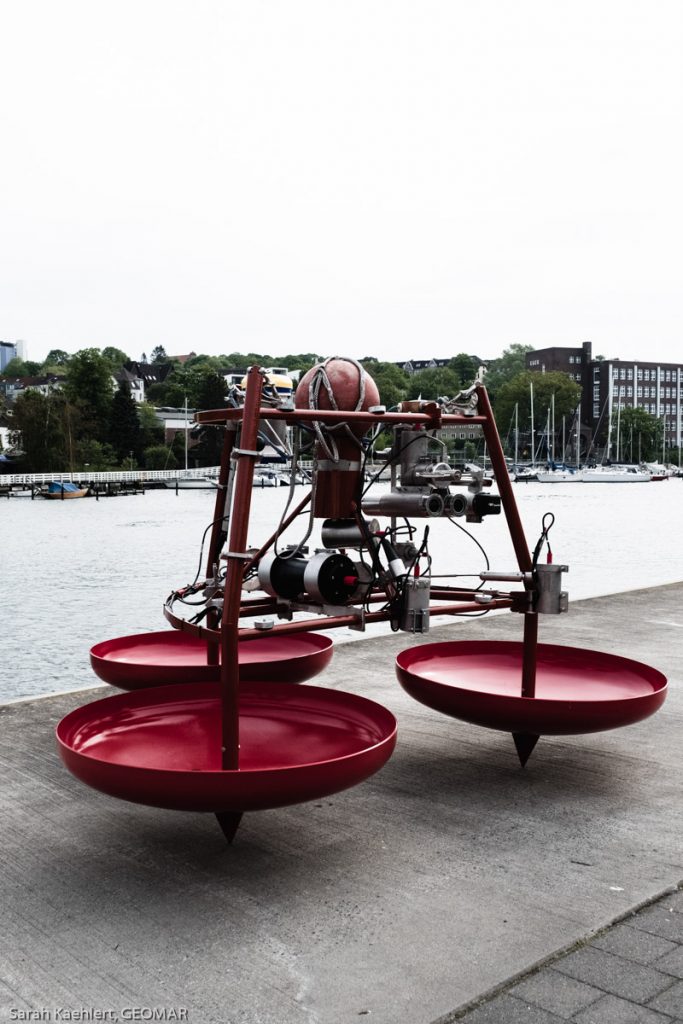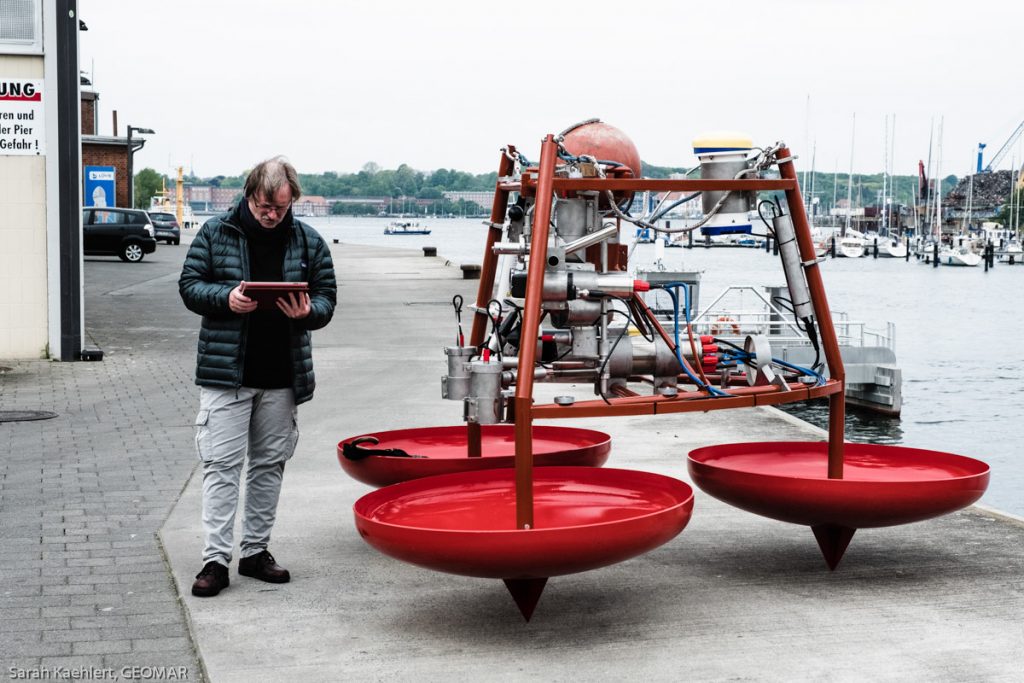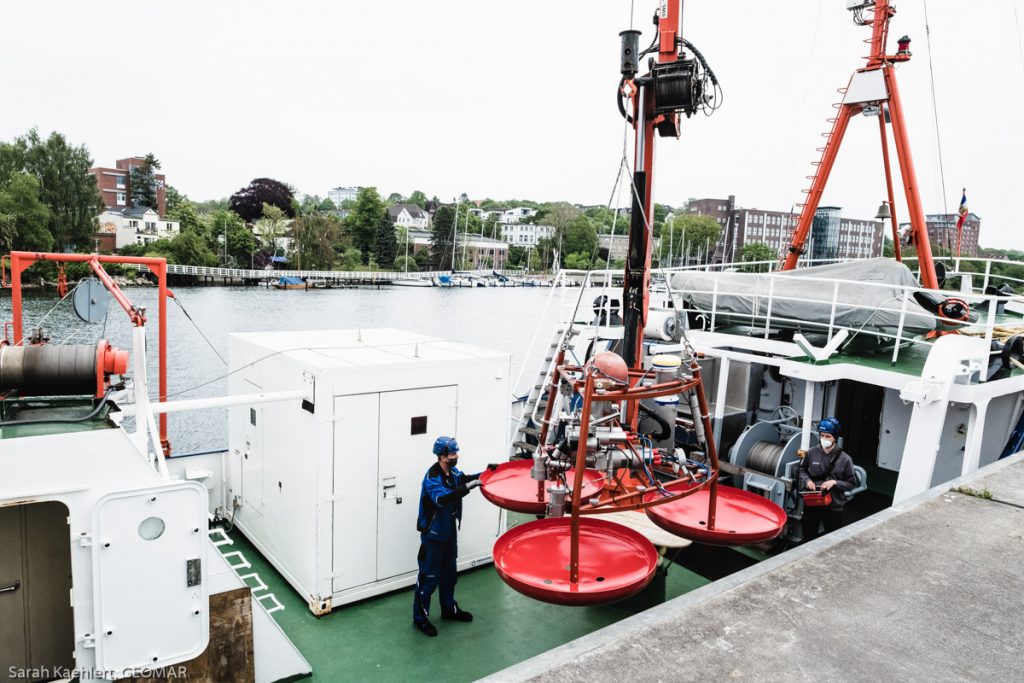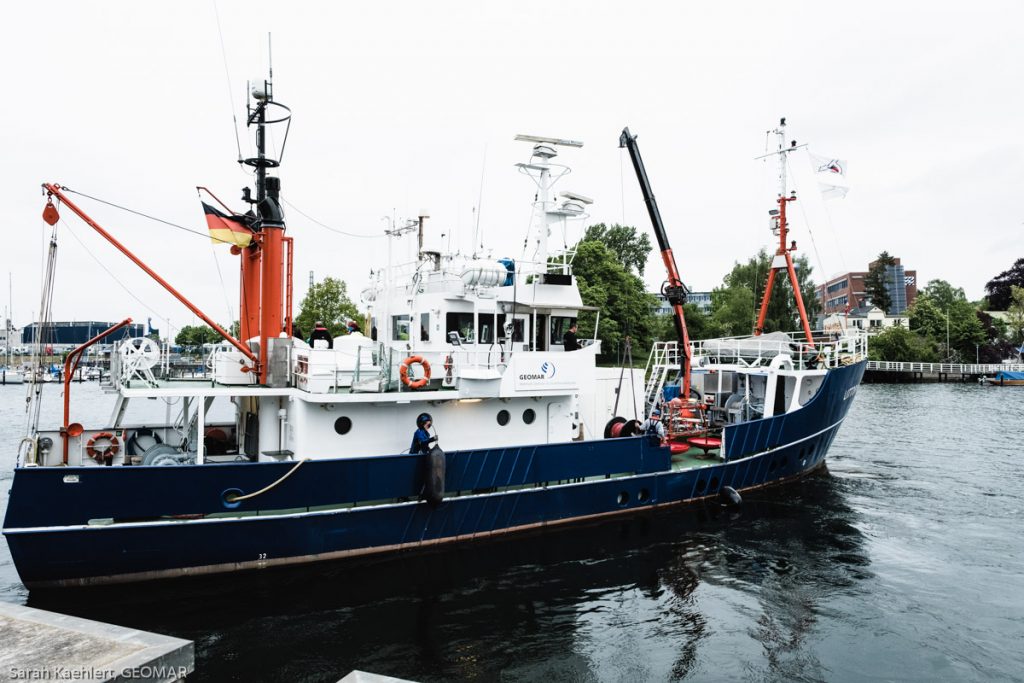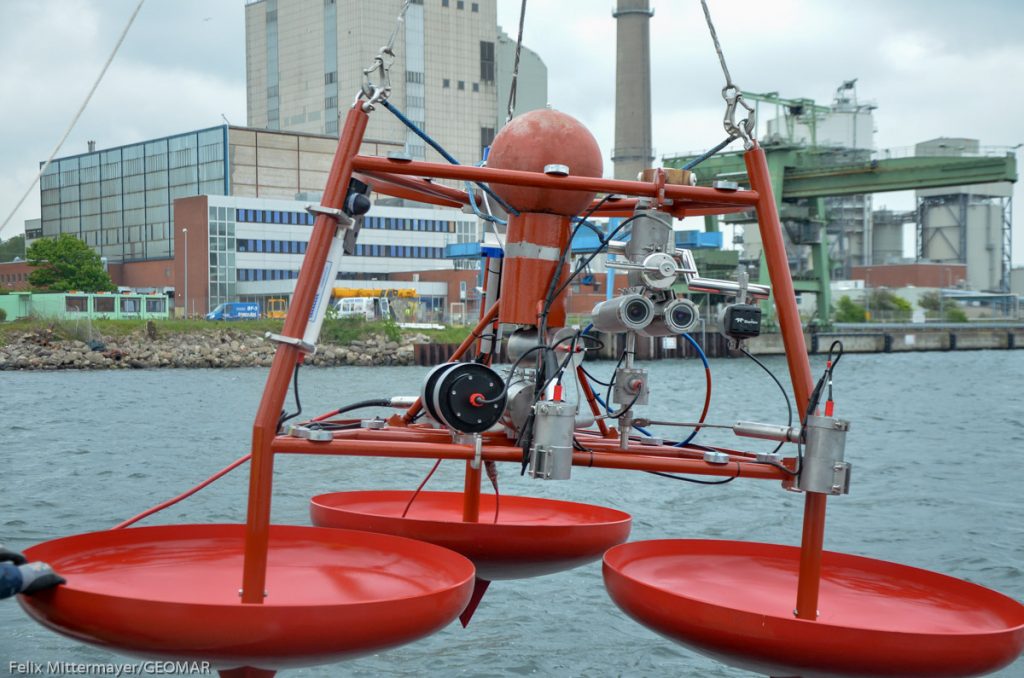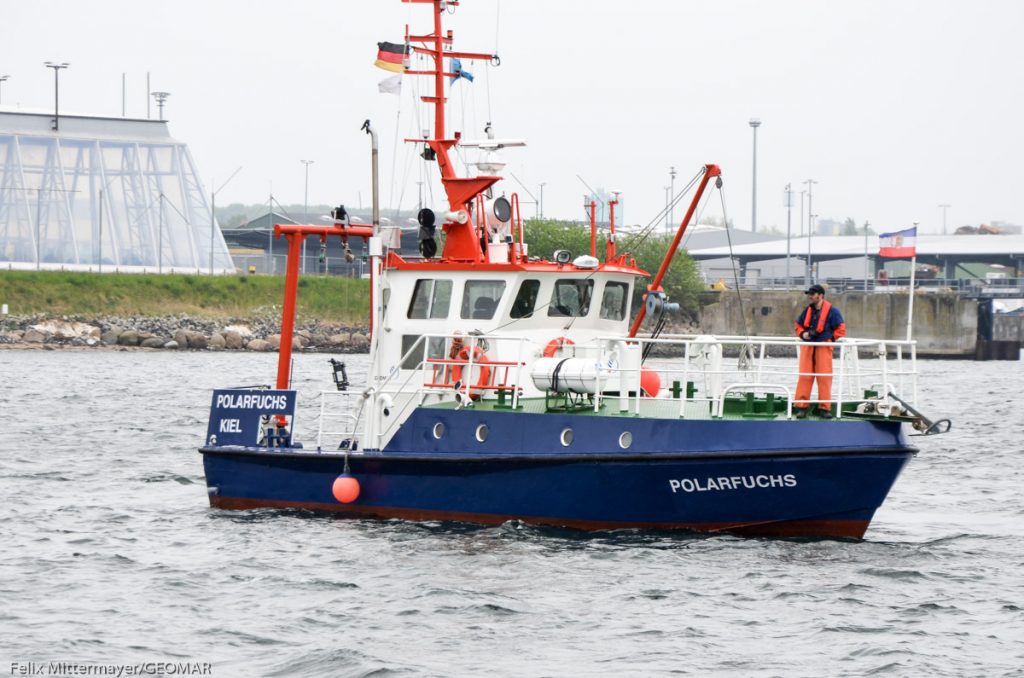 That's it? After the loosening of the protective measures against COVID-19, life slowly seems to return to normal. You see colleagues in the office you have not spoken to, let alone seen, for weeks. At the same time, the media are reporting pleasingly few new cases of illness – at least in our home area of Kiel and the state of Schleswig-Holstein. So—that's it? Of course not. The virus is still there, it remains contagious and there is still no vaccination or directly effective medication. From a global perspective, the pandemic is far from over. So caution is still required!
Nevertheless, it is encouraging that the positive development in northern Germany allows activities in marine research, which had been halted for weeks. This includes the UFO project. No, this has nothing to do with space travel and extraterrestrial life. It is a new type of "Underwater Fish Observatory".
The question behind the project is: How can you count fish under water and at the same time record their environmental conditions? How many cod or herring live in the Baltic Sea right now? And what do water temperatures or oxygen content have to do with this?
Up to now, fish stocks have been studied using regular net catches, which are then evaluated using statistical and mathematical methods. In order to establish links with environmental parameters, it is not only necessary to carry out the catches during the ship's voyages, but also to take corresponding measurements.
In future, UFOs are to do this automatically and continuously. As part of an interdisciplinary project financed by the innovation programme of the Federal Ministry of Food and Agriculture (BMEL) under the leadership of the Thuenen Institute for Sea Fisheries/GEOMAR together with other engineers and scientists from GEOMAR, the Kiel University of Applied Sciences, the Fraunhofer Institute Ilmenau and MacArtney Germany GmbH Kiel, work is carried out on digitising the monitoring of fish and other marine organisms with the aid of UFOs – from recording and identification to surveying.
After years of development work, a finished prototype of a UFO had been standing ready for use in the workshops of MacArtney Germany GmbH Kiel since March, waiting to be deployed with the help of the research vessel LITTORINA. The trip had been planned for April 6. "Everything was prepared, the anticipation was great, after all, we wanted to record the arrival of the herring in the Kiel Fjord in spring," remembers biologist Prof. Dr. Joachim Gröger from the Thuenen Institute for Sea Fisheries, who leads the project.
Then came the corona restrictions and the deployment had to be postponed. "We couldn't change it, other things were more important," says Dr. Catriona Clemmesen from GEOMAR, co-coordinator of UFO-development project. But looking ahead, the team booked the next available date for the LITTORINA, May 18th. "Nobody knew whether this was realistic, we planned from one day to the next," recalls Joachim Gröger.
Then, on 6 May, the team received the confirmation. Provided that distance and hygiene rules are observed and face masks are worn, the team was given green light for the deployment operation on 18 May. "That was of course a great relief for us," says the project manager.
The LITTORINA picked up the UFO prototype on Monday morning at the pier of the Seefischmarkt in Kiel and brought it to the restricted area operated by GEOMAR offshore the Neumühlen-Dietrichsdorf district of Kiel. There the UFO was installed. At the same time, the research barge POLARFUCHS was on site to take the first measurements. These serve to calibrate the UFO and are intended to test its measuring accuracy in the long term.
A team from NDR was also present at shore and reported on the project. The report can still be seen in the NDR mediathek (in German).
We keep our fingers crossed that the UFO now works as the developers planned it.
Stay healthy until the next update,
Jan Steffen