(English below)
Mehr als fünf Wochen bestimmt der Sars-CoV-2-Virus schon unser Leben. So langsam haben sich neue Arbeitsweisen entwickelt, neue Routinen haben sich eingestellt und mit den ersten Lockerungen des Lockdowns in Deutschland ergeben sich auch für uns wieder neue Möglichkeiten.
Die großen Expeditionen und Experimente, die am Anfang des Corona-Zeit noch liefen, sind mittlerweile alle beendet. Die Teams, die mit der ALKOR aus Spanien kamen und mir der METEOR im zentralen Atlantik unterwegs waren, hatten es noch relativ einfach, weil sie die Fahrten planmäßig beenden konnten und die Schiffe sie direkt nach Deutschland zurückbrachten. Das Team, das vor der Küste von Peru einen Langzeitversuch zu den Auswirkungen des Klimawandels auf die dortigen Küstenauftriebsgebiete durchführte, stand vor umfangreicheren Herausforderungen. Seine Labore an Land wurden von einem auf den anderen Tag geschlossen, nur mit Sondergenehmigungen und unter strengen Auflagen durften es seine Arbeit fortsetzen. Dabei stand für Teamleiter Ulf Riebesell natürlich auch die Gesundheit und Sicherheit des Teams an erster Stelle. Wie herausfordernd dieser Balanceakt für alle Beteiligten war und wie er dennoch zu einem erfolgreichen Abschluss führte, könnte ihr im jüngsten Beitrag im CUSCO-Blog nachlesen.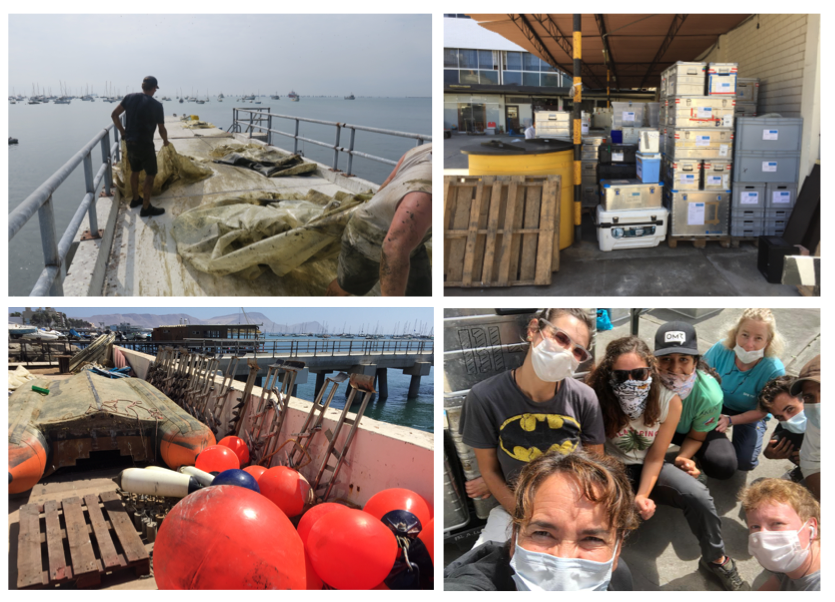 In der vergangenen Woche berichtete Spektrum.de (https://www.spektrum.de/news/coronakrise-stoppt-wertvolle-messungen-in-der-ostsee/1724440) außerdem darüber, dass in wertvollen Zeitserienmessungen in der Ostsee – nicht nur, aber auch wegen Corona – jetzt Lücken entstehen. In diesem Punkt können wir wenigstens teilweise Entwarnung geben. Die April-Messfahrt zur Zeitserienstation Boknis Eck konnte in dieser Woche nachgeholt werden. Unter speziellen Voraussetzungen dürfen die GEOMAR-Schiffe ALKOR und LITTORINA seit dieser Woche nämlich wieder fahren. Die LITTORINA hat als kleinere Einheit den Anfang gemacht und war gleich auf mehreren Tagesfahrten (siehe Bild ganz oben). Wer sich im Schiff aufhielt, musste eine Schutzmaske tragen, die Mahlzeiten an Bord wurden in Schichten eingenommen und alle haben auf Mindestabstände geachtet. Aber die Daten konnten gewonnen werden.
Die ALKOR ist mit einem Team der Universität Kiel sogar schon wieder für mehrere Tage in der Ostsee unterwegs – allerdings mit verkleinerter Besatzung und nur halber Besetzung auf wissenschaftlicher Seite. Mehr dazu im nächsten Blog-Beitrag.
Kreative Lösungen ermöglichen auch andere Arbeiten. Dafür ein Blick über den Kieler Tellerrand hinaus.
Bedauerlich ist einerseits, dass zahlreiche Expeditionen der großen deutschen Forschungsschiffe im Pazifik und im Indischen Ozean abgesagt werden mussten. Alleine die Anreise der Fahrtteilnehmer wäre wahrscheinlich nicht möglich gewesen. Das ist einerseits sehr bedauerlich für viele Kolleginnen und Kollegen, die viele Monate in die Vorbereitungen dieser Fahrten gesteckt haben, oder die mit Daten und Proben von diesen Fahrten ihre Master- oder Doktorarbeiten schreiben wollten.
Gleichzeitig stehen die die deutschen Forschungsschiffe SONNE und Maria S. Merian zur Verfügung, um den letzten Personaltausch bei der vom AWI koordnierten MOSAiC-Expedition zu unterstützen. Mehr dazu findet Ihr hier: www.awi.de https://www.awi.de/ueber-uns/service/presse-detailansicht/presse/alternativplan-fuer-polarstern-versorgung-steht.html
Und sonst? Meeresforschung ist und bleibt spannend. Doch im Moment interessiert wahrscheinlich jeden Menschen mehr: Wie kriegen wir diesen blöden Virus in den Griff? Das GEOMAR ist – genau wie das AWI – ja Mitglied der Helmholtz-Gemeinschaft. Unter ihrem Dach finden sich auch mehrere auf Medizinthemen spezialisierte Forschungszentren. Was dort gerade an aktueller Sars-CoV-2-Forschung läuft, hat die Helmholtz-Gemeinschaft hier: https://www.helmholtz.de/aktuell/coronavirus-sars-cov-2/ zusammengefasst.
Abgesehen davon werden wir Euch natürlich auch weiterhin über die Entwicklungen in der Meeresforschung auf dem Laufenden halten.
Beste Grüße aus dem GEOMAR,
Jan Steffen
Marine research in times of pandemic – Update 3
For more than five weeks now, the Sars-CoV-2 virus has dominated our lives. Slowly new ways of working have developed, new routines have been established and with the first loosening of the lockdown in Germany, new possibilities are opening up for us as well.
The long expeditions and large experiments, which were still running at the beginning of the Corona era, are now all finished. The teams that came with the RV ALKOR from Spain and were working with the RV METEOR in the central Atlantic were able to finish the voyages as planned and the ships brought them directly back to Germany. The team, which conducted a long-term experiment off the coast of Peru on the effects of climate change on the coastal upwelling areas , faced more extensive challenges. Its laboratories on land were closed from one day to the next, and it was only allowed to continue its work with special permits and under strict conditions. For team leader Ulf Riebesell, the health and safety of the team was of course a top priority. How challenging this was for everyone involved and how it nevertheless led to a successful conclusion can be read in the latest post on the CUSCO blog.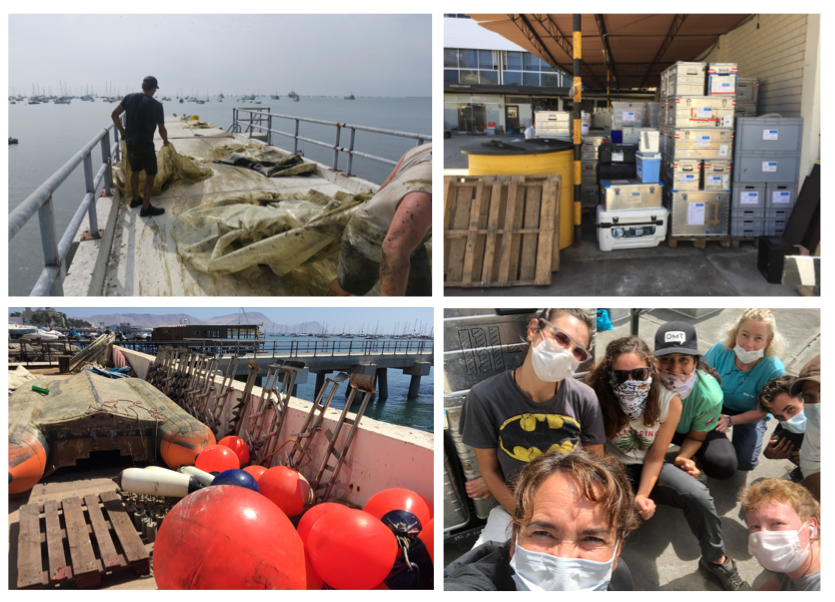 Last week, the scientific online magazine Spektrum.de https://www.spektrum.de/news/coronakrise-stoppt-wertvolle-messungen-in-der-ostsee/1724440 reported that gaps are now appearing in valuable time series measurements in the Baltic Sea – not only, but also because of corona. On this point at least we have good news. The April measurement excursion to the Boknis Eck time series station could be conducted this week. Under special conditions, the GEOMAR ships ALKOR and LITTORINA are allowed to sail again. The LITTORINA started as a smaller unit and was on several day trips (see image at the top of the page). Those who worked inside the ship had to wear a face mask, meals on board were taken in shifts and everyone paid attention to minimum distances. But valuable date could be obtained.
The ALKOR is currently on a week-long voyage with a team from the Kiel University in the Baltic Sea – with a reduced nautical crew and only half of the normal scientific team. More about this in the next blog post.
Creative solutions also make other projects possible again. Therefore a view beyond the Kiel Marine Science. Of course, it is a pity that numerous expeditions of the large German research vessels in the Pacific and Indian Ocean had to be cancelled (see information on the website of the German Marine Research Alliance). The journey of the participants alone would probably not have been possible. This is very unfortunate for many colleagues who invested many months in the preparations for these voyages, or who wanted to write their master's or doctoral theses with data and samples from these voyages.
At the same time, the German research vessels SONNE and Maria S. Merian are now available to support the last personnel exchange during the MOSAiC expedition coordinated by AWI. More information can be found here: www.awi.de https://www.awi.de/ueber-uns/service/presse-detailansicht/presse/alternativplan-fuer-polarstern-versorgung-steht.html
What else? Marine research is and remains exciting. But at the moment probably everyone is more interested in: How do we get this virus under control? GEOMAR is – just like the AWI – a member of the Helmholtz Association. Under its roof there are also several research centres specialized in medical topics. The Helmholtz Association has summarised its current Sars-CoV-2 research activities here: https://www.helmholtz.de/aktuell/coronavirus-sars-cov-2/.
Apart from that, we will continue to keep you informed about developments in marine research.
Best regards from GEOMAR,
Jan Steffen