Auf dem Weg von Emden in die Ostsee fahren wir an vielen Windkraftanlagen vorbei. Auch am ersten Tag auf See gilt es, die Sicherheitsvorkehrung zu üben.
On the way from Emden to the Baltic Sea, we pass many wind turbines. The first day at sea is also a time to practice safety precautions.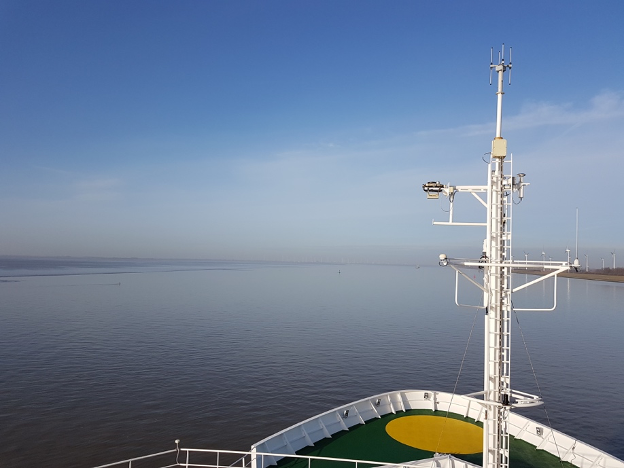 Die Merian hat pünktlich um 8:30 abgelegt. Bei ruhigem Wetter geht es die Ems in Richtung Nordsee herunter. Unterwegs begleiten uns jede Menge Windkraftanlagen.
Erster Höhepunkt des Tages: Probealarm! Wir müssen uns unsere Schwimmwesten greifen und den Weg zur Sammelstelle finden. Als alle anwesend sind, üben wir das Anlegen. Es klappt gut – man merkt, dass viele hier schon oft zur See gefahren sind. Ich fühle mich ein bisschen wie ein Kragenbär und bin froh, meinen Lebensretter erst einmal wieder zur Seite legen zu dürfen. Denn jetzt geht es zu dem Freifall-Rettungsboot. Beim Einsteigen denke ich mir: "Nimm das jetzt bloß nicht wörtlich", denn es geht steil abwärts. Rechts und links vom Gang sind – Gottseidank – Haltegeländer angebracht, dahinter befinden sich jeweils eng hintereinander Sitzschalen, in denen man mehr liegt als sitzt – jetzt jedenfalls. Wenn das Boot bei einem echten Notfall aus seiner Verankerung gelöst wird und ins Meer fällt, wird es wieder in der Horizontalen landen – mehr oder weniger. Ich möchte mir diesen Notfall lieber nicht vorstellen und bin froh, als wir alle wieder im Freien sind, ohne dass jemand einen klaustrophischen Anfall bekommen hat.
The Merian departs punctually at 8:30. The weather is calm as we sail down the Ems towards the North Sea. On our way, we are accompanied by lots of wind energy plants.
First highlight of the day: test alarm! We have to grab our life jackets and find our way to the muster point. When everyone is present, we practise the handling of the life jackets. It works well – it is obvious that many here have been to sea many times before. I feel a bit like a collar bear and am glad to be able to put my lifesaver aside again for the time being. Because now we're going to the free-fall lifeboat. When I get in, I think to myself: "Don't take this literally," because it's a steep descent. Thank God there are handrails to the right and left of the aisle, and behind them there are seats close together, in which you are more lying than sitting – at least for now. If, in a real emergency, the boat has been released from its moorings and has fallen into the sea, it will land in the horizontal again – more or less. I'd rather not imagine that emergency and am glad when we're all out in the open again without anyone having a claustrophic fit.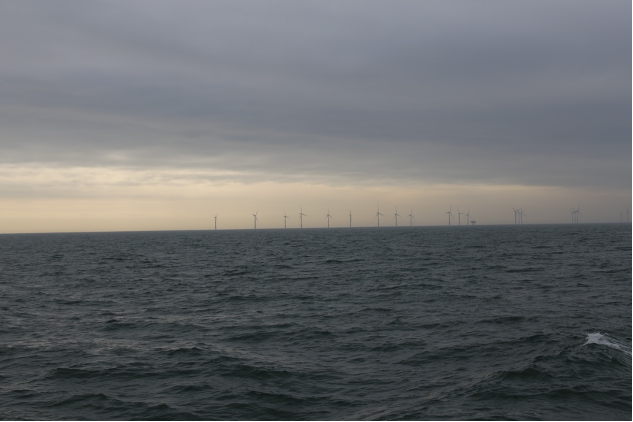 Gegen 18 Uhr sind wir in den Nordostseekanal hineingefahren. Wir haben nichts davon mitbekommen, denn gleichzeitig fand eine große Vorbesprechung für die ersten Stationen morgen im Arkonabecken statt. Fortsetzung folgt!
Around 6 pm we entered the Kiel Canal. We didn't notice, because at the same time there was a big preparatory meeting for the first stations tomorrow in the Arkona Basin. To be continued!
Text and photos by Barbara Hentzsch (IOW)