Es geht an Bord – Einschiffen in Emden nach viertägiger Isolation
On their way to Maria S. Merian – time to get on board after four days of isolation
18 Wissenschaftlerinnen und Wissenschaftler aus Kiel und Warnemünde bereiten sich – nach überstandener Quarantäne – auf MSM99 Deep Baltic vor.
18 scientists from Kiel and Warnemünde are preparing – after surviving quarantine – for the MSM99 Deep Baltic Cruise.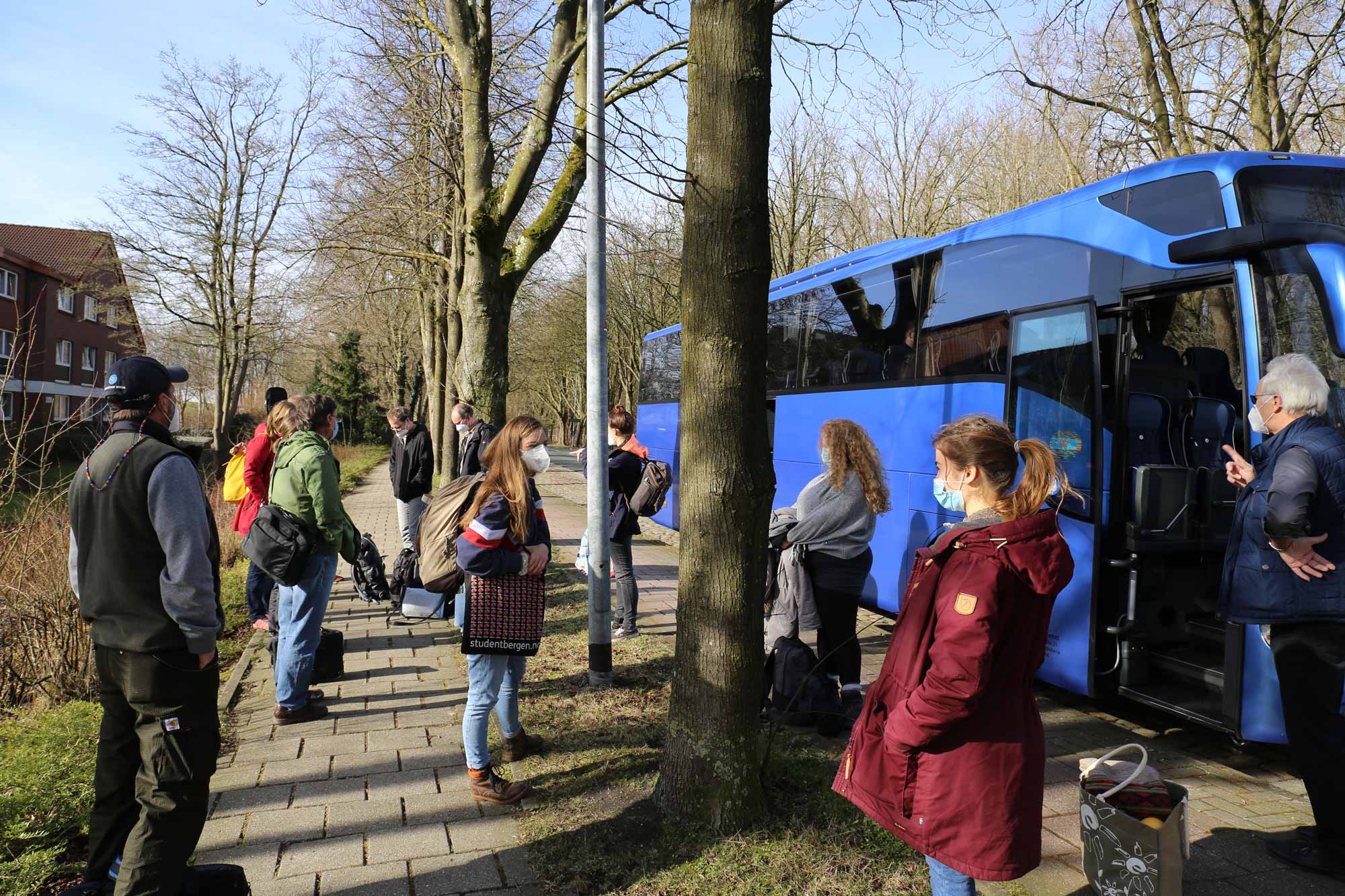 Wir haben die Isolation hinter uns. Alle Testergebnisse waren negative – trotzdem gilt noch für weitere acht Tage: Abstand und Maske.
We finally finished the isolation. All test results were negative. Nevertheless, for the next eight days still applies: keep distance and wear your mask.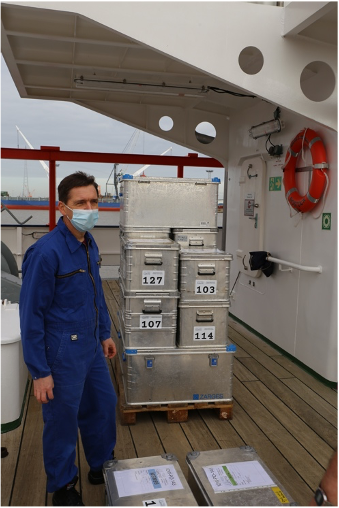 Endlich an Bord! Während die einen ihre Kammern beziehen, ihre Labore einrichten oder sich an Bord umschauen, sind andere dabei, die Container auszupacken. Diese wurden bereits vor einiger Zeit in Kiel und Rostock gepackt und nach Emden transportiert.
Finally on board! While some are settling into their cabins, setting up their laboratories or getting familiar with the ship, are others unpacking the containers. All were packed some time ago in Kiel and Rostock and brought to Emden.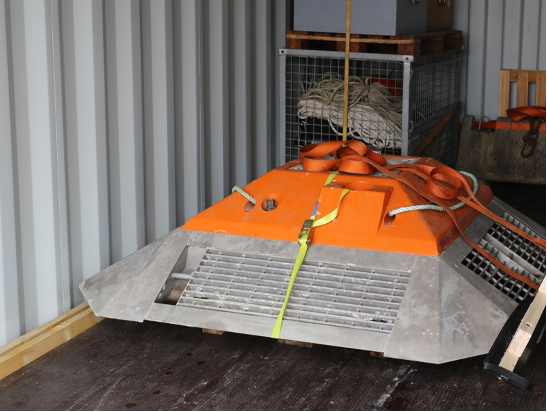 Neben Unmengen an Alu-Kisten kommt auch ein ADCP zum Vorschein. ADCP steht für Acoustic Doppler Current Profiler. Das Gerät soll zusammen mit einer Verankerung am Boden der Bottensee eingesetzt werden und dort für ein Jahr die Strömungsverhältnisse dokumentieren.
Along with numerous aluminum boxes, an ADCP – an Acoustic Doppler Current Profiler – is revealed. The device is to be deployed together with a mooring at the bottom of the Bothnian Sea and shall document the current conditions there for one year.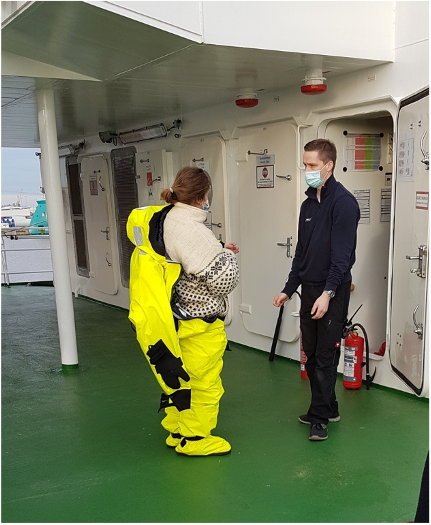 Zu der Begrüssung an Bord gehört auch die Sicherheitsbelehrung durch den 1. Offizier inklusive der Anprobe eines Überlebensanzugs – und nicht vergessen: am Ende die Luft aus dem voluminösen Anzug drücken, sonst landet man im Notfall auch mal kopfüber im Wasser…
The welcome ritual on board also includes the safety briefing by the 1st officer including the fitting of a survival suit – and don't forget: press the air out of the voluminous suit at the end, otherwise you might end up headfirst in the water in an emergency…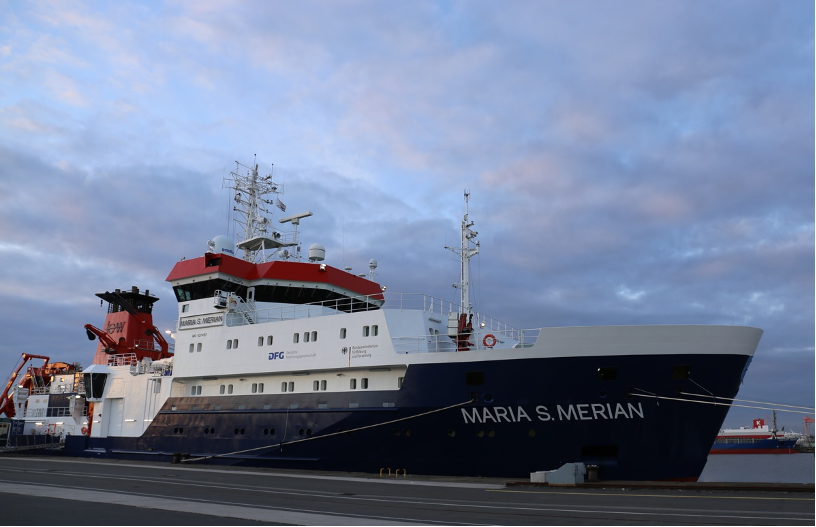 Und so sieht sie jetzt aus, die Maria S. Merian an ihrem Liegeplatz in Emden. Mittlerweile ist es Abend geworden, und an Bord gehen die Lichter an. Morgen um 9:30 Uhr startet die Expedition an den Eisrand der Ostsee, erstmal in Richtung Nord-Ost-See-Kanal.
And this is how she looks now, the Maria S. Merian at the pier in Emden Harbour. In the meantime evening has come and lights go on on board. Tomorrow at 9:30 a.m. the cruise starts, direction Kiel Canal.