Liebe Kollegen, Freunde, Familie und Interessierte,
Unsere Expedition neigt sich dem Ende zu. Nach 30 Tagen im Arbeitsgebiet haben wir am 27. Januar um 16 Uhr nach Norden in Richtung Las Palmas de Gran Canaria abgedreht und den rund 1.300 Seemeilen langen Rücktransit angetreten. Nach nun abgeschlossener Forschungsarbeit hier einige Zahlen und Fakten zu unseren Aktivitäten auf See:
Bei Einlaufen in Las Palmas werden wir auf der gesamten Reise rund 7200 nautische Meilen zurückgelegt haben (über 13.300 km).
Es wurden 40 kleine und große Seamounts hochauflösend kartiert. Die Fläche dieses Gebietes beträgt 67.580 km2 und ist etwa so groß wie Belgien, Luxemburg und die Niederlande zusammen.
Die Auflösung der Meeresbodenkarten (Pixelgröße) wurde in den kartierten Gebieten von >1 km (GEBCO) auf 50 m verbessert (400x besser!). Geologische Details wie Erosionskanäle und Flankenabbrüche sind nun sichtbar.
Es wurden 21 bisher unbenannte Seamounts untersucht und Namensvorschläge für einige dieser Unterwasservulkane eingereicht.
Insgesamt wurden rund 182 Stunden (7 Tage, 14 Stunden) für 65 Dredgezüge investiert und mehr als 300 Gesteinsproben geborgen.
Die durchschnittliche Wassertiefe hierbei betrug 2.780 m.
Die viertägige Transitzeit nutzen wir zum Packen der Kisten, verstauen der Proben und Dredgen im Container sowie dem Schreiben des Fahrtberichts. Das Einlaufen in den Hafen von Las Palmas ist für den 1. Februar um 8:00 Ortszeit geplant.
Wir wünschen allen interessierten Lesern alles Gute und hoffen, Ihnen durch diesen Blog einen kleinen Eindruck von unserer Arbeit und dem Leben an Bord vermittelt zu haben.
Mit freundlichen Grüßen von der Maria S. Merian
Jörg Follmann, Martin Schade
[English]
Dear colleagues, friends, families and interested readers,
Our expedition has nearly reached the end. After 30 days in the working area we left on the 27th of January around 4 p.m. heading northwards to Las Palmas de Gran Canaria for the 1,300 nautical miles long transit. After finishing our research we like to give you an impression of our work with some facts and numbers:
When arriving in Las Palmas we sailed about 7,200 nautical miles (>13,300 km)
40 small and large seamounts have been mapped in an area of 67,580 square kilometres. This equals the surface area of Belgium, Luxemburg and the Netherlands together.
The resolution (pixel size) of the maps has been improved from >1km (GEBCO) to 50 m (400x better!). Geological features like erosion channels and flank collapses of some seamounts are now visible.
21 unnamed Seamount have been explored and names for some of them have been proposed.
The total time we used to perform the 65 dreges is 182 hours (7 days, 14 hours) and we collected more than 300 rock samples.
The average water depth for dredging was 2780 m.
The four days of transit are used to pack the equipment boxes, load the dredge and the samples into the container and writing of the cruise report. The arrival in the harbour of Las Palmas is scheduled for the 1st of Febuary around 8 a.m.
We wish all the interested readers all the best and hope this blog gave an impression of our work and life on the vessel.
With best regards from RV Maria S. Merian
Jörg Follmann, Martin Schade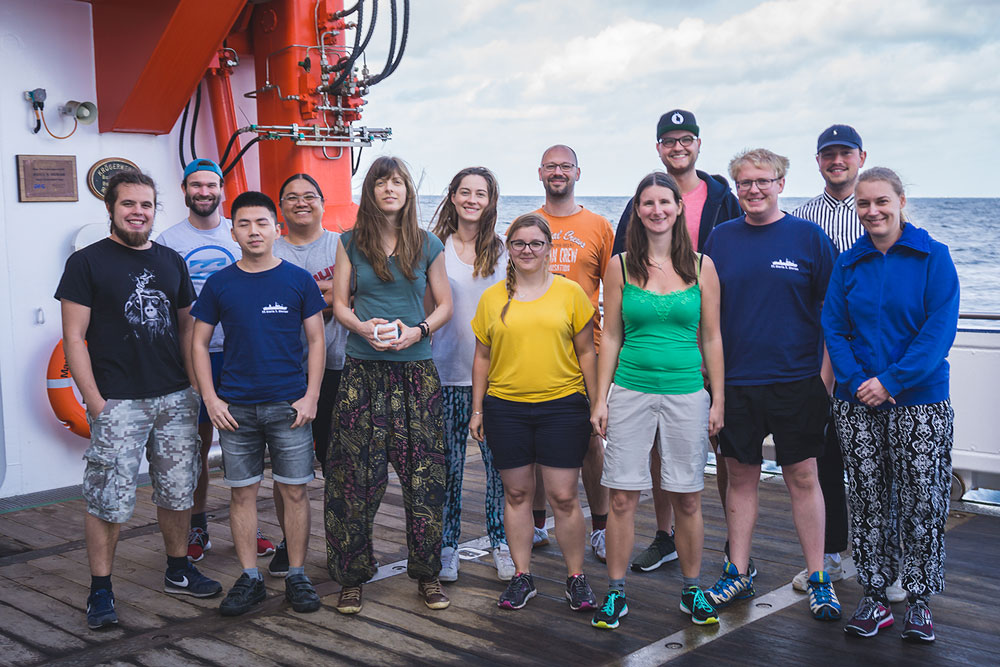 Das obligatorische Gruppenfoto des MSM70 Wissenschaftsteams. Es war eine tolle und erfolgreiche Expedition!
The group picture of the scientific team of MSM70. Is was a great and successful expedition!

Hiermit verabschieden wir uns. Vielen Dank und vielleicht bis zum nächsten Mal auf Oceanblogs.org 🙂
We say good bye and maybe we meet again on Oceanblogs.org 🙂