When travelling, there is nothing better than tasting the local food. It is often more than just a meal, it is also about experiencing a culture. On board of the M159, Mike and Rainer gave us that incredible experience. Every single day, we discovered Germany and other countries. They have transported us from Hamburg to Bavaria with astounding flavours. From potatoes to cakes, let's try to take you into a similar journey…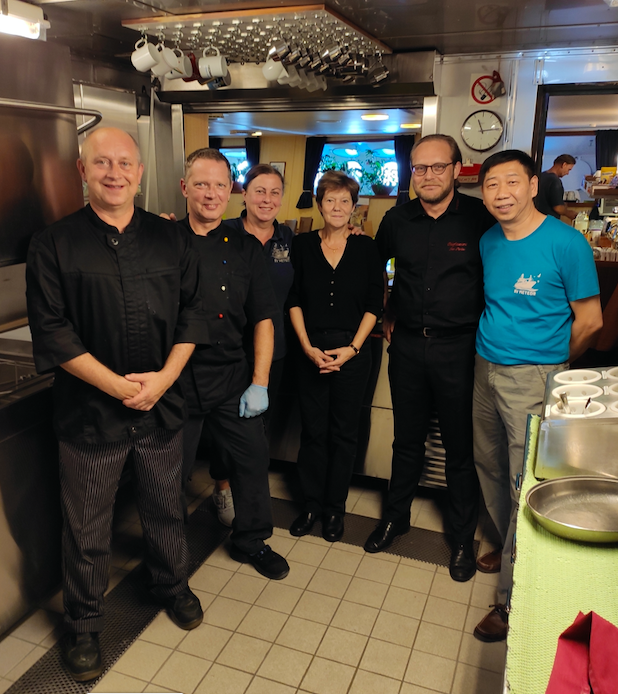 Originally from Germany, Mike worked in seasonal gastronomy jobs in different cities and hotels. But this was not really his dream, he wanted to live at sea. Before getting on board of the Meteor, Mike spent 1 entire year in a base camp in Antartica with only 9 people ! This was a life changing experience to him, it shaped who he is now. Also from Germany, Rainer worked in the kitchen of a hospital for a few years. Right after the Berlin wall fell down in 1989, he was going to start working at sea. However, the political instability changed his initial plans. He continued to work in the hospital until he got on board of the Meteor in 2001. What connects these two men apart from working together? Both of them were never really fond of routine life on land. But also, both of them made the active decision to spend more time on a ship than with their families. It is a lifestyle that they both share.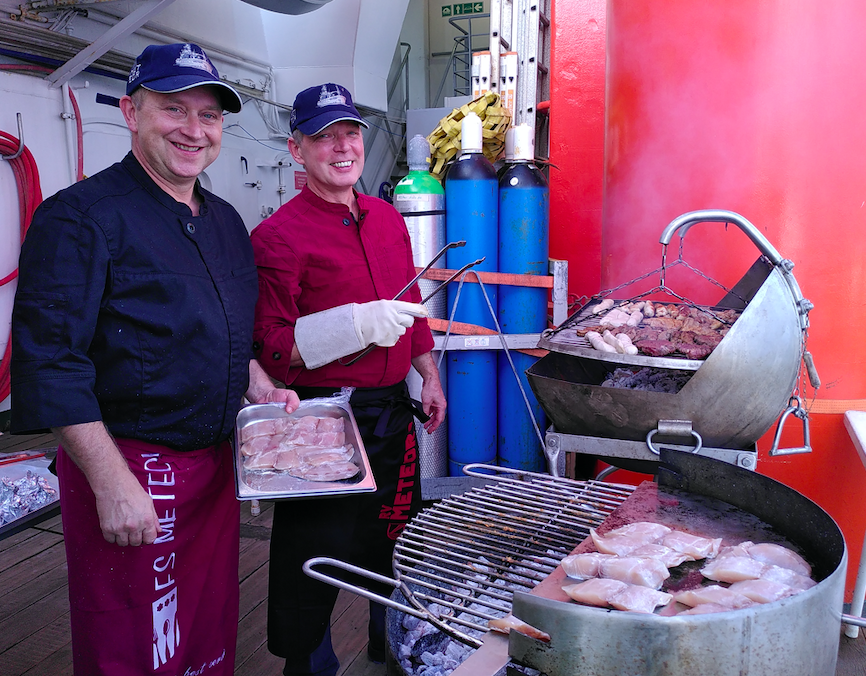 Usually, kitchens in restaurants have a very defined hierarchy for the chef, main cooks, and assistants, but on board of the Meteor things are a bit different. Mike and Rainer work as a team without fixed functions. They share and rotate different tasks depending on the days, but they also know the strengths of each other. For instance, Rainer is particularly good at making bread and pastries, but Mike also helps him. Just take a look at these magical hand-made desserts…
"Käsekuchen"

French "Puffé"
"Berliner"

American donuts
Photos by Luisa Sarmiento
I have been living in Germany for more than one year now, but I had to cross the Atlantic on a research vessel to actually get a taste of the traditional food. Not only we tasted many many styles of potatoes, but we also enjoyed a diversity of meals every day. The germans on board often smiled at the food and said "Oh, it reminds me of Oma". Oma means grand-mother in german, so you can understand that we ate traditional meals that have probably been passed down through many generations. Why cook traditional German meals? Imagine being away from "home" for many weeks and even months, but still be able to taste the flavours of home.
Although most of the meals are traditional, Mike and Rainer always try to incorporate new local food. For instance, in a previous expedition, Meteor left from Bélem (Brazil). Mike took part in a short expedition to discover the local fruits, and even brought some on board ! The açaí from Pará fruit was the most interesting and tasty one for him. It is very pleasant as a South American to watch the German participants taste new fruits and be amazed by unknown tropical flavours.
Turkish aubergine filled with minced meat and cheese

"Knödel", red cabbage, duchesse potatoes and duck breast
Hamburger

Tuna specially cut with dressing
Photos by Luisa Sarmiento
Mike and Rainer also work hard to have delicious vegetarian options for every meal. Mike said to this: "Times have changed and we have to adapt to the young scientists coming on board with different gastronomic preferences. It is interesting to see that nowadays we are buying so much less meat".
Vegetarian dish

"Rösti"
German "Brot" and "Brötchen"

Tropical fruits
Photos by Luisa Sarmiento
To celebrate the almost-ending expedition M159, the team made an outstanding BBQ and vegetarian dishes. We will definitely miss eating on board of the Meteor. Thank you Mike and Rainer. Thank you Jan, Petra, Martina and Guomin.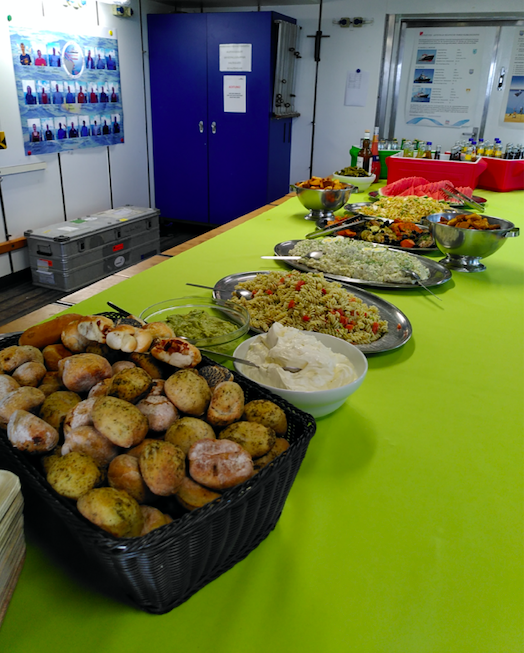 Written by Luisa Sarmiento, GEOMAR and Future Earth 2019,
in collaboration with Julia Galetti, Ilmar Leimann, and Christin Jahr