[deutsche Version unten]
We are almost done! Our voyage between Chile and New Caledonia has been just under two months now! Despite all the challenges, we are going strong, through Southern Pacific, one of the least studied areas in our planet, working very hard, day and night. We woke up at 3am from time to time, or went to bed at 7pm, but working together with such a big group of motivated people is worth every sleepless hour!
We, as the team of Jacobs University Bremen are 4 people! We have Dr. Sandra Pöhle (a marine geochemist from our geochemistry work group), Dr. Ignacio Pedre (a visiting postdoc from Argentina), Nico Fröhberg (Ph.D. student), and me, Can Gürses, a B.Sc. student, the youngest person onboard.
My primary interest on this cruise is three certain trace elements, namely Molybdenum (Mo), Uranium (U), and Vanadium (V). Two of these elements, Mo and U, are known for their long residence times in the ocean, and their concentration do not change significantly with increasing water depth. Meanwhile, V, not as deeply studied, is known to behave like a nutrient when it comes to its distribution in the ocean. The interesting thing is, recent studies suggest that Mo and U might lose their conservativeness in anoxic environments. As there is an oxygen minimum zone next to the Chilean coast which yet has not been studied in much detail, this cruise gives us the opportunity to do so!
We are collecting water samples with the trace metal-clean rosette sampling system, equipped with sensors for conductivity, temperature, and depth (CTD), and 24 x 12L water samplers.  After the samples are collected from the NISKIN bottles in a clean laboratory container on-board, another important step follows: the filtration! We need to conduct a physical separation of the species, therefore filtration through membranes with different pore sizes as well as an ultrafiltration with an estimated pore size of 3 nm (0.000000003 m) is performed. This way, we can learn about the chemical composition e.g. complexation with organic substances for stabilization or possible sorption on particles of the aforementioned trace metals. Using a quadrupole inductively coupled plasma-mass spectrometry (ICP-MS) to analyze the elementary composition of these fractions means many long lab days are to come once I return to Germany. But no pain no gain as they say.
Best wishes from the South Pacific,
Can Gürses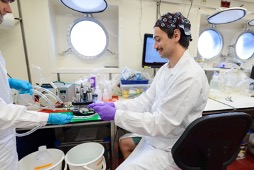 Ohne Schweiß keinen Preis
Wir haben die Hälfte geschafft! Unsere Reise zwischen Chile und Neukaledonien ist jetzt einen Monat alt! Trotz allem was wir durchgemacht haben, kommen wır gut ım Südpazifik voran, eines der am wenigsten erforschten Gebiete unseres Planeten. Innerhalb des ersten Monats in diesen mysteriösen Gewässern haben wir Tag und Nacht sehr hart gearbeitet. Wir sind ab und zu um 3 Uhr morgens aufgestanden oder um 19 Uhr ins Bett gegangen, aber die Zusammenarbeit mit einer so großen Gruppe motivierter Menschen ist jede schlaflose Stunde wert!
Wir, als Team der Jacobs University Bremen sind 4 Personen! Wir haben Dr. Sandra Pöhle (eine marine Geochemikerin aus unserer Geochemie-Arbeitsgruppe), Dr. Ignacio Pedre (ein Gast-Postdoc aus Argentinien), Nico Fröhberg (Doktorand) und mich, Can Gürses, einen B.Sc. Student, die jüngste Person an Bord.
Als B.Sc. Student, gilt mein Hauptinteresse auf dieser Forschungsfahrt drei bestimmten Spurenelementen, nämlich Molybdän, Uran und Vanadium. Zwei dieser Elemente, Molybdän und Uran, sind für ihre langen Verweilzeiten im Ozean bekannt und zeigen keine großen Konzentrationsänderungen mit zunehmender Wassertiefe. Unterdessen ist bekannt, dass Vanadium, das nicht so gründlich untersucht wurde, sich wie ein Nährstoff verhält, wenn es um die Verteilung im Ozean geht. Das Interessante ist, dass neuere Studien darauf hindeuten, dass Molybdän und Uran in anoxischen Umgebungen, wie z. B. Sauerstoffminimumzonen, von ihrem typischen Verhalten abweichen können. Die Sauerstoffminimumzone vor der chilenischen Küste wird nicht so intensiv untersucht wie die anderen OMZs ähnlicher Größe. Das gibt uns die Chance, es für die Studie zu verwenden!
Wir sammeln Wasserproben mit spurenmetallreınen Wasserschöpfern (24 x 12 L), die zusammen mit Sensoren für Leitfähigkeit, Temperatur und Tiefe an einer Titanrosette angebracht sind. Nachdem die Proben genommen wurden, kommt ein weiterer wichtiger Schritt: die Filtration! Wir trennen Größenfraktionen durch Filtration mit verschiedenen Porengrößen, wobei die kleinste 3 nm (0,000000003 m) ist, ab. Auf diese Weise möchten wir etwas über die Verteilung der für mich am interessantesten Elemente (Mo, U und V) lernen und deren mögliche Komplexierung mit organischen Substanzen oder Sorption an Partikeln. Später im Labor werden die Proben mit einem quadrupol-Induktiv gekoppeltem Plasma-Massenspektrometer untersucht. Das bedeutet, dass viele lange Labortage auf mich warten, wenn ich zurück nach Deutschland gehe, aber alles wird sich lohnen!