We would like to first introduce ourselves: So, Ana is 23 years old, from Madeira, but living in the mainland of Portugal for 4 years now, currently doing her Master's degree in Marine Biology at the University of Aveiro. Marilena is 26 years old and is studying Nutrition, Spanish and Biology to become a teacher in secondary schools. She grew up in Eckernförde, which is a town in the very north of Germany, and is currently enrolled in the Europe University of Flensburg, which is even more north.
Luckily, finding a place to stay for the 6 months on Madeira was easy for us. Ana is living in her parents' home, while Marilena shares accommodation with another German colleague from our laboratory, who also did a GAME project on Madeira in the year 2015. She is now doing her PHD Thesis in cooperation with the João Canning-Clode Marine Lab. And just by chance we are living pretty close to each other, so that we can share the car expenses for going to the lab. The lab is situated in Quinta do Lorde, which is near Caniçal at the very eastern end of the island. It takes us 30 minutes to get there with the car. Fortunately, Ana has the chance to use her brother's car during those months.
On the second day being in Madeira, we had a meeting with our three supervisors, Dr. João Canning-Clode, Dr. Ignácio Gestoso and Patrício Ramalhosa. We presented our plans to them and they showed us the lab and the place that was reserved for our experiment. They advised us with regard to several aspects that they knew that could happen from their experiences with GAME experiments. So they gave us some tips about the species we could use and where and how to get them, as other former GAME teams also worked with benthic filter feeders. Until now, they helped us a lot with ideas for the experimental set up and for the filter system that we need for the waste water. The latter will contain a lot of the microplastic that we will use over those months we are having the experiments. As we decided to change the water in the experimental aquaria every day, except Sundays, we will produce 80 L of waste water per day containing microplastic particles and which should obviously not go into the public waste water system. Luckily, we came to the idea to use the same filters as the lab employs to filter the seawater that is pumped into the building for the indoor experiments. So, with the help of our supervisors, we build up our own filter system for the waste water and it works pretty good. We use winding filters with pore sizes of 10 µm and 1 µm, so that we can make sure, that we filter out also the smallest microplastic particles.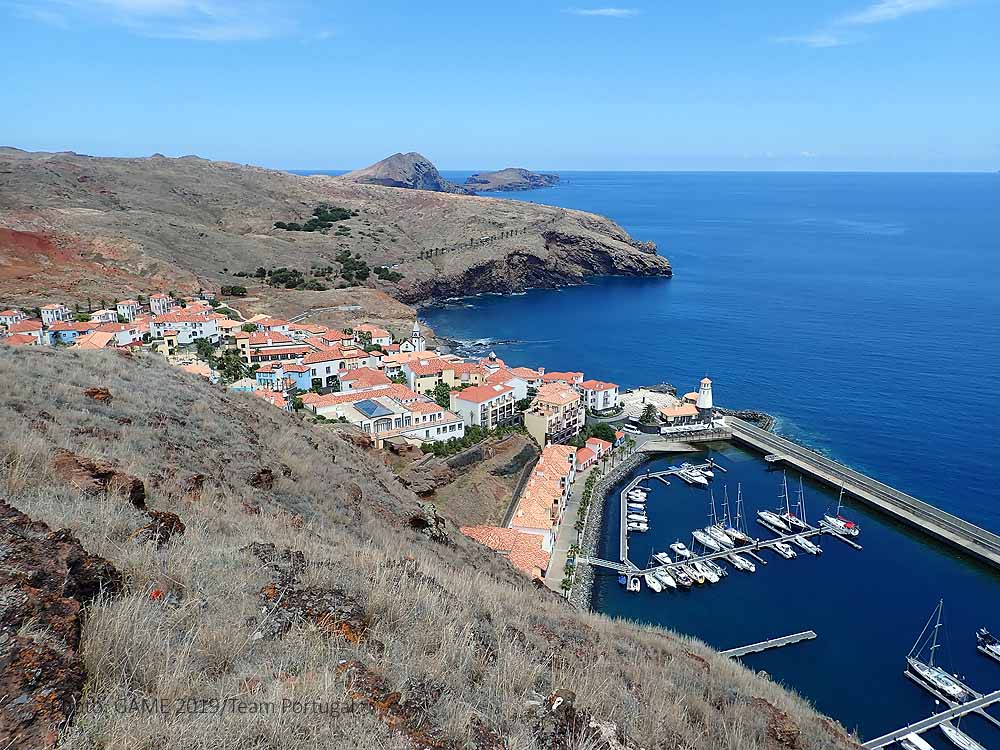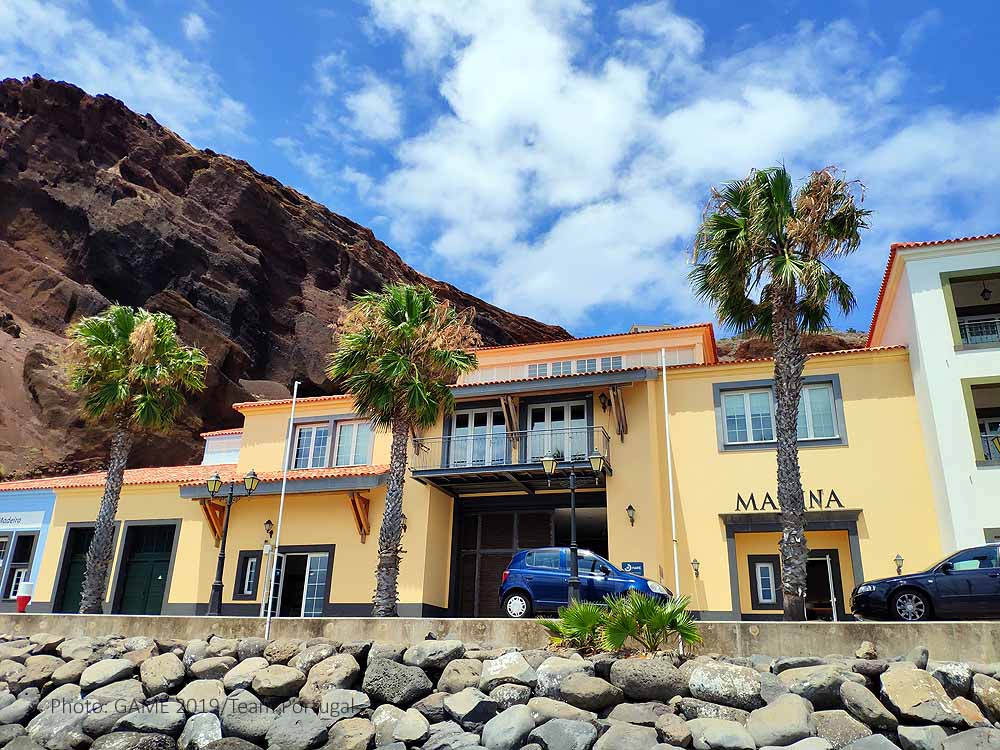 We spent our first month on Madeira with developing and building our experimental setup. We are working indoors with two shelves, in which we could fit 180 plastic buckets that serve as the experimental units in our study. As the lab already had a large number of 1 L buckets available, we decided to use those. The most tiring and long taking task was to find a good way to have air bubbles all over the inside of the buckets, so that the microplastic particles would not sink to the bottom of the containers. They would do so, because the plastic polymers we are using have a higher density than seawater. For that we needed a lot of tries and errors. We spent a long time with candles and needles to make little holes ín the tubes, so the air bubbles would be smaller and do not cause too much spraying. Not as romantic as it sounds like! We finally had pierced 360 little tubes, from which we made 180 "T" –shaped suppliers that fit into the buckets.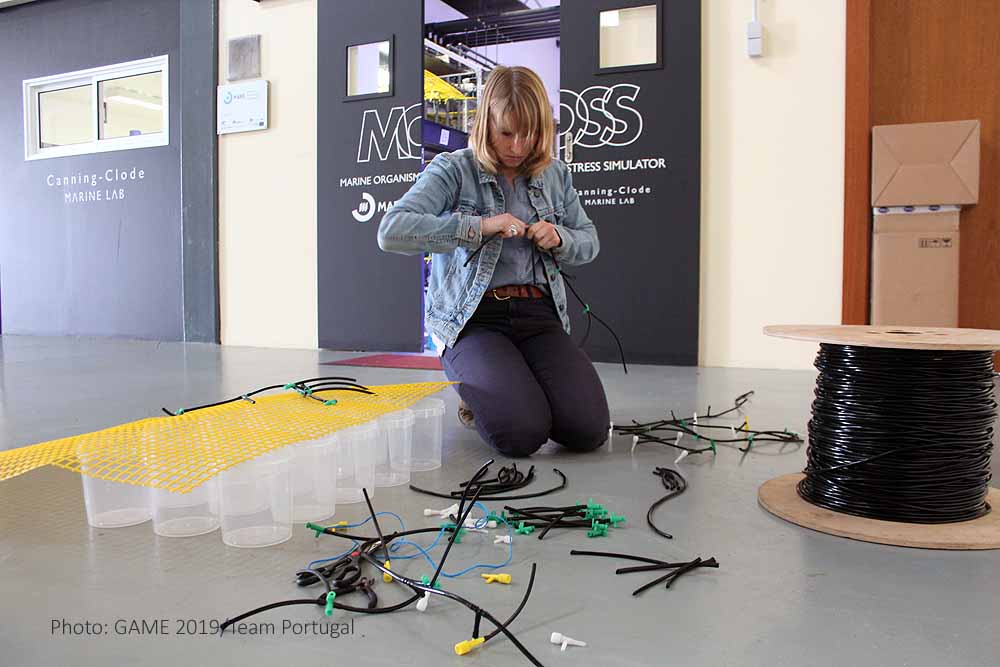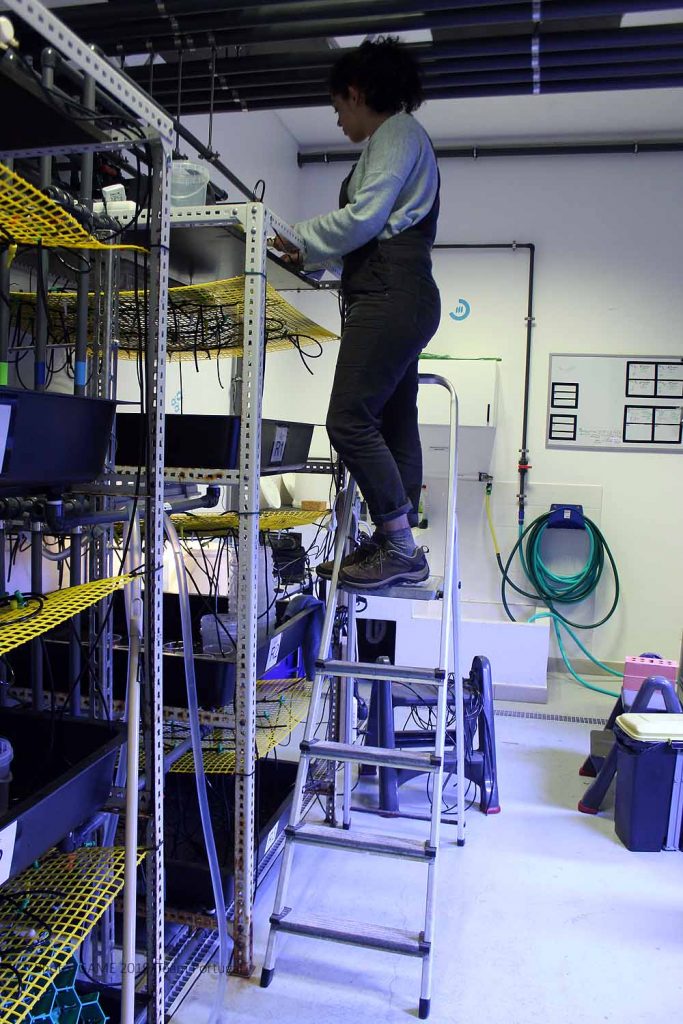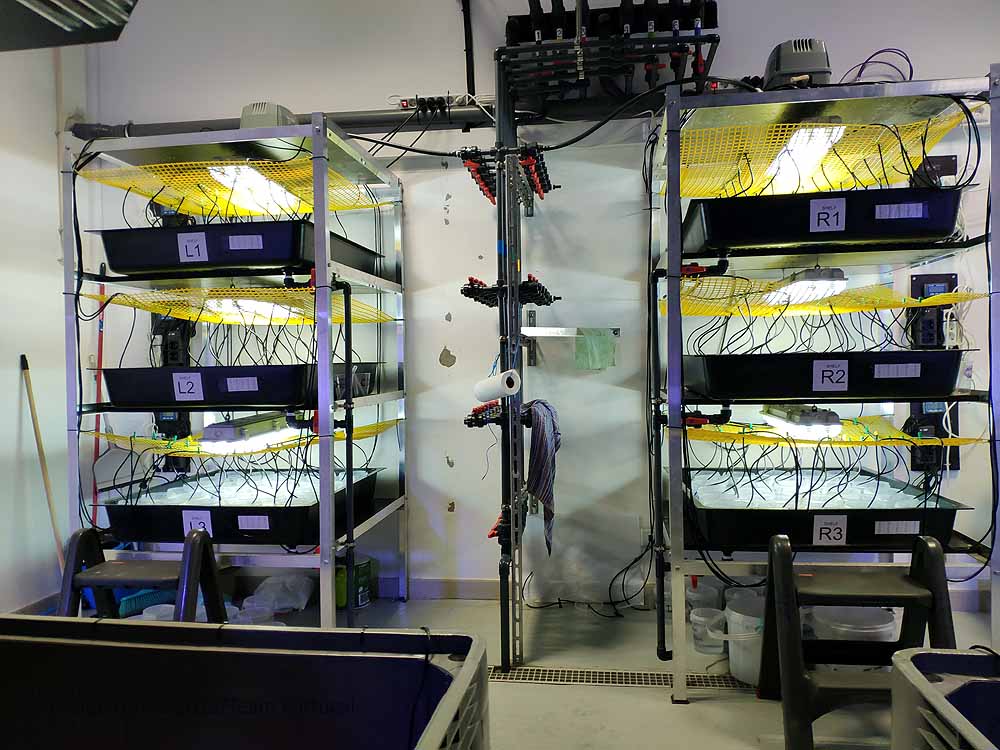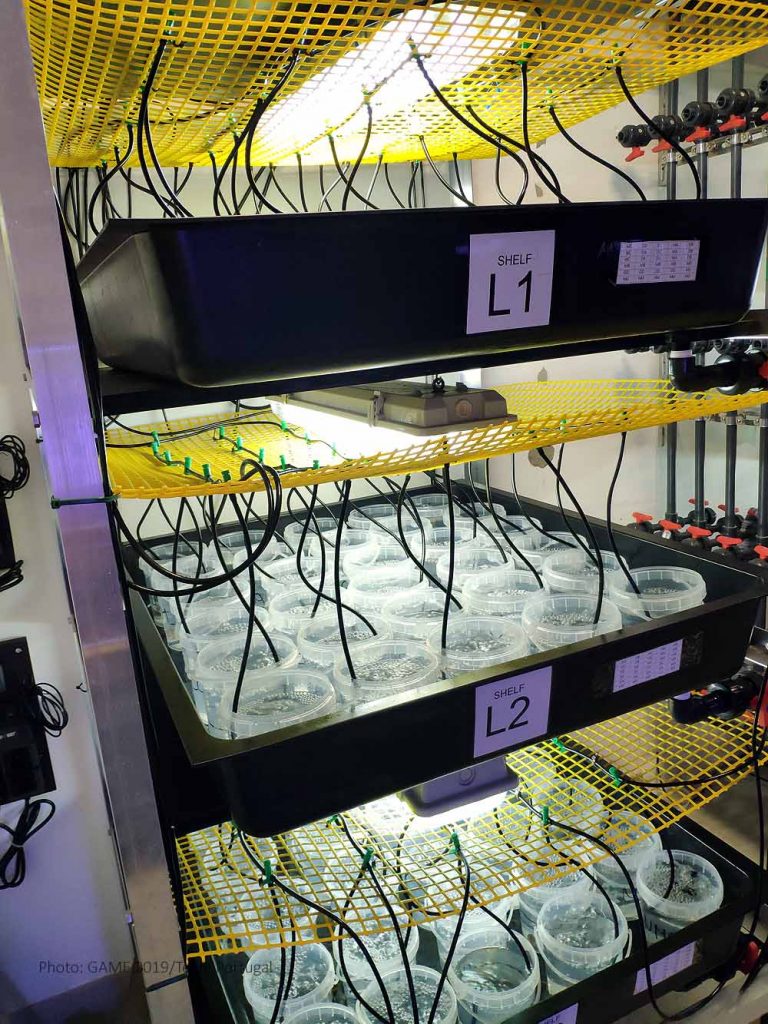 Since Madeira is an island that is located in the open Atlantic Ocean far off the African coast, the seawater around it is poor in nutrients and, as a consequence of this, phytoplankton occurs in low abundances. Therefore, there are not many filter feeding organisms, like mussels or barnacles, that we could work with in our experiment. After brainstorming all possible species that are available on Madeira, we decided to give it a try with an invasive species of sea anemones Aiptasia diaphana that can be found in the harbour right in front of our lab. However, after several weeks of very hard work we gave up on them, since they were not as suitable for the experiments as we initially thought. So, we had to get another test species to replace the sea anemones! Our supervisors told us that in the offshore aquaculture systems, which are near to our lab in Ponta de São Lourenço, there could be big specimens of a barnacle species called Megabalanus azoricus. They live there, because the aquaculture systems have more nutrients than the surrounding waters due to the fish food that is added. After trying to get in touch with the owner of the aquafarm for a whole month, he finally answered the phone and gave us the opportunity to use his boat to reach the systems and look for the barnacles. And it worked! There were a lot of them on the fish cages. We were very happy to finally have found a filter feeder species for our experiments! During a pilot study with a few of the barnacles, we had the opportunity to better understand the species and optimize our experiment. That means, that we could see how they react to the plastics and we could work on our equipment for measuring the response variables that will provide us information about the performance of the animals. For measuring their oxygen consumption, we build respiration chambers.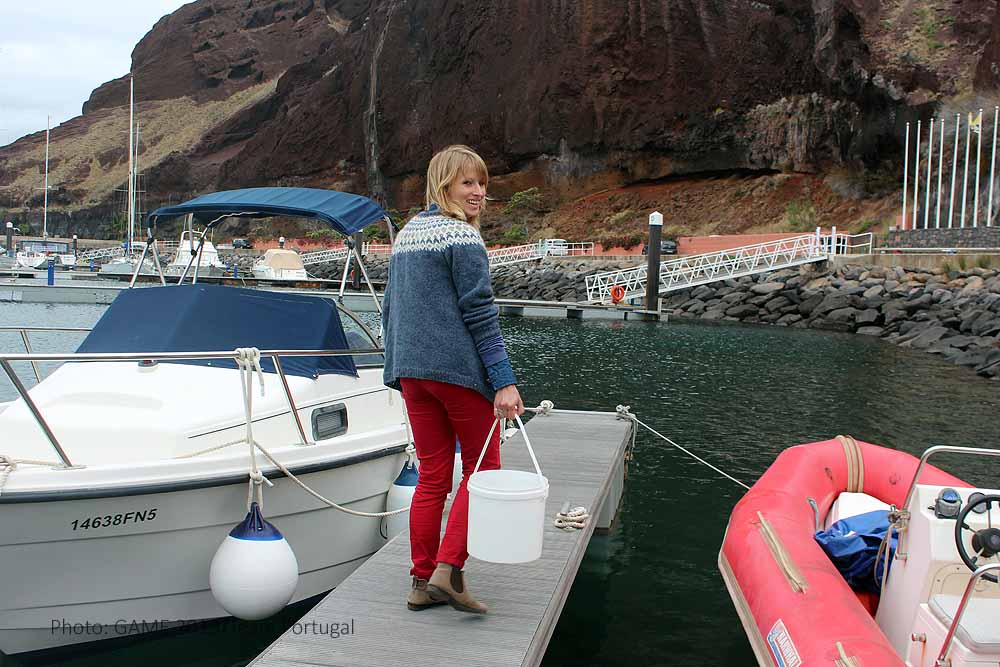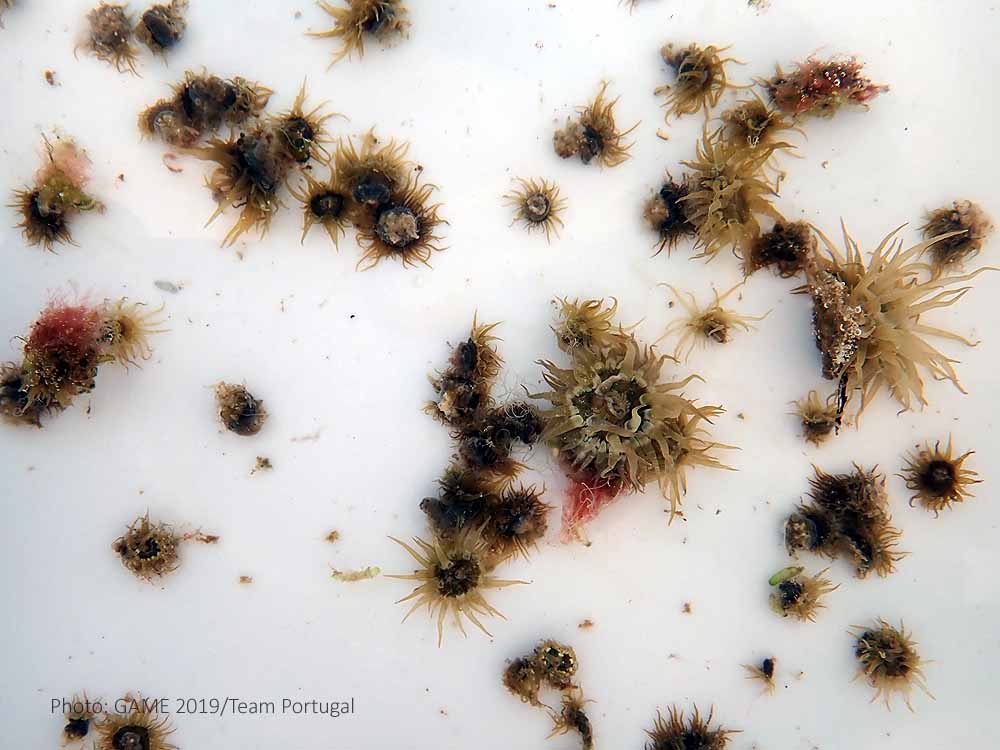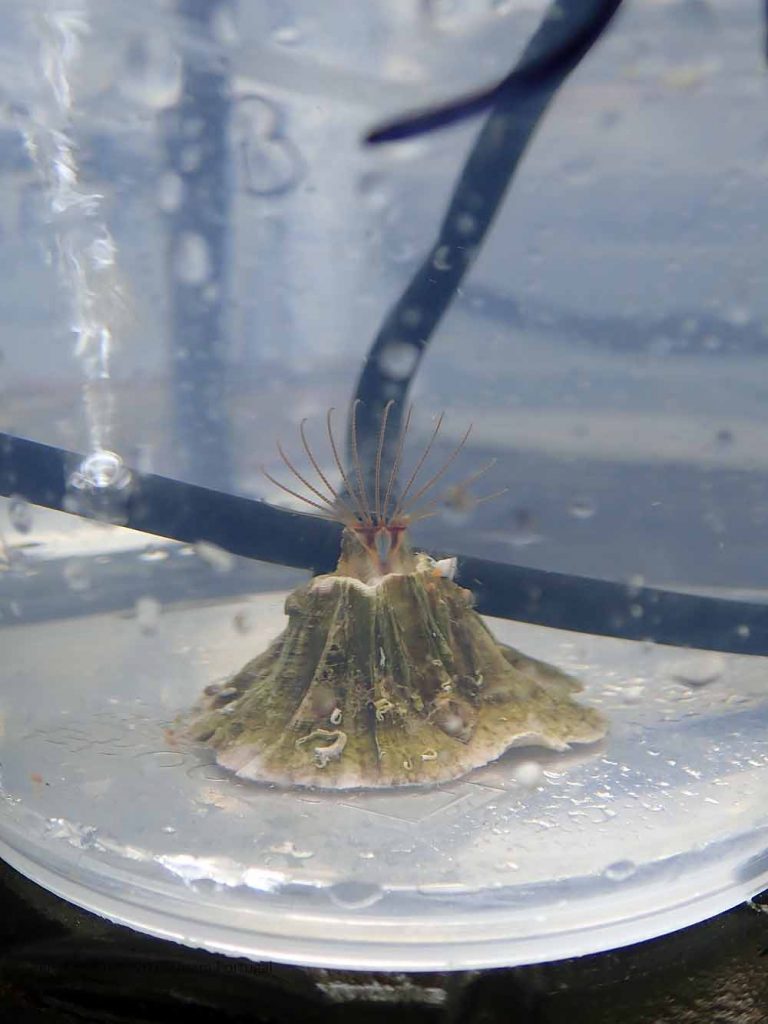 Finally, we are on our way to start our main study that is focusing on the possible differences between microplastics and natural seston components with regard to their effects on marine benthic filter feeders. We sampled the first batch of 90 barnacles on the 21st of June and now we are acclimatising them to the lab conditions and doing the first measurements to record their size, weight and respiration rates. Furthermore, we are recording videos of them while they feed to quantify their feeding activity. We will compare these variables later between the experimental groups and we will compare them to the start values to see which variable changed after the adding of particles. On the 28th of June, we got the second batch of barnacles for the second experiment. By this we avoid to have the doubled workload during one week.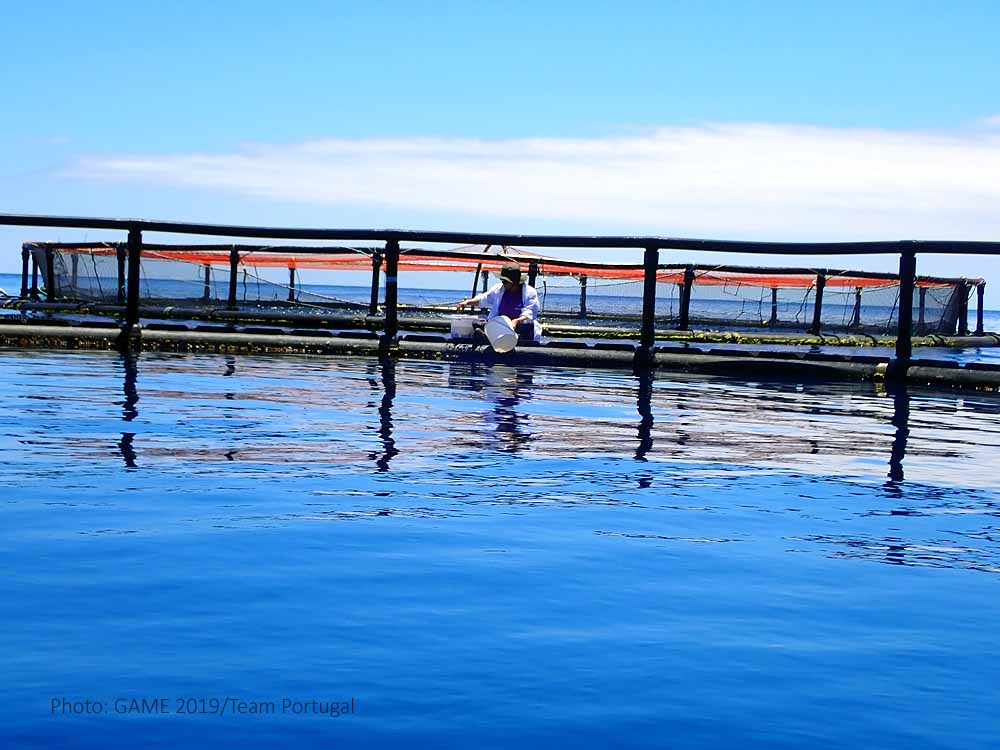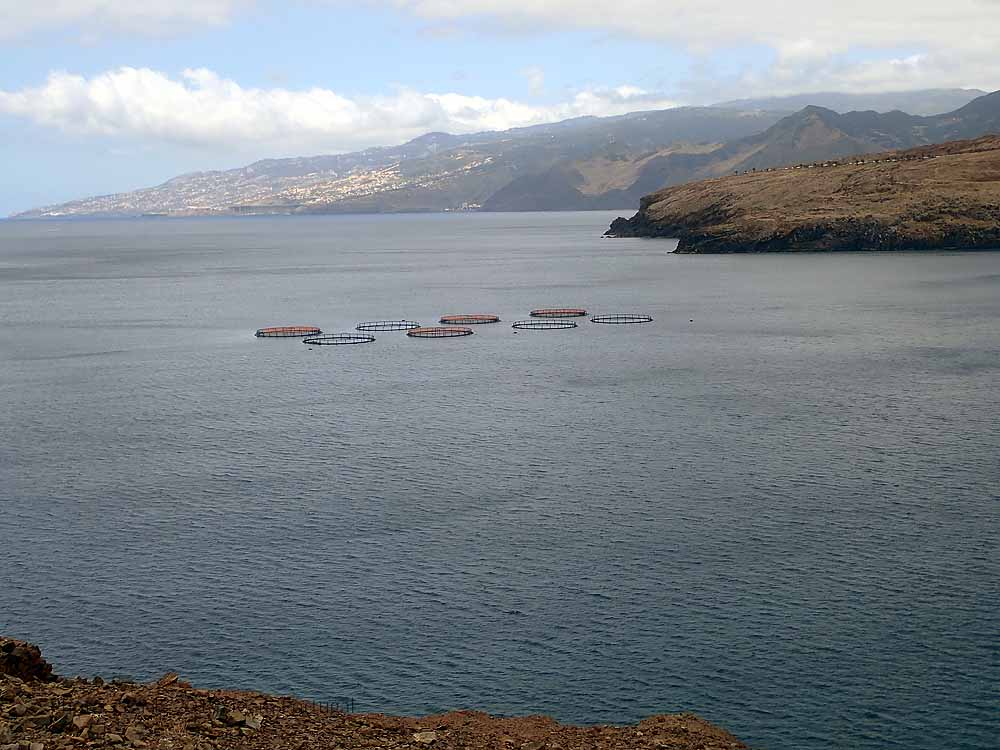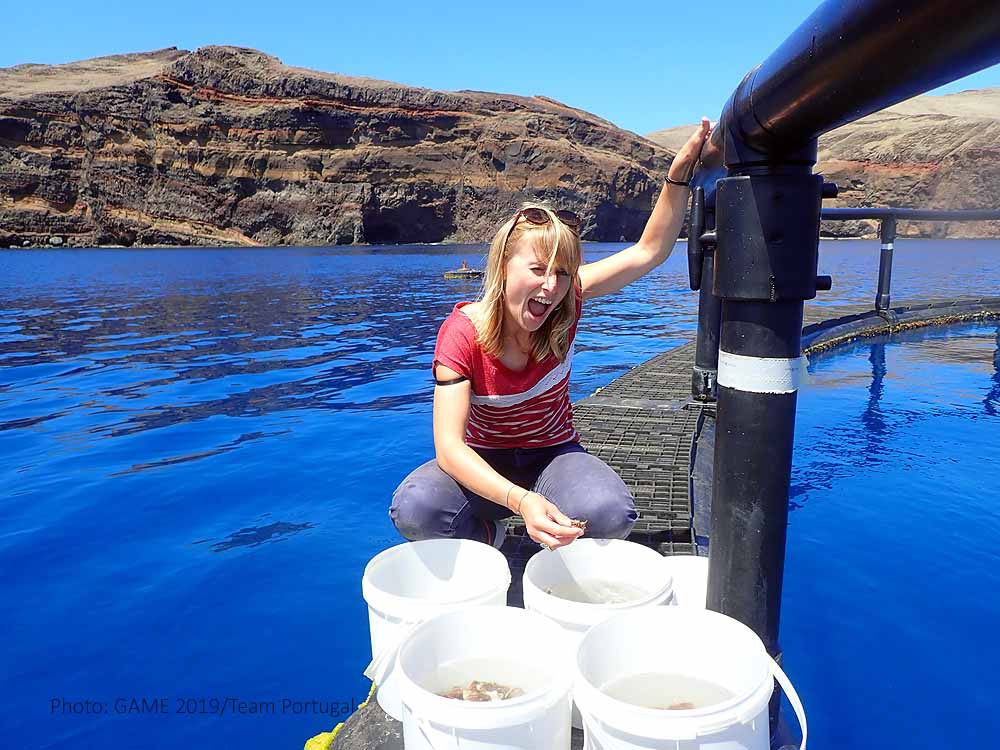 But fortunately it is not all about work here. Before we started with our main study, we had some time to go to some festival. Madeira is a festival island! We went to a nice Reggae festival in the beginning of May and, of course, to the flower festival, which started just on the same day as Marilena's birthday: the second of May. In the end of May, we went to another nice music festival – Aleste. We spent a nice day right next to the sea with swimming, listening to music, dancing and enjoying the local beer and ice cream. Speaking of ice cream: We found a really nice ice cream store in a town called Machico. It is just at half way between the lab and our home places. Perfect for us! But Madeira does not only have good ice cream. Ana let Marilena try really good seafood here, like dried cod, scabbard fish, limpets and tuna. And Marilena got to know the local beverage: Poncha! The regional Poncha is made with sugar cane rum, the so called "aguardente", orange and lemon juice as well as honey. But there are a lot of other mixtures to be tested! We already had the opportunity to visit a rum manufactory just at the right time, when the sugar cane was harvested and the rum was being made. So, there is a lot to discover in Madeira, although it is a small island.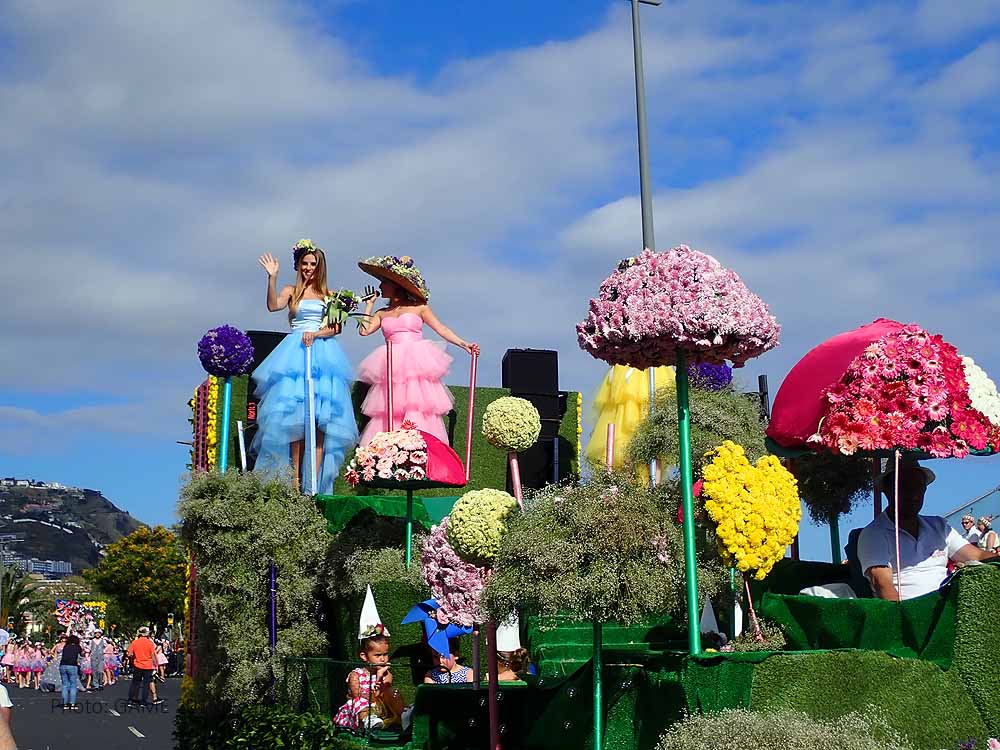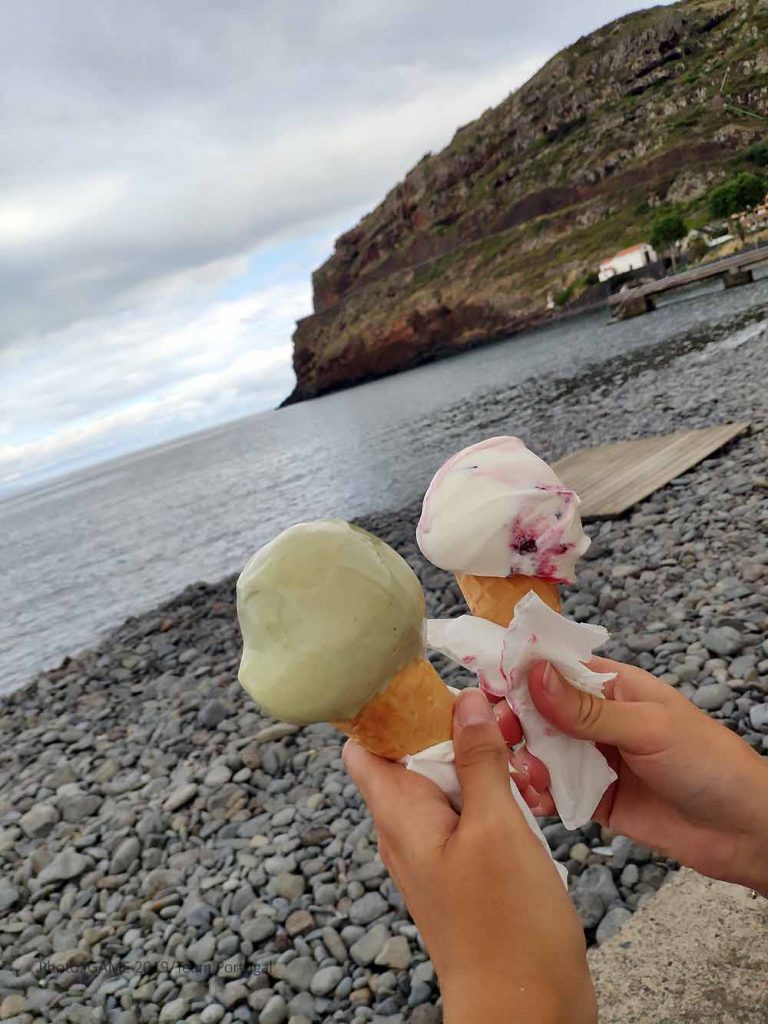 Well that's all that we have to say by now!
Greetings,
Ana and Marilena