+++ english version below +++
Nun ist es schon über zwei Wochen her, dass wir uns in Kiel auf den Weg zur FS SONNE gemacht haben.
Bis auf ein paar Kleinigkeiten, wie ein verspäteter Abflug von Hamburg aus, hat alles sehr gut geklappt und nach 31 Stunden waren wir am Hotel in der Stadt Concepción in Süd-Zentral-Chile angekommen.
Eine Dusche und ein paar frische Klamotten machten fast alle aus der Gruppe wieder so agil, dass man um die Ecke in einem Imbiss noch eine Kleinigkeit essen gehen konnte. Wir betraten das erste Restaurant, das wir finden konnten, dass sich als Karaokebar herausstellte. Hier schien durch Lautstärke Enthusiasmus zum Ausdruck gebracht zu werden und unter einer riesigen Leinwand mit Liedtexten konnte man sich über ein paar Papas Fritas anbrüllen, um dann aber auch recht zügig zurück im Hotel ins Bett zu fallen. Alle waren froh einen erheblichen Schritt in Richtung FS SONNE gekommen zu sein. Vielleicht aber auch endlich wieder in einem richtigen Bett schlafen zu können.
Wichtigste Information nach unserer Ankunft war, dass die SONNE bereits am nächsten Tag auslaufen sollte, um auf Reede zu bunkern. Allen, die ähnlich wie ich bei 'bunkern' an 'hamstern´ denken, sei gesagt: es bedeutet das Schiff zu betanken.
Nachdem wir am Morgen auf dem Schiff ankamen und alle einen Antigentest gemacht haben, bekamen wir unsere Schlüssel für die Kammer der nächsten Wochen. Auf Schiffen geht man nicht ins Zimmer, in die Kabine oder nach zu Hause, sondern "auf Kammer".
Bei der Sicherheitseinweisung und bei einem Probelauf für den Ernstfall wurde mir noch einmal deutlich: Ich habe tatsächlich auf der FS SONNE eingeschifft! Neben den vielen Eindrücken der wissenschaftlichen Aufbauten halten Sicherheit und Regeln alles zusammen. Wir sind 31 Personen in der Wissenschaft und 33 in der Crew. Hier muss aufeinander geachtet werden und auch Verlass sein.
Neben den 20 Wissenschaftler:innen und Techniker:innen des GEOMAR sind auch zwei Wissenschaftler der Universität Santiago de Chile, sechs Wissenschaftler:innen der Universität Concepción, eine Wissenschaftlerin der Universität Amsterdam, ein Wissenschaftler der Pontificia Universidad Catolica de Valparaíso und eine Beobachterin an Bord.
Die folgenden Tage waren vom Aufbau der Ozean Boden Seismometer (OBS) und Ozean Boden Hydrophone (OBH) bestimmt. Die Geräte bestehen aus einem Druckrohr mit Datenrekordern, einer Auslöseeinheit (auch Releaser genannt und für das Auslösen zum Aufsteigen der Geräte notwendig), einem Hydrophon (Druckmessgerät) und einem Seismometer. Zum besseren Auffinden bei der Bergung hat jede Station einen Radiosender sowie einen Blitzer, der nur bei Dunkelheit aktiv wird.

Am Profil angekommen wurden zunächst die OBS und OBH in den vorgegebenen Abständen ausgesetzt. Dazu werden die Geräte zu Wasser gelassen, um dann frei durch die Wassersäule bis in Tiefen von über 7000 m auf den Meeresboden zu sinken. Mit einem Luftpulser am Heck des Schiffes werden Schallwellen erzeugt, die auf den Meeresboden auftreffen, reflektiert und in den unteren Schichten refraktiert werden. Diese Daten zeichnen die Rekorder im Druckrohr auf. Nachdem das gesamte Profil abgefahren war, drehte das Schiff um und die Geräte wurden geborgen.
Nachdem die Geräte wieder an Deck sind, wird das Druckrohr und der Releaser entnommen um die Daten auszulesen und die Releaser neu zu programmieren.
Für mich als Laie eine spannende und noch nicht ganz eindeutige Sache. Aktuell kann ich es nicht besser erklären, da mir in den meisten Bereichen Hintergründe und Zusammenhänge fehlen. Doch habe ich nun einen Geräte-Profil-Zyklus an Bord einmal mitgemacht. Ich habe Schrauben von verschiedenen Dimensionen auf- und zugedreht, Kabel mit Strapsen (Kabelbindern) gesichert, Maden (Gewinde) aufgedreht und Augen (Haken) gesetzt, damit diese dann für die Sicherung mit den Spanngurten genutzt werden konnten, Wachschicht gehabt und überall geholfen, wo Hände gebraucht wurden.
Die Sicherheit ist dabei ein wichtiges und nicht zu verhandelndes Thema an Deck.
Alle schweren Gegenstände werden gegen ein Verrutschen mit Spanngurten gesichert, bei der Decksarbeit sind Sicherheitsschuhe, Handschuhe und beim Einsatz der Kräne auch Helme zu tragen.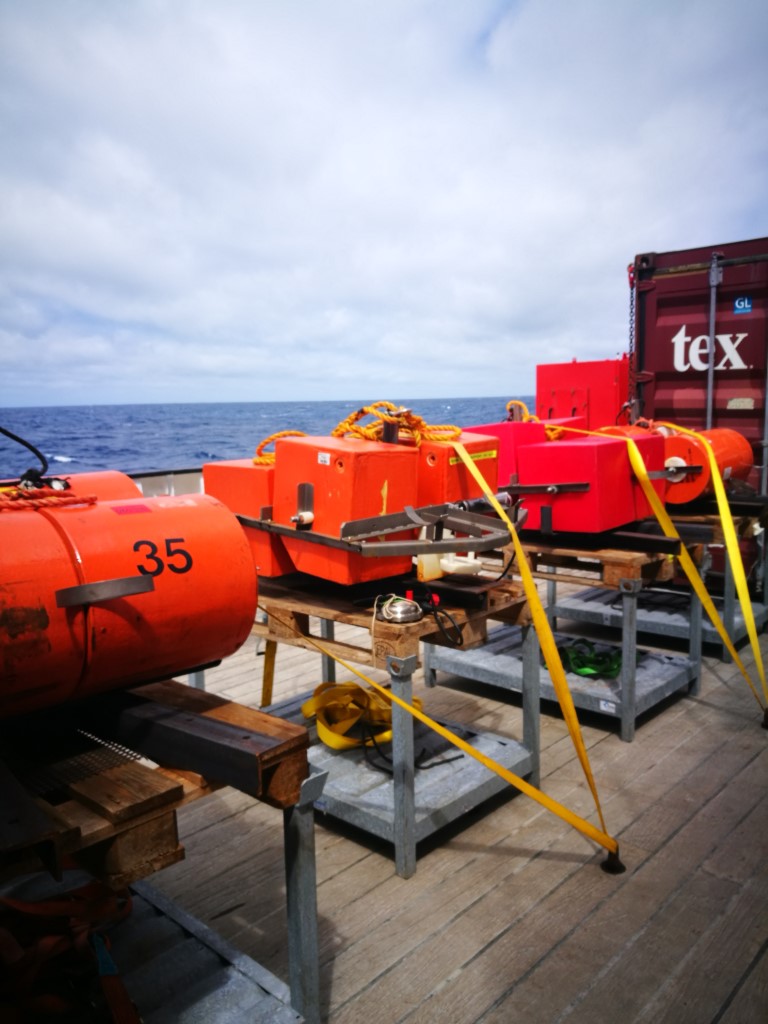 Es ist wirklich etwas ganz Neues, auf einem sich ständig bewegenden Boden zu gehen und Umfeld zu sein. Eine Hand ist immer zur Sicherung freizuhalten, am Treppengeländer und generell um sich zu halten und abzustützen. Das Schiff tanzt mal mehr mal weniger auf den Wellen und nicht selten hat man das Gefühl in einer Achterbahn zu fahren. Die Fliehkräfte stauchen und ziehen an einem und erst jetzt nach ein paar Tagen habe ich mich komplett daran gewöhnt und nun kein flaues Gefühl mehr in der Magengegend.
Ich denke, ich bin auf der FS SONNE angekommen!
Julia Schätzel
+++ english version +++
From Kiel to SONNE – The first days of the SO297 trip offshore Chile
It is now more than two weeks since we set off from Kiel for FS SONNE.
Apart from a few small things, such as a delayed departure from Hamburg, everything went very well and after 31 hours we arrived at the hotel in the town of Concepción in south-central Chile.
A shower and some fresh clothes made almost everyone in the group agile enough again to grab a bite to eat at a snack bar around the corner. We entered the first restaurant we could find, which turned out to be a karaoke bar. Here, enthusiasm seemed to be expressed through volume and under a huge screen with song lyrics, one could yell at each other over a few Papas Fritas, only to fall into bed quite quickly back at the hotel. Everyone was happy to have taken a considerable step towards RV SONNE. But perhaps they were also glad to finally be able to sleep in a real bed again.
The most important information after our arrival was that the RV SONNE was due to sail the next day in order to bunker in the roadstead. To all those who, like me, think of 'bunkering' as 'hoarding', let me tell you: it means refuelling the ship. After we arrived on the ship in the morning and all took an antigen test, we were given our keys to the chamber for the next few weeks. On ships, you don't go to your room, cabin or home, but 'to chamber'.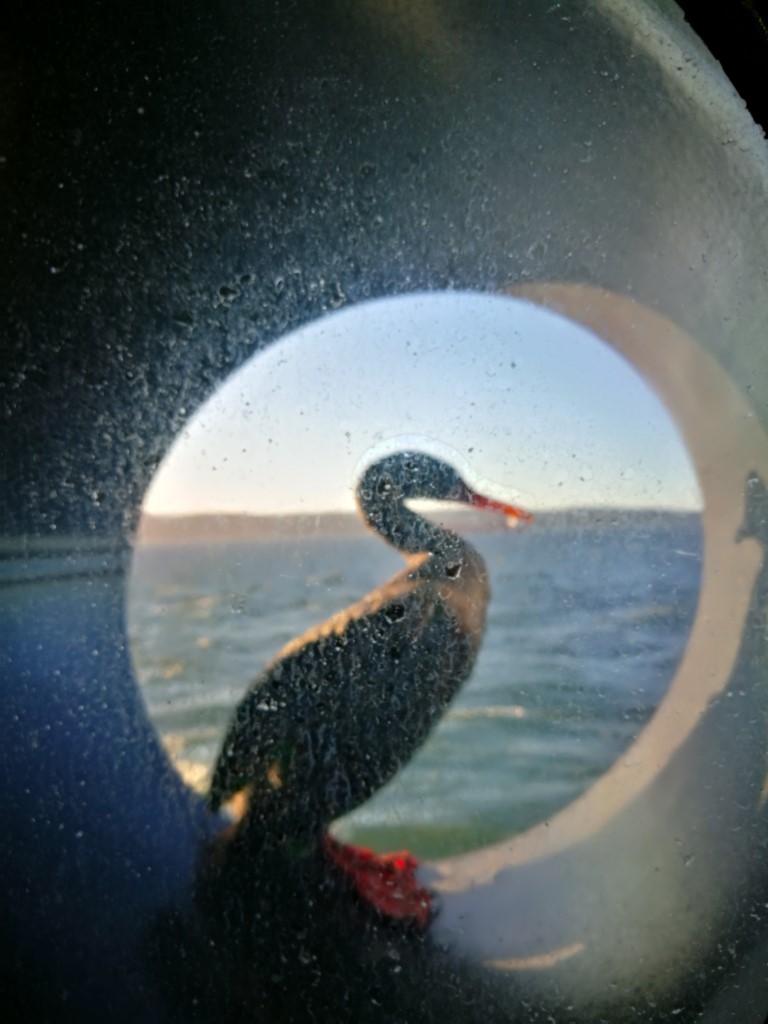 During the safety drill and during a test run for an emergency, it became clear to me once again: I have indeed embarked on the RV SONNE! Besides the many impressions of the scientific set-ups, safety and rules hold everything together. There are 31 of us in the science and 33 in the crew. We have to take care of each other and rely on each other.
In addition to the 20 scientists and technicians from GEOMAR, there are also two scientists from the University of Santiago de Chile, six scientists from the University of Concepción of the University of Concepción, one scientist from the University of Amsterdam, one from the one scientist from the Pontificia Universidad Catolica de Valparaíso and one observer on board.
The following days were spent setting up the Ocean Bottom Seismometers (OBS) and Ocean Bottom Hydrophones (OBH). The devices consist of a pressure tube with data recorders, a release unit (also called a releaser and necessary for the release to raise the devices), a hydrophone (pressure measuring device) and a seismometer. For better location during recovery, each station has a radio transmitter as well as a flasher that only becomes active in the dark.

Once at the profile, the OBS and OBH were first released at the specified intervals. To do this, the devices are lowered into the water and then sink freely through the water column to the seabed at depths of more than 7000 m. The sound waves are reflected in the lower layers. An air pulser at the stern of the ship is used to generate sound waves that hit the seabed, are reflected and refract in the lower layers. This data is recorded by the recorders in the pressure tube. After the entire profile had been run, the ship turned around and the devices were recovered.
Once the instruments were back on deck, the pressure tube and releaser were removed to read out the data and reprogram the releasers.
For me as a layman, this is an exciting and not yet completely clear thing. At the moment I can't explain it any better, as I lack background information and connections in most areas. But I have now gone through a device profile cycle on board once. I have opened and closed screws of various dimensions, secured cables with straps (cable ties), untwisted maggots (threads) and set eyes (hooks) so that they could then be used to secure them with the tensioning straps, worked watch duty and helped wherever hands were needed.
Safety is an important and non-negotiable issue on deck.
All heavy objects are secured against slipping with tension belts, safety shoes, gloves and, when using the cranes, helmets must be worn when working on deck.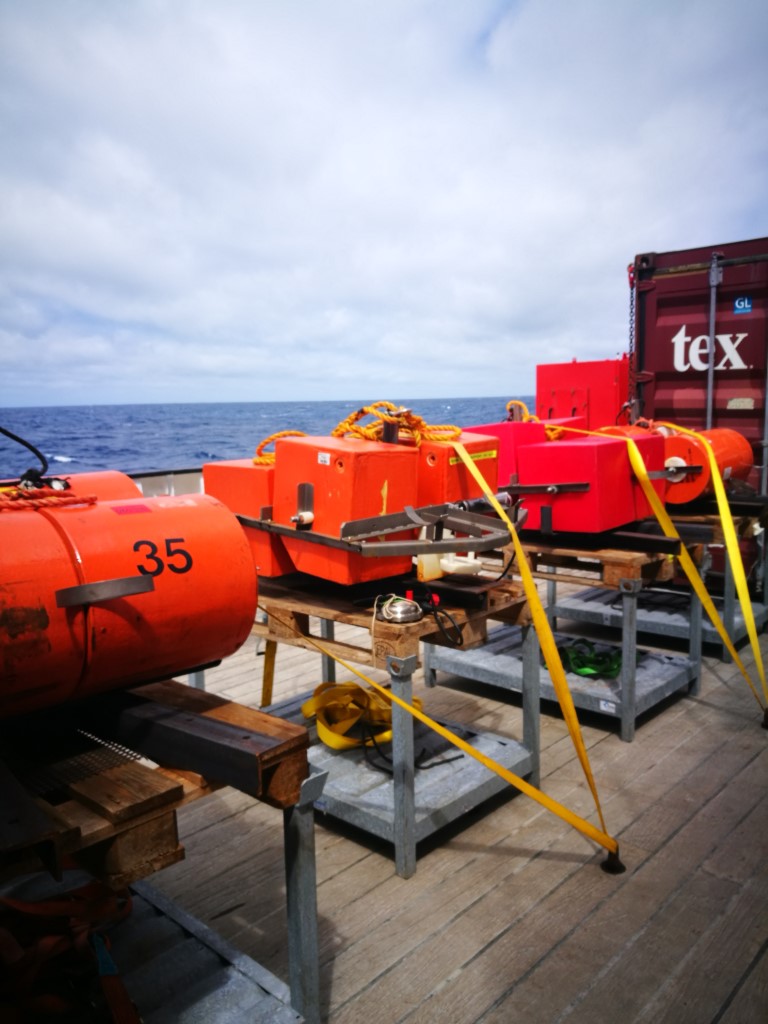 It is really something new to walk on a constantly moving floor and to be in the environment. One hand must always be kept free for safety, on the stair railing and generally to hold and support oneself. The ship dances sometimes more sometimes less on the waves and not infrequently one has the feeling of riding a roller coaster. The centrifugal forces push and pull on you and only now, after a few days, have I got completely used to it and now I no longer have a sinking feeling in my stomach.
I think I have arrived on the RV Sonne!
Julia Schätzel