The Future Ocean offers a summer school on Coastal Hazards for PhD-Students and Postdocs taking place from 16th to 20th September 2013
For further information please visit:
www.futureocean.org/summer-school-hazards
www.geomar.de/en/research/fb4/fb4-gdy/research-topics/6thinternational-
symposium
www.futureocean.org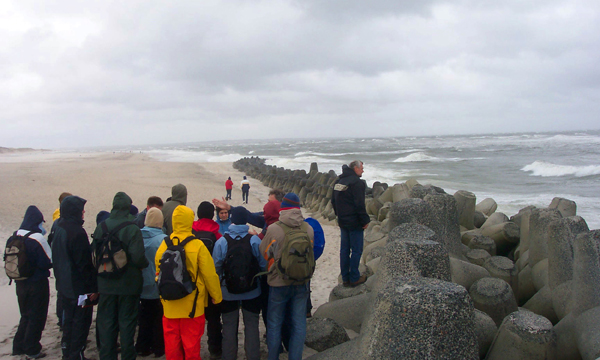 Dramatic events from the recent past, such as the Sumatra Tsunami
in 2004, Hurricane Katrina in 2005 or the earthquake and subsequent
tsunami in Japan 2011, have shown that the ocean holds diverse and
concrete threats to densely populated coastal zones. The reconstruction
of different past, catastrophic events using geological and
geophysical methods confirms the scientists' perception that coastal
zones have always been high-risk settlement areas.
The summer school "Coastal hazards" aims to provide insights
into modern strategies and scientific techniques. The five day course
will be shaped by various international lecturers with acknowledged
expertise in their field. The course is comprised of lectures and practical
work in the laboratory and in the field. In addition participants will
report about their current work.
Scientific Steering Committe
Prof. Sebastian Krastel / Institute of Geosciences, CAU
Prof. Karl Stattegger / Institute of Geosciences, CAU
Prof. Athanasios Vafeidis / Institute of Geography, CAU
Prof. Jan Behrmann / GEOMAR Helmholtz Centre for Ocean Research Kiel
Prof. Roberto Mayerle / Research and Technology Centre [FTZ]
Venue
Kiel University (CAU)
Research and Technology Centre [FTZ], Büsum
Participation
The course is aimed at towards PhD students and young Postdocs
from Kiel and Germany as well as from abroad.