An emergency recovery of a DOLAN-type surface buoy was conducted on July 24th by the CVOO team of Cape Verde.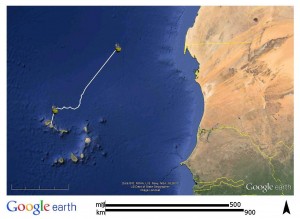 Colleagues from the Royal Netherlands Institute for Sea Research (NIOZ) informed CVOO about a drifting surface buoy which originally was part of an oceanographic mooring 290 nautical miles northeast of CVOO (off Cape Blanc, Mauritania). The buoy had become loose due to unknown reason and was drifting towards Cape Verde (see map; ©NIOZ). The surface buoy was equipped with scientific instruments, such as a dust collector for investigating Saharan dust deposition in the ocean off the Mauritanian coast.
The CVOO team at INDP immediately prepared a recovery cruise with RV Islândia. The buoy was picked up successfully about 20 miles northwest of CVOO. Within 48 hours the entire mission was accomplished. The buoy with its scientific samples and data is now being stored safely in the port of Mindelo.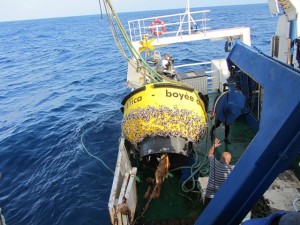 Successfully recovered buoy on deck. ©INDP