—english version below—
Liebe Leserinnen und Leser,
wir sind's wieder – eure Wissenschaftler von SO252. Leider nähern wir uns unserem Zwischenstopp am Marianengraben etwas langsamer als gedacht, da wir etwas unverhofft einem Taifun ausweichen mussten. Neptun sei Dank hat die Brücke den Sturm früh genug ausmachen können, sodass wir nur die äußersten Ausläufer abbekommen haben. Dennoch sorgten bis zu 5 Meter hohe Wellen für einiges Geschaukel an Bord.
[Auszug aus Redaktionsgespräch:
"Ey. Das klingt jetzt gar nicht mal so spannend. Können wir da nicht ein bisschen übertreiben?"
"Ja, mach mal was mit richtig Action."]
Leider nähern wir uns unserem Zwischenstopp am Marianengraben etwas langsamer als gedacht, da wir etwas unverhofft mitten in einen Sharknado gefahren sind. Bis zu 20 Meter hohe Wellen und Windhosen warfen das Schiff hin und her, wie einen Tischtennisball (Die Jungs am Kickertisch haben sich natürlich nicht beirren lassen und auch die Ladies Night in der Sauna fand ohne schwerere Verbrennungen statt). Zwar knallte der ein oder andere Hammerhai gegen die Glasfront der Brücke, doch die Crew hielt tapfer Kurs und wir haben ohne langfristige Verluste ruhigere Gewässer erreicht.
["Besser. Viel besser."]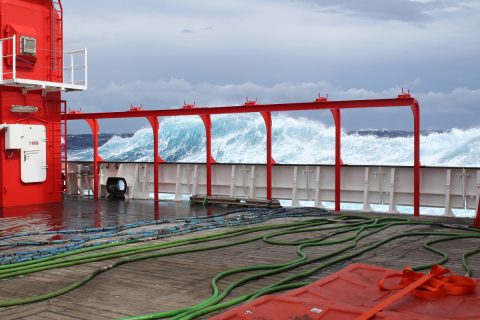 Taifun macht 'ne Welle. / Typhoon Meari making waves. Foto: Melanie Ray.
[Wir? Wer sind denn eigentlich wir? Führ das doch mal aus, Mensch!]
Unser Team besteht aus 30, zum Teil internationalen Wissenschaftlern aus verschiedenen Disziplinen. Die meisten von uns sind Geophysiker, aber auch Biologen, Geologen, Geographen und Chemiker vervollständigen unsere Wissenschaft. Wie immer geht es natürlich auch nicht ohne Techniker, wir haben das Glück drei mit auf dieser Reise an Bord zu haben, die uns gut auf Trab halten. Unser P-cable Ingenieur, Torge und Ede mit Hiwi Jan weisen uns an Deck immer fleißig an und finden täglich neue Aufgaben und Dinge, bei denen wir ihnen helfen können. Die Streamer wurden also an den letzten zwei Nachmittagen vorbildlich von unseren Studies Anja, Theresa, Michel und Inken getaped und wieder auf die Winde aufgetüdelt. Die 2D Seismik ist also schon an Transittag 4 soweit startklar! Auch in den Laboren tut sich was. Judith, Swaantje und Kristina sind angestrengt dabei das Videosystem zu testen und machen dabei große Fortschritte. Auch im P-cable Labor tut sich was. Sina und Sudipta haben bereits das Netzwerk aufgebaut und sind einsatzbereit und bereiten Thore und Olga auf die kommenden Arbeitstage vor. Auch im hintersten Nasslabor haben Bettina und Anne sich schon häuslich eingerichtet, die Kaffeemaschine steht! Die OBS'e werden erst nach dem Abflauen des Seegangs aus ihren Containern befreit und dann fängt auch in diesem Labor die Arbeit richtig an. Peter trainiert derweil angestrengt im Fitnessraum für das einhändige Auswerfen der OBS'e, damit der Schiffskran geschont werden kann. Auch Ingo und Christoph können, sobald wir die japanischen Gewässer verlassen haben, mit der Bearbeitung der Multibeam Daten beginnen. Diese dürfen nämlich nur in internationalen Gewässern aufgezeichnet werden oder wenn eine Forschungsgenehmigung vorliegt. In der Zwischenzeit haben auch unsere Geologen Sebastian, Aaron und Melanie mit der Vorbereitung des Schwerelots begonnen. Joel, Kuan, Hendrik, Wu-Cheng und Thomas nutzen den Transit um mitgebrachte Arbeit wie das Verfassen von Papern und Bachelor-Arbeiten anzugehen. Ozeanograph Hans freut sich schon riesig auf das Aussetzen seiner Mooring im Marianengraben.
Fahrtleiter Christian ist voll und ganz in die Planung der weiteren Tage und die Koordination von Brücke und Wissenschaft vertieft (nebenbei findet er auch noch Zeit sich auf das anstehende Tischtennis-Turnier vorzubereiten – eigener Eintrag folgt!).
[Gut, dass wir davon ausgehen, dass die Menschen, die diesen Blog lesen, wissen, von welchen Geräten wir da eigentlich die ganze Zeit sprechen.]
Detaillierte Informationen zu den einzelnen Messgeräten folgen hier in Kürze an den entsprechenden Einsatztagen.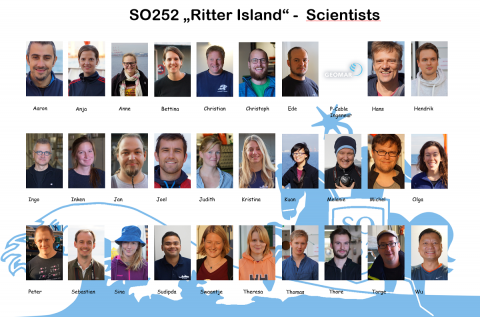 Dürfen wir vorstellen: Die Wissenschaftler von SO252. /Introducing: The SO252 scientists. Fotos: Thomas Mommsen.
On the next Episode of SO252: Klabautermänner, Seepferdchen und Lovestories.
Soweit erstmal und bis dahin,
eure Wissenschaftler von SO252
AutorInnen: Anne Völsch, Bettina Schramm und Michel Kühn
Fotos: Melanie Ray und Thomas Mommsen
Genörgel: Theresa Roth und P-Cable-Ingeneur
—english version—
Dear Readers,
It's us again, your SO252 scientists. Unfortunately, our approach to the Mariannas Trench is slower than expected because we had to go around an unanticipated typhoon. Thank Neptune, the Bridge was able to identify it early enough that we only caught the edge of it. Even so, up to 5m high waves did have us rocking and rolling.
[Excerpt from the author's discussion:
"Pff, that doesn't sound all that exciting. Can't we exaggerate a little?"
"Yeah, let's do something with some real action"']
Unfortunately, we are approaching the Mariannas Trench more slowly than expected, because we accidentally sailed straight into the eye of a terrible storm. Up to 20m high waves and multiple tornados threw the ship around like a ping-pong ball (the guys playing table football didn't let that stop them and the ladies' sauna night also took place without serious burns). The occasional hammerhead shark hit the window of the bridge, but we nevertheless managed to reach calmer waters without significant losses.
[Better, much better.]
[We? Who are "we" then? Come on, explain!]
Our team comprises 30, scientists from various disciplines and multiple countries. Most of us are geophysicists, but we also have biologists, geologists, geographers and chemists in the team. Of course we couldn't do it without technicians, and we are lucky to have three on board to keep us busy. Our P-cable engineer, Torge and Ede with their assistant Jan are always giving orders and finding new tasks and things for us to help with every day.
The streamers were taped and wound up (in the best possible way) by our students Anja, Theresa, Michel and Inken. So, the 2D seismic kit is already good to go on day 4 of our transit! Things are progressing in our laboratories too: Judith, Swaantje, and Kristina have been putting the video system through its paces and are making good progress. In the P-cable lab, Sina and Sudipta have already set up the network, so they are ship-shape and are now preparing Thore and Olga for their upcoming tasks. Bettina and Anne have made themselves at home in the wet lab at the back of the ship – the coffee machine is ready! The OBSs won't be set free from their containers until the ocean is a bit calmer, and then that lab will get going with their work too.  Peter is currently working out in the gym so that he can single-handedly throw the OBSs overboard – that will save the ship's crane some work.  Ingo and Christoph will be able to start collecting multibeam data as soon as we leave Japanese waters. (You can only collect multibeam data in international waters or if you have a permit from the relevant government.) In the meantime our geologists Sebastian, Aaron and Melanie have begun to prepare the gravity corer. Joel, Kuan, Hendrik, Wu-Cheng and Thomas are using the transit to do work they brought on ship like writing papers and Bachelor theses. Oceanographer Hans is already looking forward to sending his mooring into the deep at the Mariannas Trench. Cruise leader Christian is completely engrossed in planning the next days and coordinating the bridge and the science teams (but he is also finding time to prepare for the upcoming table tennis tournament – a report dedicated to this international sporting event will follow!)
[Good thing that we can assume that our readers know what all these technical things are we keep going on about here.]
Don't worry, we will introduce the equipment and its uses properly when tell you about the work we are doing with it.
Coming next on SO252: Ships kobolds, Sea horses and Love stories
Bye for now,
Your SO252 scientists
Authors: Anne Voelsch, Bettina Schramm and Michel Kuehn
Translation: Melanie Ray
Photos: Melanie Ray and Thomas Mommsen
Nagging: Theresa Roth and P-Cable engineer