—english version below—
Liebe Leserinnen und Leser,
heute, am 04.11.16, beginnt für uns die Forschungsausfahrt SO252 – "Ritter Island" mit dem Betreten der FS Sonne in Hafen von Yokohama. In diesem Blog möchten wir Euch in den nächsten 6 Wochen einen Einblick in unsere Arbeit auf See, in die angewandten Messverfahren und den Alltag an Bord der Sonne geben. Unsere Reise wird uns von Japan über einen Zwischenstopp am Marianengraben zu unserem eigentlichen Messgebiet vor Ritter Island, einer weitgehend eingestürzten Vulkaninsel in der Nähe von Papua-Neuguinea, führen. Am 19.12.16 werden wir dann das Schiff in Noumea, der Hauptinsel der französischen Exklave Neukaledonien, verlassen.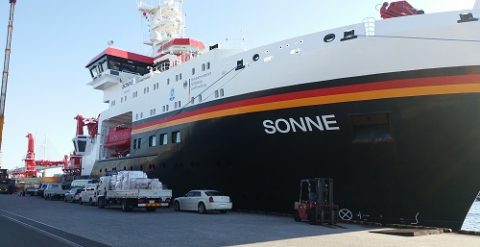 Zu groß um auf ein Foto zu passen: FS Sonne im Hafen von Yokohama. /

Too big to fit on a photo: RV Sonne in the Yokohama harbour.
Der Großteil des wissenschaftlichen Personals traf schon gestern in Yokohama ein, um zumindest ein wenig Zeit zu haben, den aufkommenden Jetlag -immerhin 8 Stunden Zeitverschiebung zur Mitteleuropäischen Zeit – auszukurieren (Anmerkung des Autors: Hat nicht geklappt.). Gegen 8:30 Uhr Ortszeit betraten wir heute das Schiff, bezogen unsere Kammern und begannen anschließend mit dem Entladen unseres Equipments aus den mitgebrachten Containern, sowie dem Aufbau von Messgeräten und Computern. Umfangreicheres Arbeitsprogramm erwartet uns heute noch nicht – nach einer Sicherheitseinweisung und weiterem Auspacken bleibt Crew und Wissenschaftlern hoffentlich nun ein wenig Zeit sich besser kennenzulernen und sich einzuleben, bevor wir dann morgenfrüh gen Bismarcksee auslaufen.
Wir möchten schon an dieser Stelle die Gelegenheit nutzen, unsere Lieben daheim herzlich zu grüßen! Wir geben uns große Mühe uns hier in aller Regelmäßigkeit zu melden.
Bis dahin,
Eure Wissenschaftler von SO252
—english version—
Dear Readers,
Today, 04.Nov.2016, our research cruise SO252 – "Ritter Island" begins with the team boarding the RV Sonne at Yokohama harbour. In the next 6 weeks we will try to give you an idea of our work, the procedures and instruments we use and our everyday lives at sea.  Our journey will take us from Japan, with a brief interlude at the Mariannas Trench, to our actual area of interest close to Ritter Island. This is a volcanic island in Papua New Guinea that collapsed in 1888 causing a tsunami.  On 19.Dec.2016 we will disembark from the ship in Noumea, the main Island of the French New Caledonia group.
The majority of the scientific personnel arrived in Yokohama yesterday, in an attempt to at least have some time to cure out their jetlag from the 8 hour time difference to Central European Time before it all began. (Author's commentary : It didn't work. – Translator totally agrees!).  At 08:30 local time we came on board and took up our cabins. Next we began to unload the equipment from the containers that had arrived, setup instruments and computers.  It is a gentle programme to start off with – after an explanation of safety procedures and further unpacking, there should be a little time for the crew and the scientists to get to know each other before we head off to the Bismarck Sea tomorrow morning.
We would like to take the opportunity to say a very heartfelt "Ahoy!" to our loved ones at home. We will try very hard to leave a message here regularly.
'Till then.
Your SO252 scientists
Author and Photos: Michel Kühn
Translation: Melanie Ray