It's sampling day, eight o'clock in the morning. Busy people are running through the PLOCAN floors to get all equipment into the van before bringing it down to the pier where our mesocosms are moored. Finally, all sampling boxes and the three large tubes to take the samples from the mesocosms are loaded and everyone sets in motion towards the pier. Now the heavy part of work is coming. Like harpoon hunters waiting on prey, the scientists knee at the mesocosms slowly lowering large, closable tubes into the water, which are lifted again after closing to bring the water sample safely back to the pier.
From these tubes at first the sensitive gas-samples are taken, as well as the samples for carbonate-chemistry. Afterwards, also samples for filtration and microplankton are filled into big 10-liter canisters. After all this was repeated several times in all mesocosms, all samples are finally taken, stuff is packed again and all are driving back to PLOCAN, where the samples are distributed to the labs for analyses. With this the sampling at the mesocosms is done, but the real work of the day is just starting.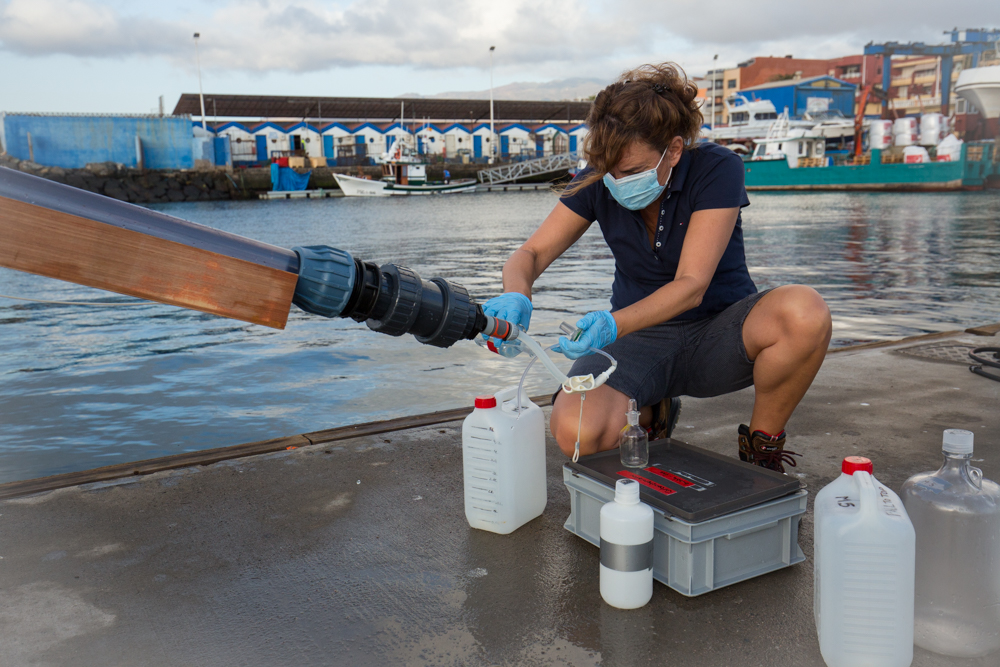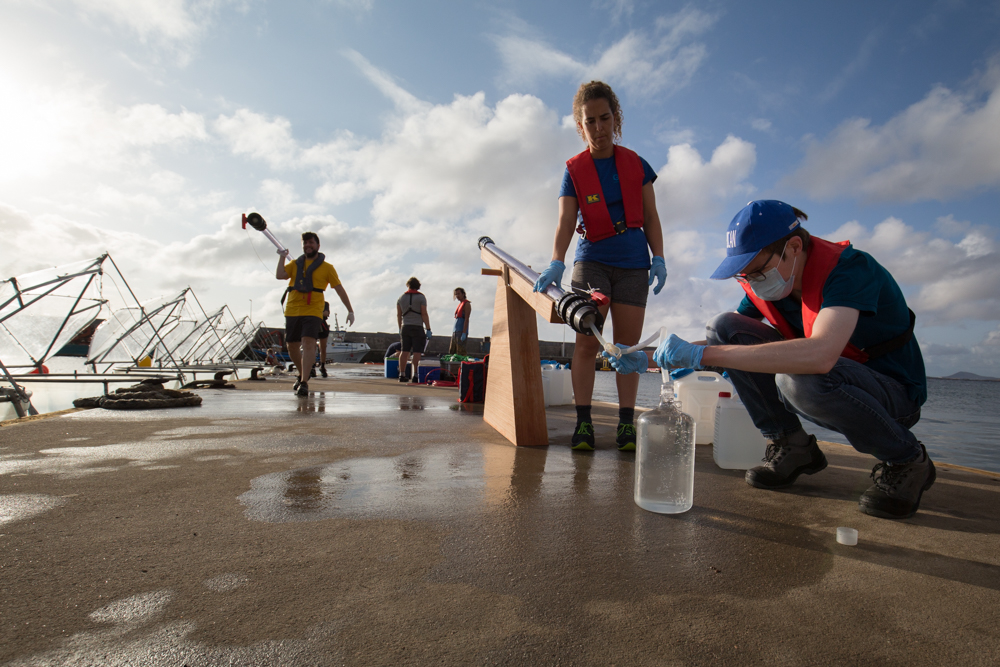 For the filtration trio, and I am one of them, this means jumping out of the safety shoes, grabbing a jacket and entering the cool-room, where the samples are already waiting. In this cold, humid, dim atmosphere, from each mesocosm´s canister the required water volumes for filtration are filled into clean bottles.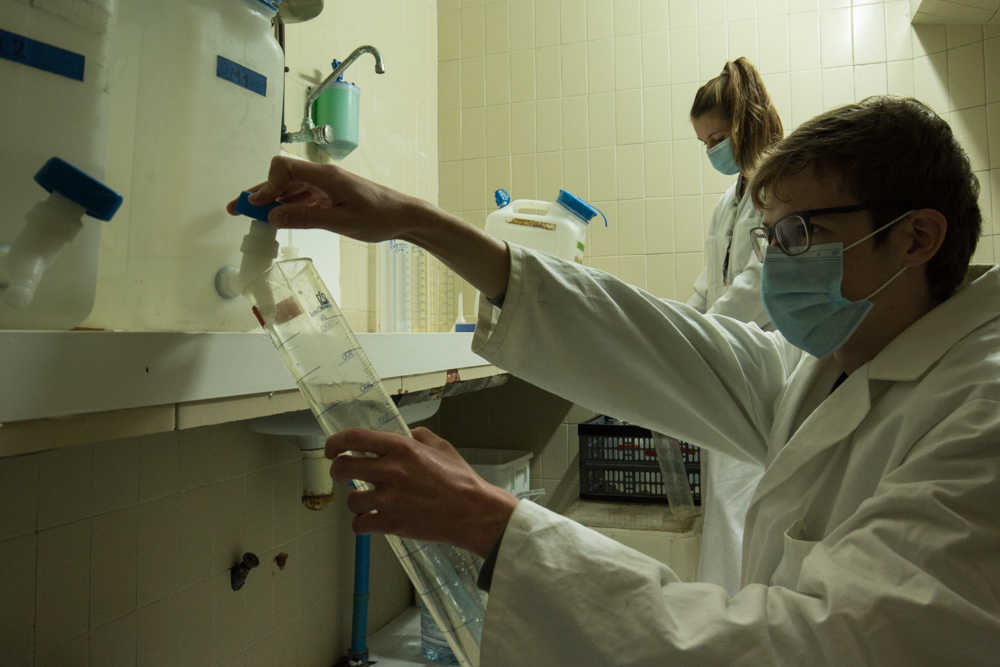 The bottles are brought to the laboratory, where the filtration rags have already been equipped with filters for each bottle in the meantime. With a fast turn the bottles are placed upside-down into the top of the filtration rag and now the waiting starts. When the water is pumped through the rag, the filters collect all the material bigger than the pore-size, such as plankton cells and detritus. When all the water is filtered, the now greenish-brownish filters are taken off and stored for later analysis. Afterwards the whole procedure starts over again until filters for each parameter and from each mesocosm are done.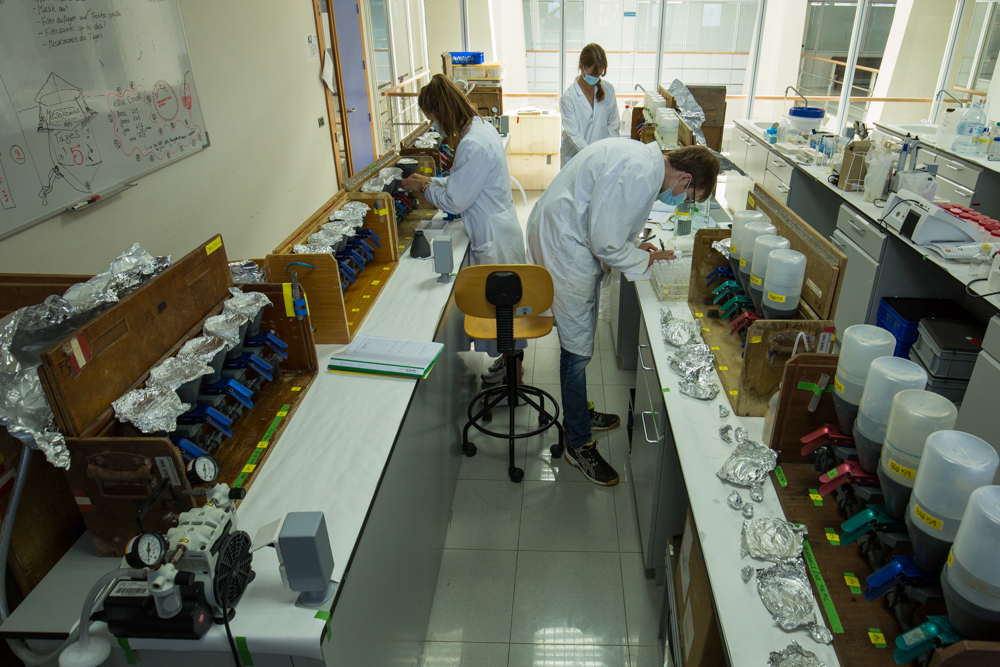 At the end of the day, when the humming of pumps dies off and the lights go out, exhausted, but happy people leave the PLOCAN lab singing loudly: "Vamos a la playa!" At least until the next filtration day will start.
Author: Jannis Hümmling