Über den Einsatz der mitfahrenden Student:innen der Universität Kiel
How students from Kiel University support the mission
Die tatkräftige Unterstützung in Form zahlreicher eisbegeisterter wissenschaftlicher Hilfskräfte während der Arbeiten auf den Meereisschollen befeuerte die allseits gute Laune und trug zu einer gehobenen Stimmung bei. Wir alle teilen die Faszination für das Eis und sind höchst motiviert und engagiert bei der Sache. Vom Peildeck aus betrachtet wirkt die Eislandschaft einzigartig unberührt und unendlich weit und beim Betreten der Eisfläche kommt das Gefühl von einer Landung auf dem Mond auf. Irgendwie surreal. Der eisige Wind lässt so manchen Bart gefrieren und treibt einem die Tränen in die Augen.
The active support in the form of numerous ice-loving scientific assistants during the work on the sea ice floes fueled the good mood on all sides and contributed to an uplifted atmosphere. We all share a fascination for the ice and are highly motivated and committed to the task. Viewed from the peildeck, the ice landscape seems uniquely untouched and infinitely vast, and stepping onto the ice surface gives you the feeling of landing on the moon. Somehow surreal. The icy wind makes many a beard freeze and brings tears to one's eyes.
Bei der ersten Eisstation übernehme ich das Kurbeln der Mikrostruktursonde hinab auf 70 m Tiefe und anschließend wieder hinauf- im 10 Minuten Takt. Fieren mit 30 cm pro Sekunde! lautet die Devise. So gut es eben geht mit leichter Unwucht an der Kurbel, nicht zu schnell und nicht zu langsam, dabei stets gleichmäßig unterwegs sein. Gehievt wird dann beliebig schnell. Netter Nebeneffekt: Die klirrende Kälte kann einem so nichts anhaben. Arbeit ist eben im wahrsten Sinne des Wortes die wärmste Jacke!Wenn die Zehen dann doch einfrieren, hilft eine Runde Eishockey mit einem Stück nicht verwertbarem Eisbohrkern als Puck. 😊
At the first ice station I take over the cranking of the microstructure probe down to a depth of 70 m and then up again – in 10 minute intervals. "Lowering with 30 centimeters per second!" is the motto. As good as possible with a slight imbalance at the crank, not too fast and not too slow, always moving steadily. Then you can heave as fast as you like. A nice side effect is that the freezing cold can't do you any harm. Work is literally the warmest jacket!
If your toes do freeze, a round of ice hockey with a piece of discarded ice core as a puck will help. 😊
Beim Assistieren der Eisbohrkernentnahme für eine Analyse auf Mikroplastik ist dann besondere Vorsicht geboten. Zunächst wird eine Stelle ausgewählt, die etwas abseits der beliebten Quadratmeter liegt – wir wollen ja schließlich möglichst nicht das durch uns eingetragene Mikroplastik erfassen. Dann wird der Kern wie sonst auch aus dem Eis ausgefräst und wir zücken eine gewöhnliche Astsäge, um die Oberfläche separat einzutüten: Der Rest des Eiskerns wird mit einer gewöhnlichen Axt in handliche Stücke zerteilt und eingesammelt.
Special care is then required when assisting in ice core removal for analysis for microplastics. First, a site is selected that is somewhat away from the popular square meters- after all, we want to avoid capturing microplastics introduced by us if possible. Then the core is milled out of the ice as usual and we pull out an ordinary branch saw to bag the surface separately: The rest of the ice core is cut into manageable pieces with an ordinary axe and collected.
Einige Tage später haben wir dann wieder erfolgreich eine geeignete Eisscholle ergattert. Mit Schneeschiebern und Schippen bewaffnet machen wir uns daran, ein 10 x10 m großes Feld vom ca. 20 cm festgefrorenen Schnee zu befreien- kein einfaches Unterfangen. Nach 5 Minuten sind wir klatschnass geschwitzt. Die Mühe lohnt sich, denn an diesem Tag entstehen die besten Brine Holes, die wir je hatten! Dabei handelt es sich um die Gewinnung von salzhaltigem Porenwasser aus dem Meereis. Nach der Erschließung der Fläche mit 17 Bohrlöchern beginnt die Verköstigung: Wir erschmecken den Salzgehalt des sich bildenden Brine. Je salziger desto besser! Die Favoriten werden beprobt.
A few days later, we successfully grabbed another suitable ice floe. Armed with snow pushers and shovels, we set about freeing a 10 x 10 m field from about 20 cm of frozen snow – no easy task. After 5 minutes we are soaking wet with sweat. The effort is worth it, because on this day the best brine holes we ever had are created! Brine is the salty pore water from the sea ice. It seeps out oft he ice and accumulates in the iceholes after they are drilled. After tapping the area with 17 boreholes, the tasting begins: We taste the salinity of the brine that forms. The saltier the better! The favorites are sampled.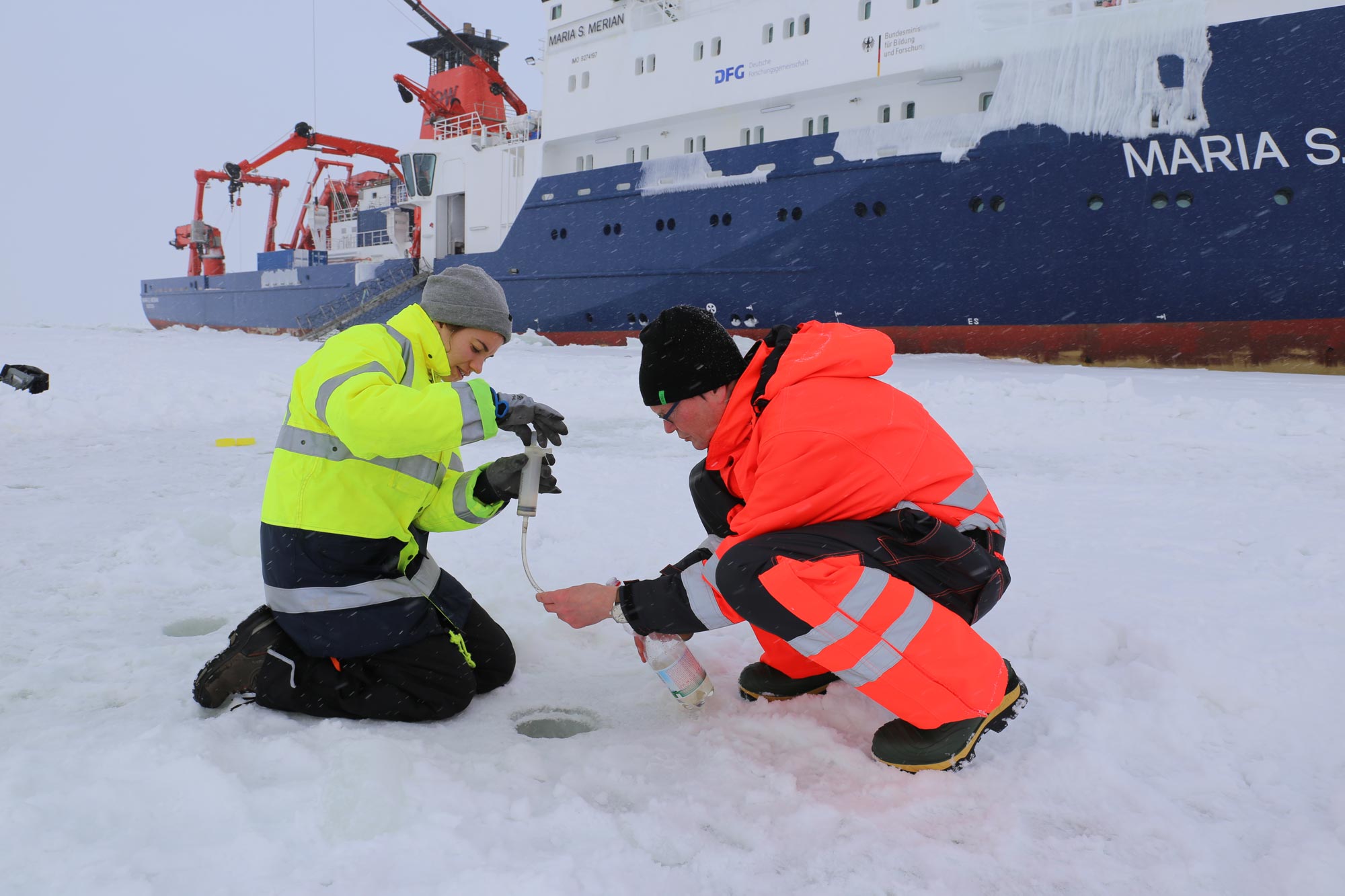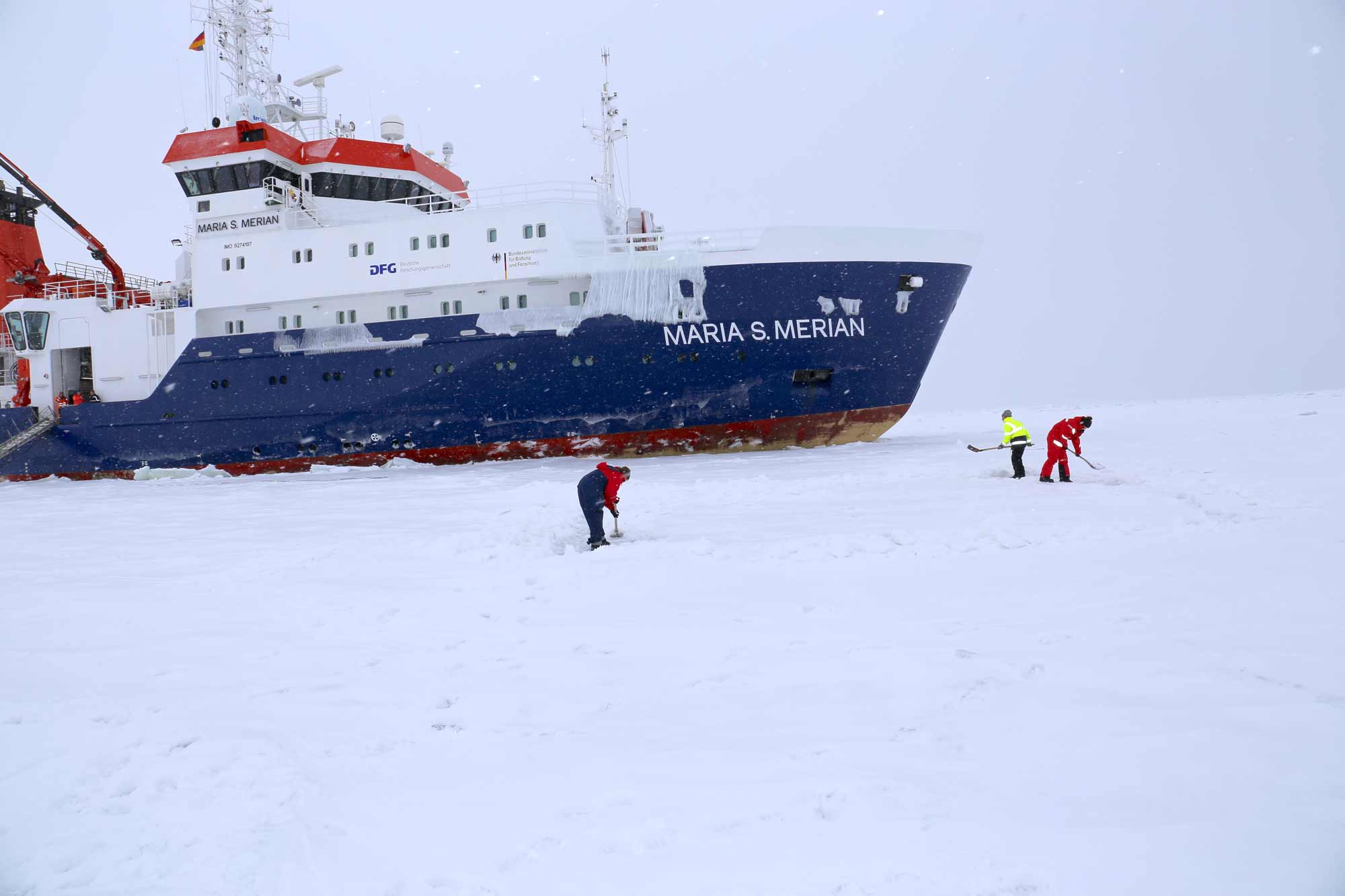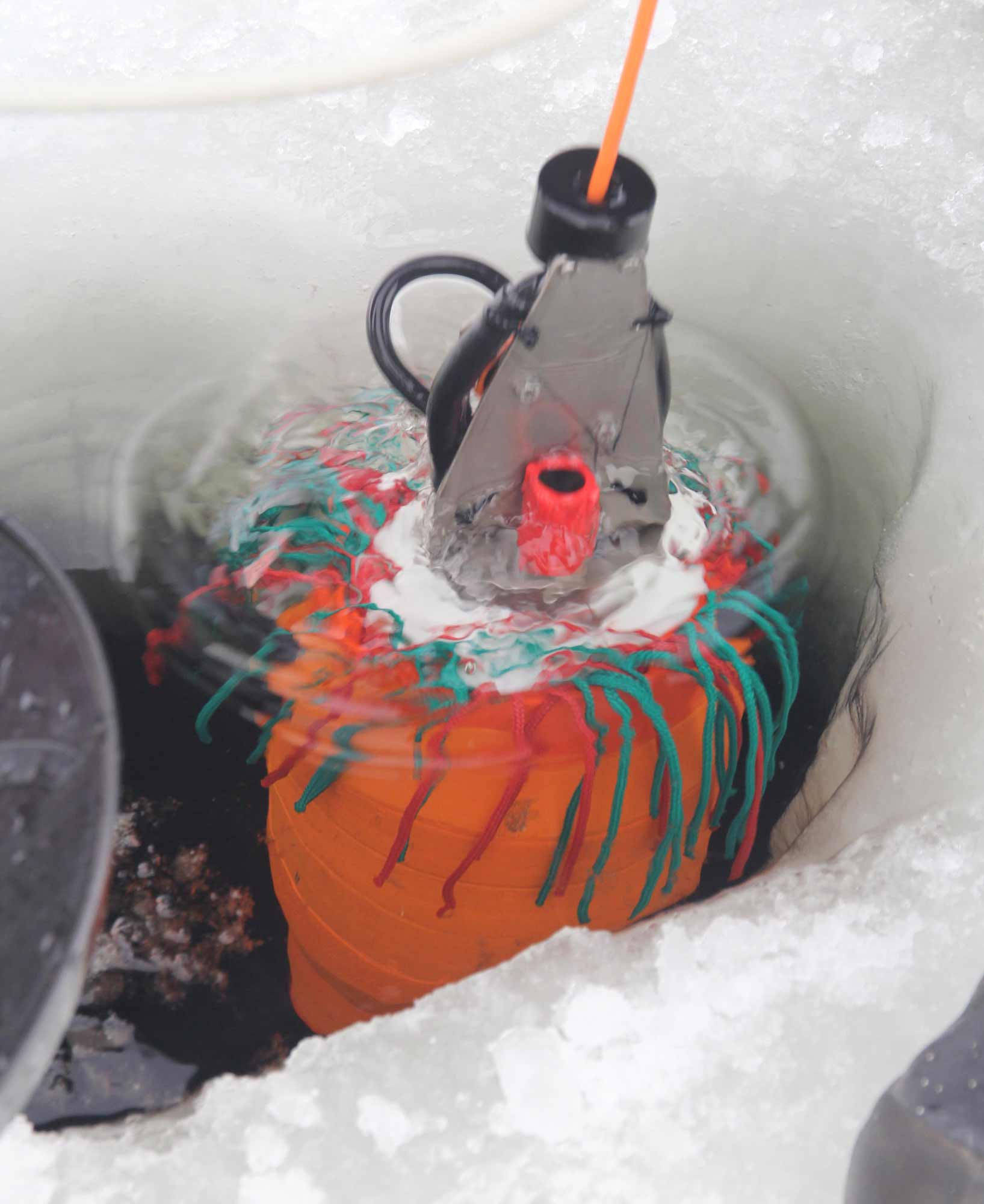 Beitrag von Jasmin Ebert, CAU Kiel