********************ENGLISH VERSION BELOW************************
Warum immer in meiner Wache?
Als studentische Hilfskraft bekommt man an Bord einiges an Verantwortung. Auf der einen Seite freut man sich, weil man auf diese Weise viel mehr lernt und weil man stolz ist, auf das Vertrauen, das einem entgegen gebracht wird. Auf der anderen Seite bekommt man immer wieder erzählt, wie unglaublich teuer die einzelnen Messgeräte sind und welch zahllose Möglichkeiten es gibt, sie kaputt zu machen.
Oft werden von den erfahreneren Wissenschaftlern Geschichten erzählt, von der einen Mitfahrerin, die ein Messgerät auf dem Meeresboden aufgesetzt hat oder dem anderen Kollegen, der eine UCTD beim an Bord holen gegen die Schiffswand gedonnert hat. Solche Dinge passieren. "Nur hoffentlich nicht mir", denkt sich in diesen Fällen jeder.
Zum Glück ist man im Ernstfall nie auf sich allein gestellt. Für Notfälle aller Art kann man sich jeder Zeit an die Brücke wenden und auch von den Wissenschaftlern ist immer ein erfahrener Kollege auf Bereitschaft abrufbar. Da kann es schon mal passieren, dass plötzlich um 4 Uhr nachts jemand an der Kabinentür klopft und keine guten Nachrichten dabei hat.
So wie in meiner Wache gestern Nacht. Alle 4 Stunden werfen wir die UCTD, ein Messgerät für Salzgehalt, Temperatur und Tiefe, über Bord und holen es an einem Seil nach der Messung wieder ein. In unserer Wache entschied sich die Winde, die das Seil einholte und aufwickelte, dazu den Geist aufzugeben. Wir mussten das Messgerät also per Hand einholen und das Seil in großen Buchten auf dem Deck auslegen. Nach dem Frühstück halfen dann fast alle Wissenschaftler beim aufwickeln mit.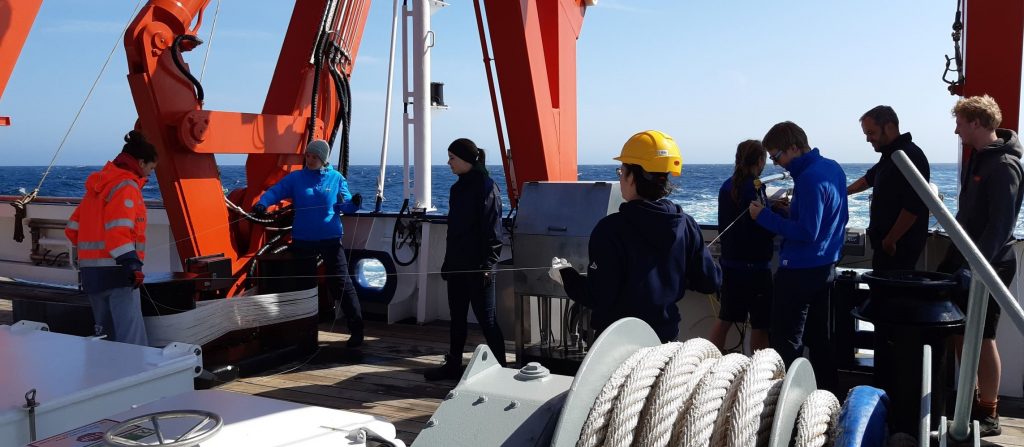 Zwölf Stunden später zogen wir beim Einholen des Messgerätes etwas dickes weißes mit dem Seil an Bord. Was von weitem wie eine Qualle oder ein Büschel Vogelfedern aussah, entpuppte sich beim Näherkommen als ein paar dicke verknäulte Knoten im Seil. Wieder mussten fast alle mit anfassen, als wir bei blauem Himmel und strahlendem Sonnenschein versuchten die Knoten zu entwirren. Zugegeben, es wäre alles noch viel schlimmer gewesen, hätten wir dort im Strömenden Regen und bei starkem Seegang gestanden. Es muss wohl ausgesehen haben wie eine merkwürdige Teambildungsübung, als zehn Wissenschaftler in Fäden verstrickt an Bord herumstanden. Am Ende wurden wir für unsere Strapazen aber noch entschädigt, als eine Gruppe von Pilotwalen ganz nah am Schiff vorbei schwamm. Ob wir die wohl gesehen hätten, wenn wir keine Knoten gelöst hätten? Wahrscheinlich nicht.

Es hilft also immer positiv zu bleiben und daran zu denken, dass auch den Besten mal Fehler unterlaufen. Manchmal kann eben auch niemand etwas dafür. Und selbst wenn: Solche Dinge passieren. Vielleicht auch dir. Und zumindest kann man aus seinen Fehlern lernen.
********************** English Version *****************
Why always in my watch? / Such things happen
As a student you will get quite some responsibility on board. On one hand this is of course nice to learn the things and shows some trust in your skills, on the other hand it may make you feel a bit uncomfortable by knowing the value of the tools and the various ways of damaging them. More experienced scientist and technicians are never shy of telling you stories about that girl who once lost the whole device or that guy who smashed it either on the sea floor or the ships side. Such things happen, you just hope to never be that girl or guy.
Even in the case something happens, doesn't have to be the worst case yet, you can always find help. No matter what time it is, someone on the bridge is always on duty and all scientists can be called. Everyone knows that there is the possibility of being waked with not so good news at any time, as in my watch last night
Every 4 hours we conduct an uCTD measurement. A device measuring salinity, temperature and pressure while falling during the ship moves, attached to a winch. Right when we were getting the instrument back to the ship the winch simply stopped working. We had to get it back on board by hand a lay a few hundred meters of slack on deck without getting knots. After breakfast, the winch was repaired and nearly the whole scientific crew was helping putting the line back on the winch.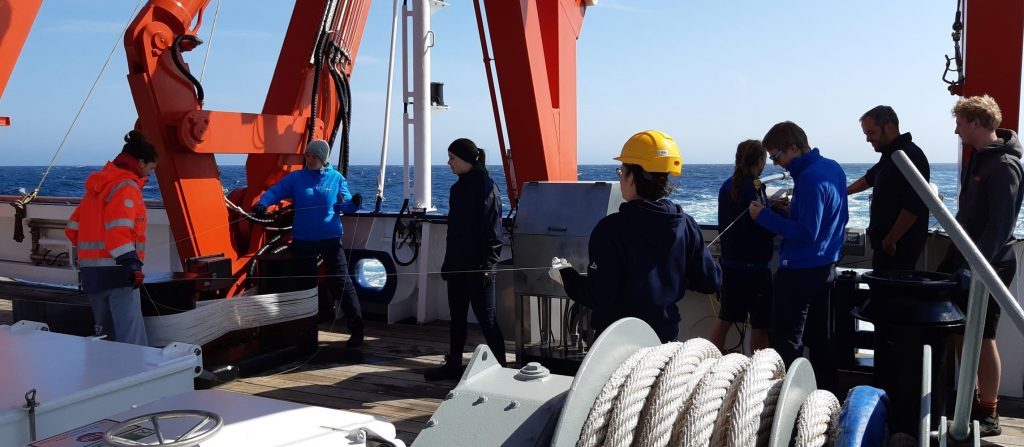 Just twelve hours later we got a big white whatever on the line while recovering the instrument. It first looked like some jellyfish or a bundle of feathers, but turned out to be a huge knot. All together we started to loosen the knot under the blue sky. Under different weather conditions it would have definitely been way worse. From the outside it must have looked like a weird teambuilding exercise, as 10 Scientist were kind of wrapped into the line discussing how to go on. In the end we were not only rewarded by getting rid of the knot but as an extra a group of pilot whales showed up right next to our vessel. Without the knot, we might have missed them.
It helps to stay positive in these situations and not to blame someone for it. Often there even is no one to put the blame on, as it might have been just bad luck. And even if there is, it could have happened to anyone. Such things happen. Maybe even to you.