Today, it is Dr. Victoria "Vicky" Bertics birthday, she was born July 1, 1982 in Madison, Wisconsin, USA. In 2004 she received a dual Bachelor's degree with honors in Biology and Earth Sciences from the University of California in Berkeley. She then started her PhD thesis at the University of Southern California (USC) in the group of Prof. Dr. Wiebke Ziebis (Benthic Biogeochemistry) and received her Ph.D. in Geobiology in 2009. In early 2010, she received a postdoctoral fellowship from the Alexander von Humboldt Foundation and worked for more than two years in the group of Prof. Dr. Tina Teude (Marine Geobiology) at GEOMAR. In late 2012, she continued her work as a postdoctoral researcher at Harvard University in the research group of Peter Girguis (Deep Sea Microbiology). This is the information given on the GEOMAR homepage.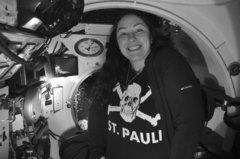 They also said, Vicky loved going to sea and welcomed the opportunity to participate in several dives with the U.S. submersibles "Alvin" and "Johnson Sea Link", and the German submersible "JAGO".
On September 28, 2013, Vicky succumbed to her long battle with cancer at the young age of only 31.
I would say, she was passionate about everything connected to the Ocean, she was a good friend and colleague, and she never let anything get into her way.
She will always be missed.