(deutsche Version unten)
Neodymium (Nd) is one of the Rare Earth Elements (REE) and consists of seven isotopes. One of the isotopes, 143Nd, is a decay product of the samarium isotope 147Sm that also belongs to the REE with a half-life of 1.06×1011 years. Since the Sm/Nd ratio in rocks and minerals varies, there are also distinct differences in the 143Nd/144Nd signature of continental materials as a function of age and lithology. Due to weathering inputs from land to seawater, 143Nd/144Nd reflects the isotopic signature of continents surrounding the oceanic basins.
Away from the continental margins the isotopic signature tracks the ocean circulation and mixing of water masses in the present and past ocean given its relatively long residence time of several hundred years and quasi-conservative behavior. During this cruise SO289, our team (Martin Frank, Antao Xu and myself) are systematically sampling large volume (about 20 litres) water samples for Nd isotopes measurement together with all other GEOTRACES core parameters. The unique source provenance information obtained from the Nd isotope data will allow a better understanding of the general factors controlling trace element inputs and cycling in the South Pacific Ocean.
The concentration of Nd in the seawater is too low to measure its isotopic composition directly. Thus, we need to pre-concentrate the Nd before analysis. As shown in the photo, we use a peristaltic pump to filter each 20 litres sample through a nitro-cellulose acetate filter (0.45μm pore diameter), and then acidify the filtered seawater to pH~2 (Step 1). We then add iron chloride FeCl3 solution and leave it to equilibrate for 24 hours (Step 2). After that, we add ammonia solution to raise the pH to 7.8-8.2 (Step 3). After 48 hours, most of the Nd has co-precipitated with the ferric hydroxide and settled to the bottom of the cubitainers (brown material at the bottom of the bottles). We then collect the precipitates into two-litres bottles (Step 4). After the cruise, we will bring all these precipitates back to our home lab at GEOMAR and measure the Nd isotopes on our Multi-Collector Inductively Coupled Plasma Mass Spectrometer.
Zhouling Zhang,
14.03.2022, SONNE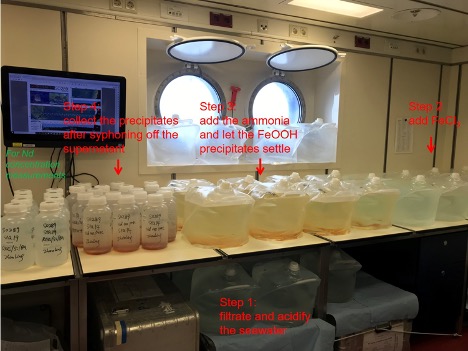 Verfolgung der Durchmischung der Wassermassen und der kontinentalen Einträge im Südpazifik mit gelösten Neodym-Isotopen
Neodym (Nd) ist eine der Seltenen Erden (REE) und besteht aus sieben Isotopen. Eines der Isotope, 143Nd, ist ein Zerfallsprodukt des Samarium-Isotops 147Sm, das ebenfalls zu den Seltenen Erden gehört und eine Halbwertszeit von 1,06×1011 Jahren hat. Da das Sm/Nd-Verhältnis in Gesteinen und Mineralien variiert, gibt es auch deutliche Unterschiede in der 143Nd/144Nd-Signatur von kontinentalem Material in Abhängigkeit von Alter und Lithologie. Aufgrund von Verwitterungseinträgen vom Land ins Meerwasser spiegelt 143Nd/144Nd die Isotopensignatur der Kontinente wider, die die ozeanischen Becken umgeben.
Abseits der Kontinentalränder spiegelt die Isotopensignatur die Ozeanzirkulation und die Vermischung von Wassermassen im gegenwärtigen und vergangenen Ozean wider, da sie eine relativ lange Verweilzeit von mehreren hundert Jahren hat und quasi konservativ ist. Während dieser Fahrt SO289 entnimmt unser Team (Martin Frank, Antao Xu und ich) systematisch großvolumige (etwa 20 Liter) Wasserproben für die Messung von Nd-Isotopen zusammen mit allen anderen GEOTRACES-Kernparametern. Die aus den Nd-Isotopendaten gewonnenen einzigartigen Informationen über die Herkunft der Quellen werden ein besseres Verständnis der allgemeinen Faktoren ermöglichen, die den Eintrag von Spurenelementen und den Kreislauf im Südpazifik steuern.
Die Nd-Konzentration im Meerwasser ist zu gering, um seine Isotopenzusammensetzung direkt zu messen. Daher müssen wir das Nd vor der Analyse vorkonzentrieren. Wie auf dem Foto zu sehen ist, verwenden wir eine Schlauchpumpe, um jede 20-Liter-Probe durch einen Nitrozelluloseacetatfilter (0,45 μm Porendurchmesser) zu filtrieren, und säuern dann das gefilterte Meerwasser auf pH~2 an (Schritt 1). Dann fügen wir eine Eisenchlorid- Lösung (FeCl3) hinzu und lassen sie 24 Stunden lang ausbalancieren (Schritt 2). Danach fügen wir Ammoniaklösung hinzu, um den pH-Wert auf 7,8-8,2 zu erhöhen (Schritt 3). Nach 48 Stunden ist der größte Teil des Nd mit dem Eisenhydroxid ausgefallen und hat sich auf dem Boden der Cubitainer abgesetzt (braunes Material am Boden der Flaschen). Wir sammeln dann die Ausfällungen in 2-Liter-Flaschen (Schritt 4). Nach der Fahrt werden wir all diese Ausfällungen in unser Heimlabor am GEOMAR zurückbringen und die Nd-Isotope mit unserem induktiv gekoppelten Multikollektor-Plasma-Massenspektrometer messen.