(English below) Hier kommt ein Update von der Stemme-Crew. Diesmal aus unserer neuen "Zentrale" auf Fogo!
Gestern sind wir mit den wichtigsten Teilen der Ausrüstung von der Insel Sal nach Fogo umgezogen. Da die Fähre wegen der großen Wellen nicht lief, sind wir alle mit dem Flugzeug geflogen. Leider sind einige unserer Geräte nicht angekommen, sodass wir hier ein bisschen improvisieren müssen (neue Kühlflüssigkeit, Treibstoffkanister, Stromkabel etc.). Auch unsere Landstation mussten wir zurücklassen, weshalb momentan keine Datenübertragung in Echtzeit möglich ist.
Nichtsdestotrotz konnten wir mit dem Forschungsflugzeug Stemme der Fachhochschule Aachen starten: Nach ein paar Tiefflügen an der METEOR vorbei haben wir etwa zwei Stunden nach dem Fogo-Wirbel gesucht. Dabei haben wir uns auf die Ostflanke des Wirbels konzentriert und einige sehr interessante Strukturen gefunden.
Auf der Karte, die mithilfe des hochauflösenden Computermodells R0200 erstellt wurde, sind die simulierten Temperaturen zu sehen. Die Messungen bestätigen sehr schön die Lage des Wirbels und die allgemeine Frontstruktur. Auf den Screenshots ist eine starke und stabile Front direkt südlich des im Bild skizzierten Transekts zu sehen (kaltes Wasser befindet sich auf der Westseite). Die Vorderseite beginnt sich weiter nördlich zu spalten und zeigt noch weiter nördlich einige wirklich schöne submesoskalige Aktivitäten. Das alles ist innerhalb von ca. 10 Kilometern.
Heute fliegen wir in das gleiche Gebiet, um die Position der Front zu bestätigen und so ein geeignetes Ziel für die Farbstofffreisetzung morgen früh zu identifizieren.
Viele Grüße von der Insel Fogo! Burkard Baschek & Rüdiger Röttgers & Henning Burmester (Institut für Küstenforschung, Helmholtz-Zentrum Geesthacht) und der Stemme Crew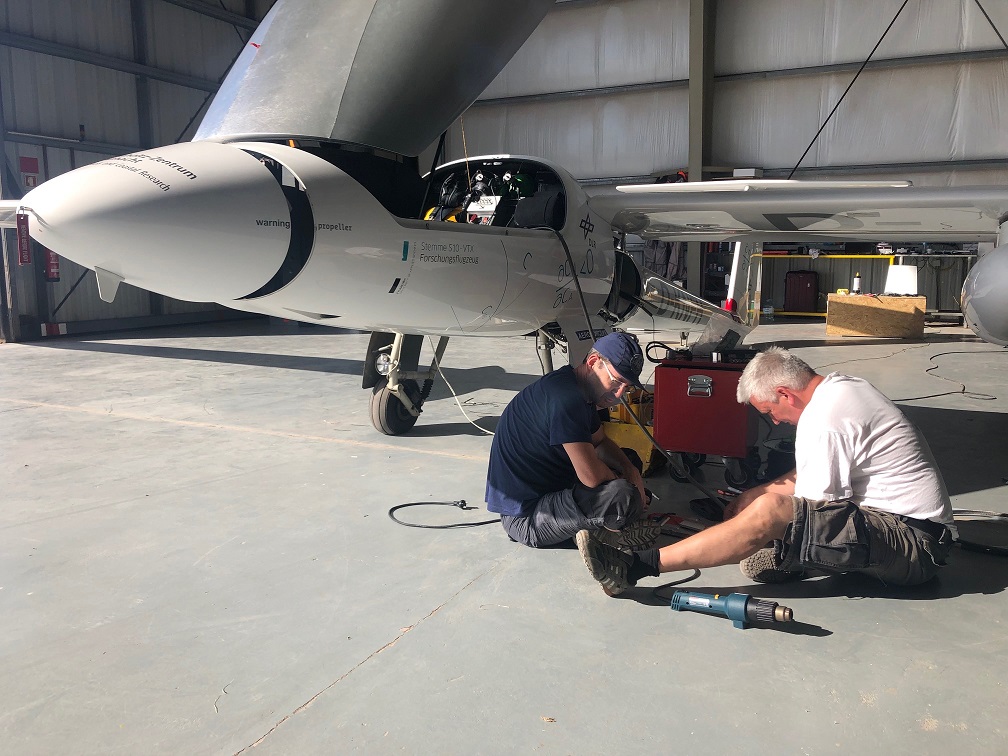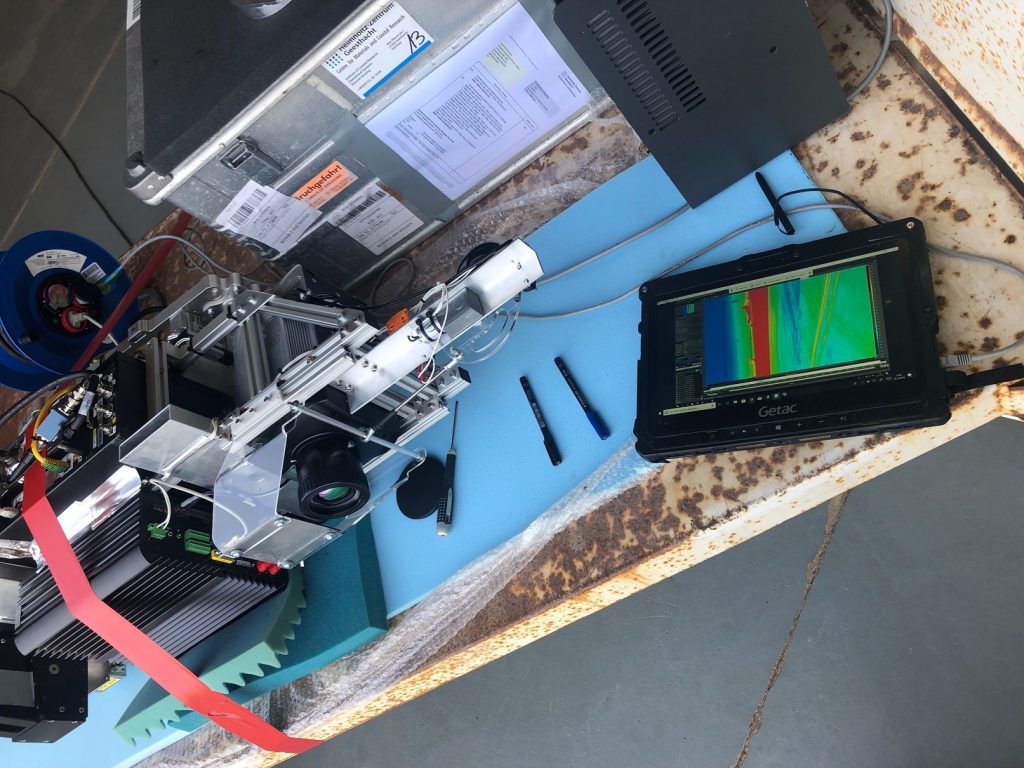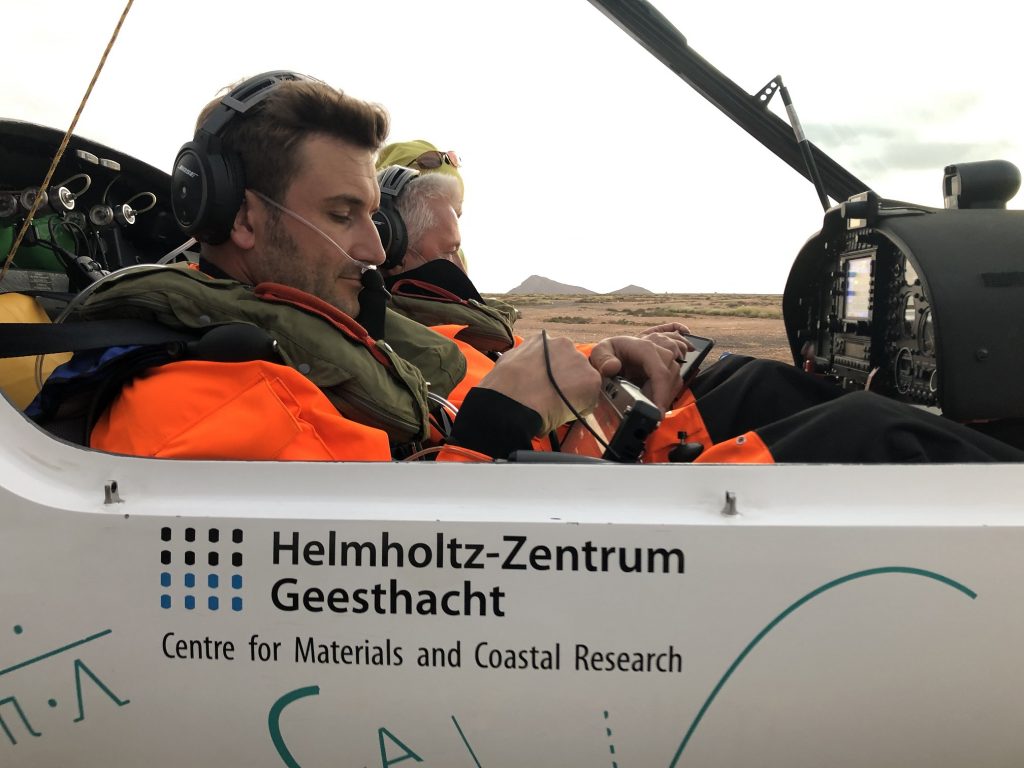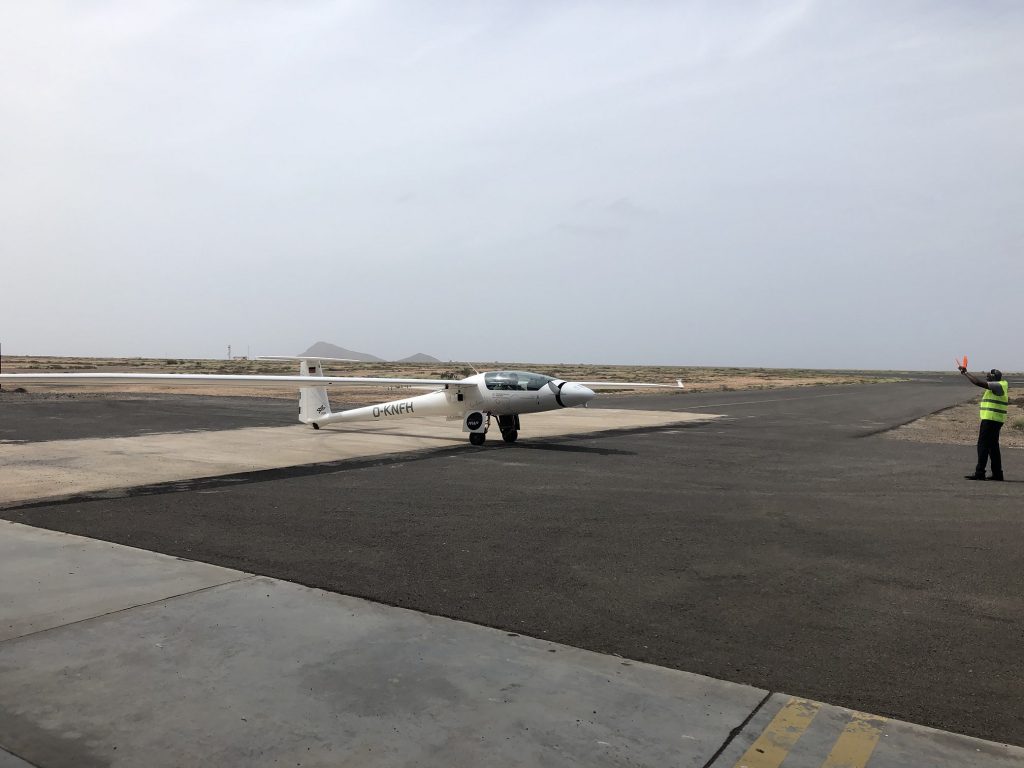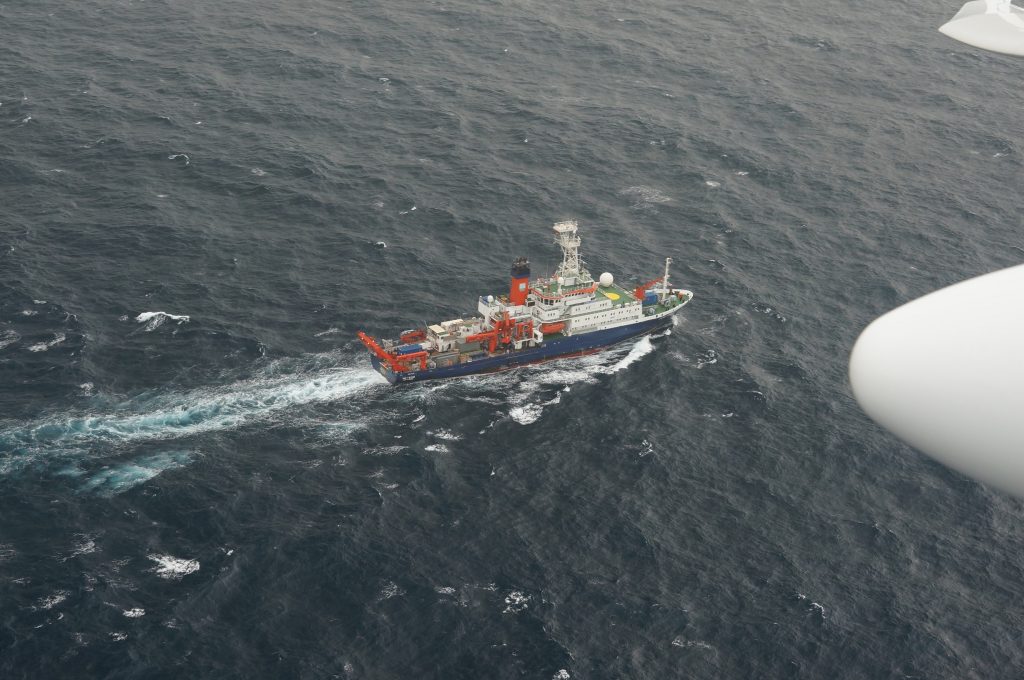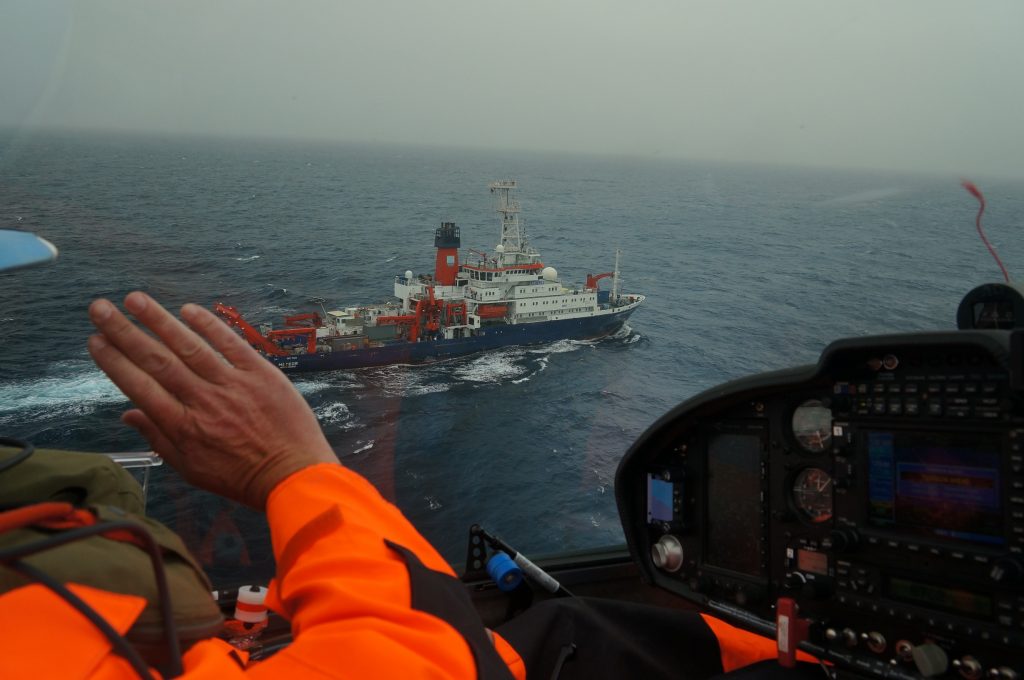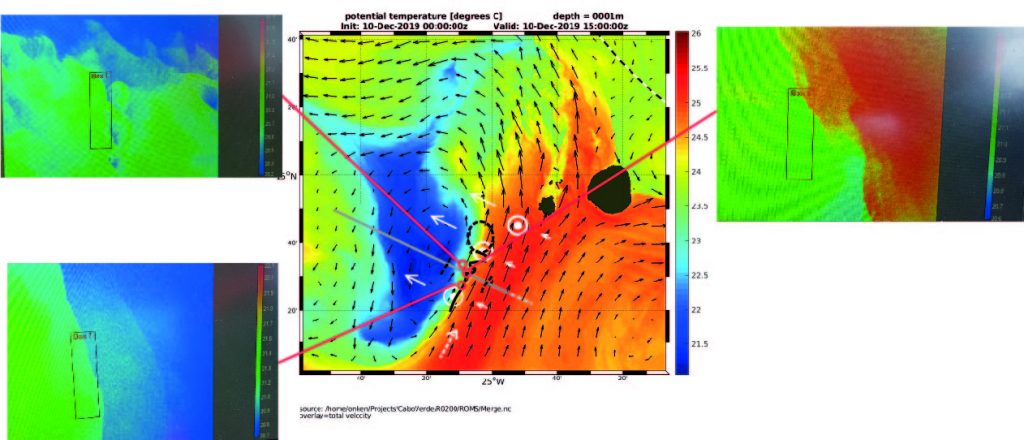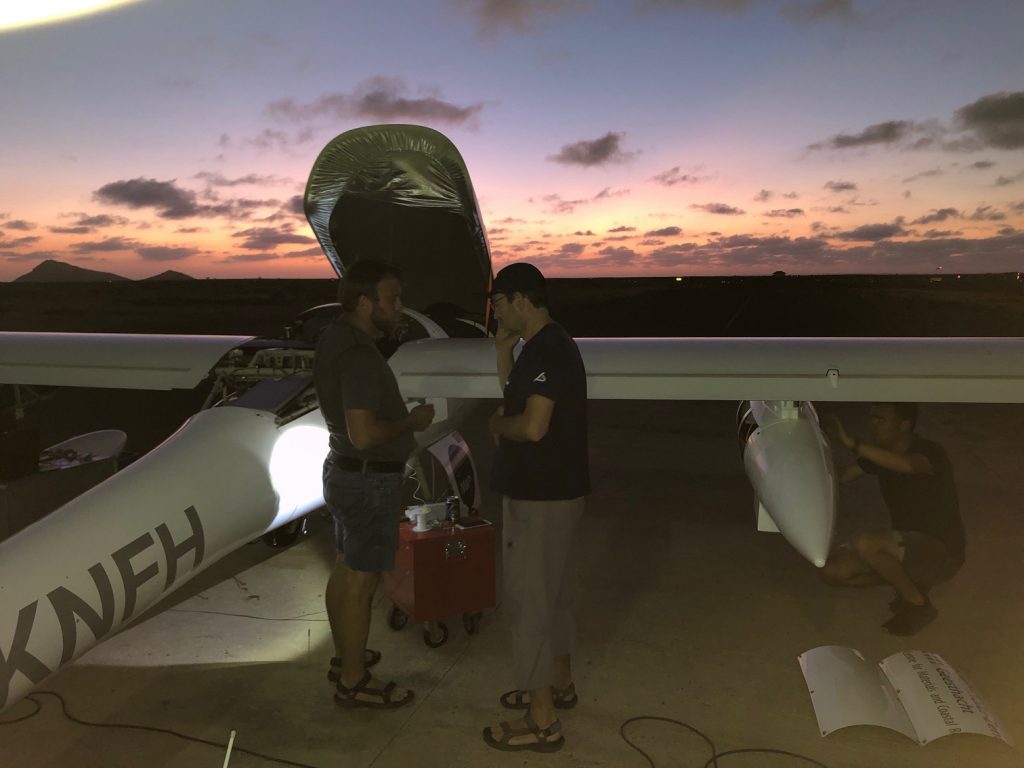 Here comes an update from the Stemme crew. This time from our new "headquarters" on Fogo!
Yesterday we moved with the most important parts of the equipment from the island Sal to Fogo. Since the ferry didn't run because of the big waves, we all flew by plane. Unfortunately some of our equipment did not arrive, so we had to improvise a bit (getting new cooling liquid, fuel canisters, power cable etc). We also had to leave our land station behind, which is why data transmission in real time is not possible at the moment.
Nevertheless we could start with the Stemme, the research airplane of FH Aachen: After a few low-level flights past the METEOR, we searched for the Fogo eddy for about two hours. We concentrated on the east flank of the eddy and found some very interesting structures.
The simulated temperatures can be seen on the map, which was created using the high-resolution computer model R0200. The measurements confirm very nicely the position of the eddy and the general frontal structure. The screenshots show a strong and stable front directly south of the transect sketched in the picture (cold water is on the west side). The front starts to split further north and shows some really nice submesoscale activities even further north. This is all within about 10 kilometres.
Today we fly into the same area to confirm the position of the front and thus identify a suitable target for the dye release tomorrow morning.
All the best from the Island Fogo! Burkard Baschek & Rüdiger Röttgers &Henning Burmester (Institute of Coastal Research, HZG) and the Stemme crew